FAB Flicks returns! We're back outside with Music and Movies you love!
About this event
Summer is back -- and so is New York! FAB FULTON is ecstatic to bring back the FAB Flicks movie series to help celebrate this season of being outside again. Our partnership with BAM Film has once again graced us with a phenomenal free lineup, showing in two venues along Fulton Street: The "Back Lot" at Brooklyn Plaza Medical Center (650 Fulton) in Fort Greene, and Jitu Weusi (Putnam) Plaza (Grand + Fulton) in Clinton Hill. Our first film is "Crooklyn" (1994, 144 min.), on Thursday, August 22, 2021, at dusk at The Back Lot.
Widely regarded as a favorite of the Spike Lee Joints, in "Crooklyn" the Brooklyn-bred director returns to the neighborhood for a sentimental tale of growing up in the borough in the '70s. Alfre Woodard and Delroy Lindo shine as the no-nonsense parents, the script (co-written with his siblings Joie and Cinqué Lee) crackles with energy, and Lee's unmistakably autobiographical touches (and excellent choice of music) enlighten this episodic coming-of-age tale.
Doors open at 7:30pm; movie begins at dusk. A limited number of seats will be available via RSVP, however, you are welcome to bring your own lawn seating or a blanket. Arrive early for music, fun giveaways and special treats! Feel free to bring over takeout or snacks from one of the many FAB FULTON businesses in the area. Free Admission.
Our FAB Flicks series is sponsored by NYCDOT, Council Member Laurie Cumbo, Ridgewood Savings Bank, and Brooklyn Plaza Medical Center.
* Please note that by reserving a ticket, you hereby grant FAB FULTON the right to take photographs and videos of you and your property in connection with the above-identified event. You further give your irrevocable consent to allow images from this event to be used for the FAB FULTON website, their social media channels, and printed materials for promotion of the program. You understand that the images may be altered or modified in any manner.
(Movie image Courtesy of Universal Pictures)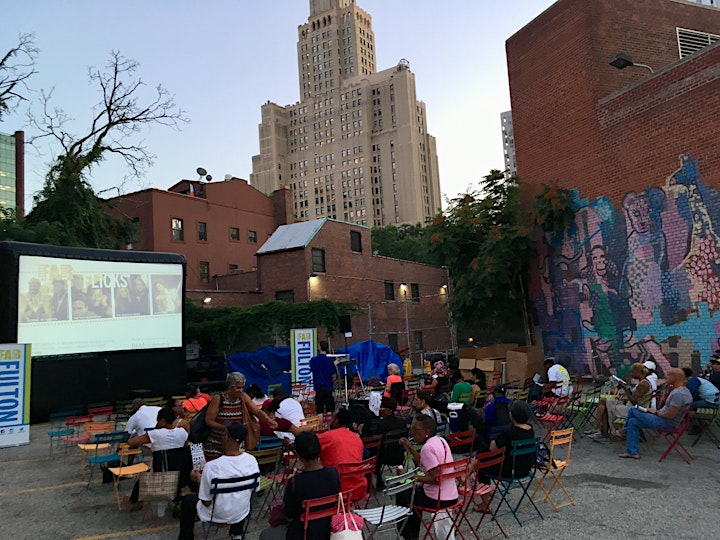 Organizer of FAB Flicks: "Crooklyn"
The Fulton Area Business Alliance (FAB FULTON) is a non-profit organization that advocates for and collaborates with small businesses and property owners along Fulton Street in Brooklyn's neighborhoods of Fort Greene and Clinton Hill to maintain a safe, clean, and welcoming community while securing resources and partnerships for initiatives that enhance and promote the district.