FAACT's TEAL FunFest-South Jersey- Together we Educate, Advocate and Love
About this Event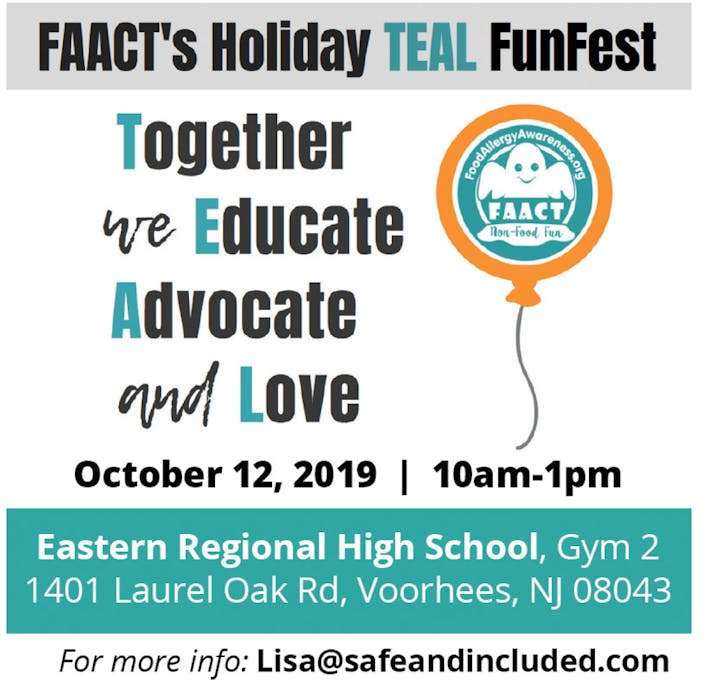 Families need to have support when it comes to food allergy awareness and to be with other families throughout the year who live it and get it...and to know they are not alone.
FAACT wants to bring everyone together for a FREE, fun, family event to raise awareness and continue to educate those in the community.
This program will allow food allergy families along with others from the community to be involved in our allergy-friendly, fun-focused events.
*Registration/Check-in begins at 9:30 am on October 12, 2019.
****Families/individuals-don't forget to create your OWN fundraising page by copying and pasting the link below into your browser:
https://pages.donately.com/foodallergyanaphylaxisco/campaign/faact-teal-funfest-voorhees-nj
****Those who raise $1500 or more will be entered into a grand raffle drawing to win FREE registration for FAACT's Camp TAG 2020 or for FAACT's Teen Retreat 2020 as well as 2 nights hotel stay for Camp TAG or Teen Retreat.****