Event Information
Location
Stanford Paul Brest Hall
555 Salvatierra St
Stanford, CA 94305
Description
Earlybird rates End Thursday April 18 at 8pm
Then rates go up!

This is not an Angel Launch event, but we are a special partner and offering DISCOUNT TICKETS on this page only. So once your view their webpage, you MUST PURCHASE HERE for the discount. You will not get these prices on their registration page. Once you purchase, we will send your contact info to F50 for follow up details. For questions call 310 6216850 or info@angellaunch.com.
Join the Bay Area's flagship investor event for the startup venture ecosystem: the fourth annual F50 Global Capital Summit®(GCS).

Connect with 500 guests who are earlier-stage VCs, angels, incubators, corporate executives, and select founders.
TICKET TYPES:

Investor

Startup

General

VIP: Join VIP reception with selected investors and speakers on the same day evening.
The fourth annual F50 Global Capital Summit® (GCS) is one of the Silicon Valley Bay Area's flagship events for the startup venture ecosystem. The theme of this year's summit is Seeding the future and it will be held on Wednesday, April 30th at Stanford University.
GCS 2019 is organized by F50, Silicon Valley Entrepreneurs, and Community Media SVE.io. The summit will feature 30+ speaking sessions including thought leader talk, investment trends, and extraordinary products and innovations, around 550 attendees from world-leading corporations, and the global investment ecosystem. The attendees are corporate executives, angel investors, venture funds, influential long-term investors, and a small group of high-potential local early founders.
GCS Home: http://f50.io/gcs
Check out hundreds of attendees: http://f50.io/gcs/attendee
Agenda: http://f50.io/gcs/agenda
Demo Table at Connect Lounge: http://f50.io/gcs/connect
WHY SHOULD I ATTEND GCS?
Listen to actionable wisdom from 50+ Leading VC and Angel speakers. Get the most out of your conference experience and set yourself up for growth.

Hear top tier VCs and Angel Investors on the key issues facing Investors and Startup CEOs alike. Industry experts will provide updated analyses and share their experience with the audience.

Network over meals with partners, investors, and key industry players.

Meet hundreds of startups and investors under one roof and find your next business partners.

Gain access to early stage, exclusive deals before anyone knows about them.

Connect with successful corporate executives and CVCs.
F50 Global Capital Summit 2019 #F50Summit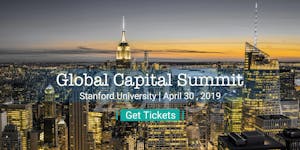 GCS 2019 will feature the following sections of content
Seeding the next generation founders: Education and incubation

Thinking in investment

Future Tech

Impact 1 billion lives

Corporate Innovation with Startup Ecosystem: the force awakens

In angel we trust: The rising of angel investors in the winter

The Bets by the VCs

Startup Demo

Speed Dating


GCS will feature two stages: the main stage and connect lounge.


Presentation: Innovation and Design Thinking
Anurag Mairal, Professor, Stanford University
Panel: Is now the winter for startup or investor?
Bill Reichert, Managing Partner, Garage Technology Ventures
James Sowers, Angel Investor, PopUp Ventures
Annie Kadavy, Managing Director, Redpoint Ventures
David Zilberman, Managing Director, Comcast Ventures


Panel: How Angels help startups impact the world?
Moderator: KJ Jia, Partner, F50 Labs
John Ricci, Founder, US Angels
Jordan Wahbeh, Managing Partner, Bay Angels
Dave Sanders, Board Member, Sacramento Angels


Presentation: How AI in Mobility can Save 37,000 Young Lives Every Year
Dinesh C, Chief Creative Officer, CarVi


Fireside Chat with Duncan
Duncan Davidson, General Partner, Bullpen Capital


Fireside Chat with PaulHolland
Paul Holland, General Partner, Foundation Capital


Catalyzes the Global Innovation Economy - GSVLabs
Nikhil Sinha, CEO, GSVLabs


Presentation: Venture University
Wayne Lim, Venture Capitalist, Venture University


Presentation: Band of Angels
Ronald Weissman, Chairman, Band of Angels


Presentation: North Bay Angels
Che Voigt, Board Chair, North Bay Angels


Presentation: VC Taskforce
June Riley, CEO, VC Taskforce


Presentation: Keiretsu Forum
Randy Williams, CEO, Keiretsu Forum


Panel: Empower Woman in Investment & Startups
SC Moatti, Managing Partner, Mighty Capital
Katie Lam, Founder, Kalon SF
Gené Teare, Strategic Research, Crunchbase


Presentation: IoT leveraging cloud and predictive analytics solutions
Jai Suri, Senior Director of Product Management, Oracle


Presentation: People Analytics
Jamie Rothenburg, People Analytics, Google






Startup Demo

Speed Dating with speakers and investors

Investor Ignite Introduction

90 seconds ignite style introduction talks on the Connect Lounge Stage by 10+ VIP investor guests.
WHO ELSE ARE GOING TO GCS?
Andreessen Horowitz
Angel Capital Association
Band of Angels
Benchmark Electronics
Blackrock
Bullpen Capital
Cagan Capital
Cagan McAfee Capital Partners
Calibrium AG
Comcast Ventures
Corporate Innovators Huddle, In.
CRCM Ventures
Crunchbase
CyberAgent Ventures
Dell Technologies Capital
Dentons
E14 Fund
Eagles Fund
ECS Capital Partners
Elysium Venture Capital
F50
F50 Labs
First Catalyst
Forbes
Foundation Capital
Frontier Ventures
Fusion Fund/NewGen Capital
Galaxy Capital Partners
Garage Venture
Google
Greater Sacramento Economic Council
GSVLabs
HTC
Huffpost
Innolinks Ventures
Inventus Capital Partners
IPV Capital
Keiretsu Forum
King & Wood Mallesons
Life Science Angels
Long Venture Partners
Lux Capital
Lymo Ventures
Meritech Capital
Merus Capital
Mighty Capital
NASA SETI Institute
NetApp
Next World Capital
NissiVentures
PayPal
Rising Tide Fund
RocketSpace
RocketSpace Capital
Sand Hill Angels
SeedInvest
Silicon Valley Entrepreneurs & Startups
SK Telecom Americas
SoftBank Telecom America
Sony Innovation Fund
Spruce Capital Partners
SRI
Stanford University
Synergie Capital Group
TEC Ventures
The Venture Reality Fund
The Wall Street Journal
Towa USA Corporation
Tyche Partners
UpWest Labs
VC Taskforce
Venture University
Verizon Ventures
Vickers Venture Partners
VMware
Vonzos Capital Partners
VXP
Xsolla Capital
ZZ Ventures
_
Date and Time
Location
Stanford Paul Brest Hall
555 Salvatierra St
Stanford, CA 94305