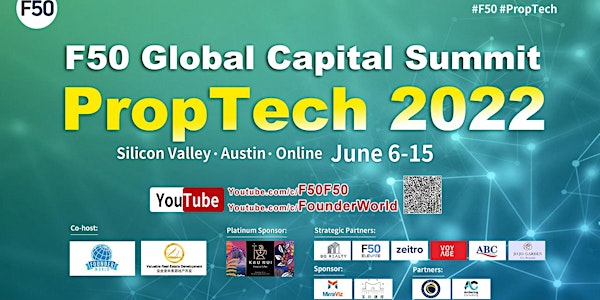 F50 Global Capital Summit 2022 - PropTech Investment Forum VIP Reception
Location
Green Mountain Retreat
19480 Bear Creek Rd
Los Gates, CA 95030
Refund policy
Contact the organizer to request a refund.
Eventbrite's fee is nonrefundable.
The seventh annual F50 Global Capital Summit® , Sustainable Homes, Affordable Homes #F50 #realestate #proptech
About this event
The 7th annual F50 Global Capital Summit®, on Jun 6 - 15 2021, with the theme of "Sustainable, Affordable Homes". cohosted by Founder World & Anjin Capital, in strategic partnership with BQ Realty, ABCabinet, Zeitro, LightFusion Capital.This global event will be hosted from Silicon Valley (June 8th), Austin Texas, as well as online.
For first time after pandemic, we will host our first offline investment forum & VIP Reception on June 8th at Green Mountain Retreat in Los Gatos.
Schedule:
1:30PM - 5:30PM PropTech Investment Forum
5:30PM - 7:30PM VIP & Speaker Reception
Detail agenda:
https://docs.google.com/spreadsheets/d/e/2PACX-1vQh1hAsgKX_kAyQWj3wf04JLxaQxs2_wUT7ar-y1hlLwQQKGigoXNsfibslQyMEBZN9sfs8w0mJFPB3/pubhtml
With increase in home construction cost and shortage of laborers, this special summit invites investors, entrepreneurs, and startups to support the innovations in PropTech which can improve people's living, reduce cost and improve efficiency, which can lead to better,more affordable homes for everybody.
Youtube Channel: https://www.youtube.com/c/f50f50
The F50 Global Capital Summit® is one of the most sought after events for VCs, Angels, LPs, Family Offices, Corporate Ventures, Successful Entrepreneurs, and industry leaders, connecting the next generation of world-changing innovators with strategic partners to power their growth. The event will be hosted online / offline and the content will be featured on F50 Global and Founder World Youtube Channels, Clubhouse, and our social media channel. F50 Global Capital Summit online in 2020 & 2022 had great success with 250,000+ views globally on our youtube channels.
Building on F50's focus on tech innovation over the past few years, the Summit is an outstanding opportunity to bring together experts, entrepreneurs, and the global investor community to explore synergy.
The Summit is known for the exceptional Speakers as well as its select audience. It will include around 50 speaking sessions, panel discussions, and invitational roundtable discussions by the industry leaders, domain experts, investors and successful entrepreneurs. We hope to attract 100,000 online audiences from around the world.
We reserved a number of comp vip ticket for professional investors / corporate executives on the FIFS base. Apply here: https://forms.gle/Lw6UkVxU87oRsST26
Three stages
F50 Global Capital Stage (Main Investor Stage) Youtube.com/c/F50F50
Founder World Stage Youtube.com/c/FounderWorld
Activities at the summit (All activities are online unless specified as offline)
Keynote and thought leader presentation & insightful panels
F50 Global Insights Ranking Report
Most Active PropTech Investors
Top Startups
Most Innovative Technologies

Speaker & VIP Networking (June 8th Offline)
Executive Roundtable discussions (Offline)
Key tracks
Investment Forum
Investment Bootcamp
F50 Global Report
VIP Receptions
PropTech Topics
Sustainable homes: Energy, Water, Waste, Materials
Affordable Homes: Home Construction Tech- Prefab / Modular / Manufactured / 3D Printing
Smart Homes: Future of Living
Speaker nomination: http://f50.io/summit/speaker-nomination/
Sponsorship inquiry; Sponsor@f50.io
More news: founderworld.org/Category/F50
About the venue
Green Mountain Retreat, located in the Santa Cruz Mountains – a short drive from the heart of Silicon Valley, San Jose, and downtown Los Gatos. Set among 66 acres of majestic redwood and oak woodlands, this Santa Clara retreat provides the ideal environment for group retreats, conferences, and special events for all group sizes.
Detail instruction about the venue will be sent only to registered ticket holders.
About the F50 Global Capital Summit®
The Global Capital Summit® is organized by F50. The Summit finds and connects the next generation of world-changing tech innovations with partnerships to power their long-term impact. The Summit will be hosted in Austin in Spring, and Silicon Valley in the Fall.
The summit will feature 30+ extraordinary sessions, 50+ speakers, and 10000+ viewers from world-leading corporations and the global investment ecosystem. The attendees are corporate executives, Angel investors, VCs, and a group of high-potential local founders.
For more information: f50.io/
ATTENDEE TERMS AND CONDITIONS
Authorization, Waiver, Release and Indemnity
The attendee understands that by registering for or attending the F50 Global Capital Summit (the "Event"), the attendee agrees to the following terms on behalf of the attendee and anyone who may view or access the event through the attendee's facilities.
Media Release. the attendee hereby expressly grant to F50 and its officers, employees, agents and assigns, the irrevocable, worldwide, irrevocable, perpetual right to use photographs, video and audio impressions, and/or transcriptions of me recorded by F50 at the Event and to use the photographs and your voice and picture, silhouette, and other reproductions of physical likeness in connection with or as part of any presentation, program, publication, product or other media in which it may be used or incorporated, and also in the advertising and promoting of the Event or its content. The Attendee understand that these images and sounds may be used for commercial, educational or informational purposes.
The attendee waive all rights of copyright, ownership, and rights of publicity in or the resulting commercial and educational and informational materials in which The Attendee appear, and acknowledge no monetary or other compensation is provided in exchange for waiving this right. Any facts, figures, testimonials, stories, etc. The Attendee give are my own and are truthful, and are freely given without any offer of payment.
Attendee Conduct. F50 reserves the right to exclude me and my guests from the Event for any reason including if you are deemed rude, uncooperative, unprofessional, or disruptive. In such case, my fees for the Event will not be reimbursed and The Attendee will be responsible in damages to F50 for all loss and liability from any malicious, negligent or otherwise uninvited behavior and will indemnify F50 for all loss and liability from any third party claims resulting therefrom.
Liability Waiver and Indemnity. F50 will attempt to ensure a safe event free of interference but cannot be responsible for matters beyond its control, such as risks inherent. Thus, The Attendee hereby accept all risk that may result from participating in the Event, and The Attendee hereby release F50 and its officers, employees, interns, contractors, speakers, affiliated companies, and representatives from any and all liability to me, my personal representatives, estate, heirs, next of kin, and assigns for any and all causes of action for loss of or damage to my property and for any and all illness or injury to my person, that may result from or occur during my participation at the Event, including any loss, including data loss, privacy right violations, reputational damage, damage to right of publicity or any other loss due to a security breach, data breach, malicious code, hackers, Zoom bombers or the like. The Attendee hereby indemnify F50 its officers, directors, agents, and assigns from any loss or liability from my participation in any such acts or breach of any term herein. IN NO CASE WILL F50 BE RESPONSIBLE FOR CONSEQUENTIAL DAMAGES.
Nothing in this agreement or any other written or oral communication relating to the Event, or any materials promulgated or distributed with respect thereto constitutes a representation or guarantee. The Event is produced as an educational event and no representation or warranty of any kind regarding specific or general benefits, monetary or otherwise, was or has been made to me by the Event and/or its principals, agents, and employees, including, without limitation, F50, and any of the vendors who participate in the Event. F50 does not make any representations as to the content of the Event and the Event is not responsible for my business success or failure, for my acts or omissions, or the appropriateness of my decisions, including legal, technical or business decisions, heretofore or hereafter.