F50 Global Capital Summit 2019 #F50Summit

Wednesday, May 1, 2019 from 9:00 AM to 8:00 PM (PDT)
Event Details


F50's Global Capital Summit gathers 500+
 local and international corporate executives and investors and 

20+

 top-tier VC-backed startups to focus on healthtech and deeptech. Our flagship event will feature a full day of presentations from the best technology companies, fireside chats with industry experts, and investment panels with global corporate executive and venture capitalists.

This is shaping up to be an extraordinary event and we would love to have your participation. 

Office website: http://f50.io/gcs

Check out videos from past Glocal Capital Summit:

https://www.youtube.com/playlist?list=PLf42AXHM942Op-z7RIO4NeZLVHXqxg_gI

Some Past Companies:
JOSHUA KRALL, Co-Founder & CTO, Boom

DAN COHRS, CFO, DWave

HENRIK FISKER, Chairman & CEO, Fisker

KEENAN WYROBEK, Founder, Zipline

WILLIAM SANTANA LI, CEO, KnightScope

ROBERT LABELLE, CEO, XTI Aircraft

JAMES ROGERS, Ph.D., Science Director & CEO, Apeel Sciences

GUY BLANCHARD, CFO, AERO Farms

CHARLES SILVER, CEO & Co-Founder, Mission Bio

MARTIN REESE, Ph.D., Founder, President, and CEO, Fabric Genomics

MATT ANGLE, CEO, Paradromics

QIRONG HO, Co-Founder, Petuum

WEI LUO, COO, DeepMap

DENNIS MORTENSEN, Founder and CEO, x.ai

NIKHIL R. JAIN, CEO & Co-Founder, ObEN

NIKOLAY DAVIDOV, Co-Founder, Cherry Labs

ABRAHAM HEIFETS, Founder & CEO, Atomwise

ROBIN BORDOLI, CEO, CrowdFlower

ANDY BYRNE, CEO, Clari

SYED HODA, CMO, Sightmachine

PETER LEE, CEO, RapidMiner

JAMES HARDIMAN, Partner, Data Collective

SCOTT PHOENIX, Co-Founder, Vicarious

ADAM CHEYER, Co-Founder, Viv Labs

Neuro Therapeutics

Paxata

Element Analytics

Subtle Medical

Peloton Tech

Maana

Mammoth Diagnostics
Past Corporate and Investor Speakers:
JON SAKODA, General Partner, NEA

SUSAN HOBBS, Partner, Crunch Fund

GRANT ALLEN, GRANT ALLEN, ABB Technology Ventures

DETLEF POHL, Managing Partner, Siemens

VITALY VANSHELBOIM, COO, UNOPS

PAUL HOLLAND, Partner, Foundation Capital

BRIAN O'MALLEY, Partner, Accel

STEVEN MITZENMACHER, Vice President, NetApp

JEREMY HILLMAN, Head of Global Communications & Strategy, The World Bank

STEVE STEVANOVICH, Member of the Board of Governors, Argonne

GENÉ TEARE, Head of Content, CrunchBase

BÉRÉNICE MAGISTRETTI, VC Reporter, VentureBeat

DUNCAN DAVIDSON, General Partner, Bullpen Capital

MURRAY NEWLANDS, Contributor, Forbes

KATIE ROOF, Senior Writer, TechCrunch

DAVID CHAO, Co-Founder & General Partner, DCM Ventures

JOYDEEP BHATTACHARYYA, Partner, Canaan

RISHI GARG, Partner, Mayfield

DAISY CAI, Head of Venture, Baidu Ventures

JACK JIA, Partner, GSR Ventures

THOMAS LUO, Co-Founder, PingWest

XIAO QIAN, Associate Medical Director, Stanford

MARK MINEVICH, Venture Partner & Head of Advisory Board, GVA Capital

RAMNEEK GUPTA, Managing Director, Citi Ventures
Our past sponsors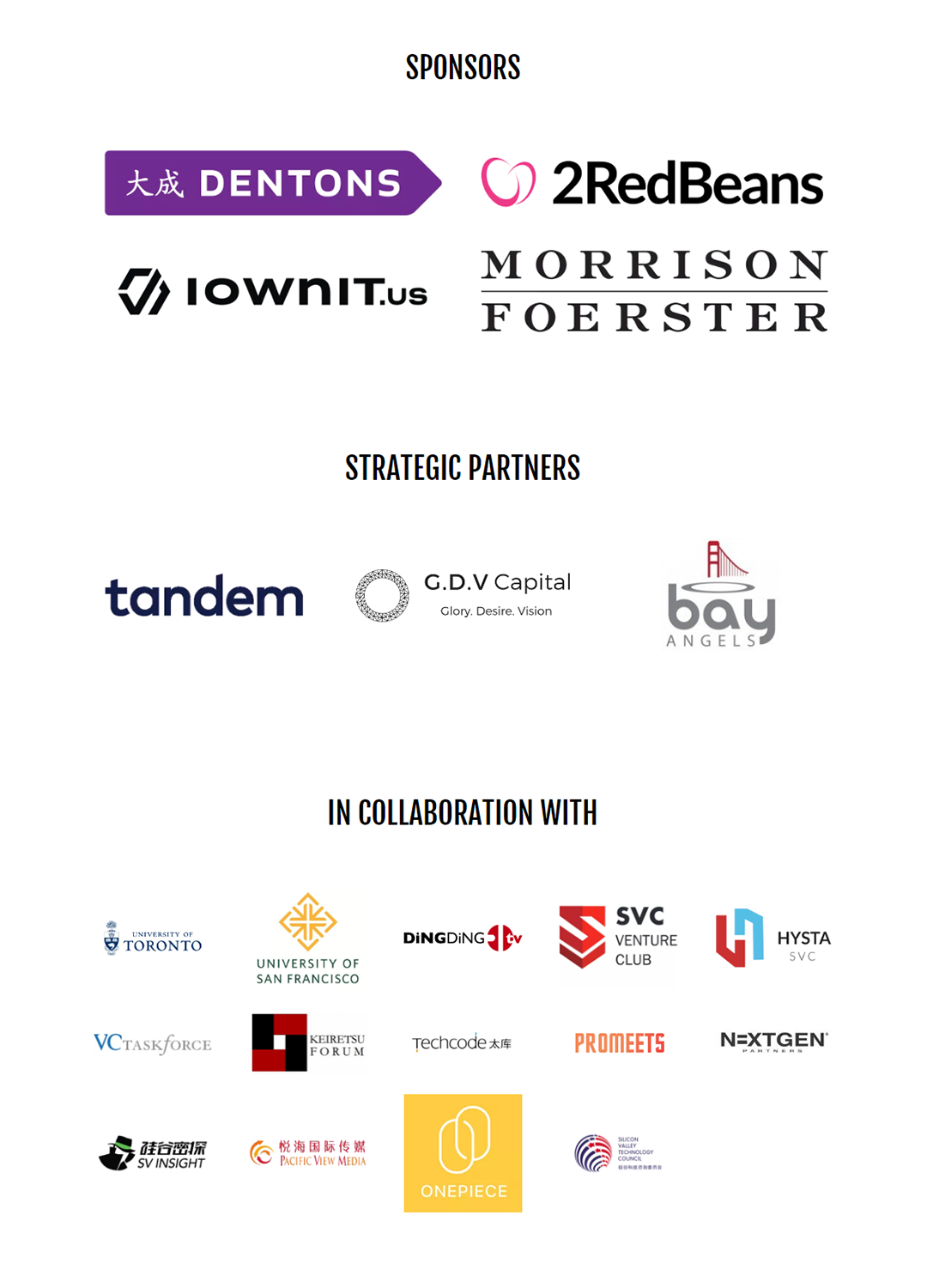 *past sponsors and partners
F50 is a venture capital platform that searches for extraordinary companies and connects them with an exclusive network of global investors, especially leading players from Silicon Valley and China. F50 identifies the most promising technology companies in North America by leveraging the collective intelligence of our investor network, corporate partners, and industry experts. F50 supports the growth of these companies together with our cross-border network of VC, PE, corporate, and strategic investors in global market development & strategic partnership.


Space is limited and this summit will be at capacity. For further information or questions, please visit f50.io/gcs or contact us at info@f50.io.
Have questions about F50 Global Capital Summit 2019 #F50Summit?
Contact F50.io
Save This Event
When & Where

Menlo Park

Menlo Park, CA 94306


Wednesday, May 1, 2019 from 9:00 AM to 8:00 PM (PDT)
Add to my calendar