F50 Global Capital Summit 2019 #F50Summit

Wednesday, May 1, 2019 from 9:00 AM to 8:00 PM (PDT)
Event Details


F50's Global Capital Summit gathers 500+
 local and international corporate executives and investors and 

20+

 top-tier VC-backed startups to focus on healthtech and deeptech. Our flagship event will feature a full day of presentations from the best technology companies, fireside chats with industry experts, and investment panels with global corporate executive and venture capitalists.

This is shaping up to be an extraordinary event and we would love to have your participation. 

Check out videos from past Glocal Capital Summit:

https://www.youtube.com/playlist?list=PLf42AXHM942Op-z7RIO4NeZLVHXqxg_gI

Investors (VC, Corporate Ventures, PE):

Aaref Hilaly, Partner, Sequoia Capital

Adam Goldberg, Partner, Lightspeed Venture Partners

Alaa Halawa, Senior Principal, Mubadala Capital

Amit Shah, Partner at Artiman Ventures

Andy Tang, Managing Partner, Draper Associate

Benjamin Ling, General Partner, Khosla Ventures

Blaise Zerega, Editor in Chief, VentureBeat

Blake Masters, Principal, Thiel Capital

Camille Samuels, Partner, Venrock

Carl Page, Founder, Anthropocene Institute

Christopher Schaepe, Co-founder, Lightspeed Ventures

Dave Munichiello, General Partner, Google Ventures

David Cao, Founder, F50

David Chao, Co-Founder & General Partner, DCM Ventures

David Chen, Operating Partner, Sequoia CBC Cross Border Digital Fun

David Zilberman, Managing Director, Comcast Ventures

Doug Renert, Co-Founding Partner, Tandem Capital

Ethan Kurzweil, Partner, Bessemer Venture Partners

Grant Allen, Managing Director, ABB Technology Ventures

Guy Kawasaki, Co-Founder, Garage Technology Ventures

Hans Tung, Partner, GGV Capital

Hilary Gosher, Managing Director, Insight Venture Partners

Ibrahim Ajami, Head of Venture Capital , Mubadala Capital

Jacques Benkoski, Partner, U.S. Venture Partners

Jagdeep Singh Bachher, Chief Investment Officer, University California, Office of President

JAMES HARDIMAN, Partner, Data Collective

Kiyotak Kumazawa, Hitachi

KJ, Partner, F50 Labs

Leslie Bottorff, Managing Director, GE Ventures, Healthcare

Lu Zhang, Fusion Capital

Mark Siegel, Managing Director, Menlo Ventures

Paul Holland, General Partner, Foundation Capital

Peter Hebert, Co-Founder & Managing Partner, Lux Capital

Phil Sanderson, Managing Director, IDG Ventures

Ramneek Gupta, Managing Director & Co-head, Global Venture Investing at Citi Ventures

Randy Williams, CEO & Founder, Keiretsu Forum

Rishi Garg, Partner, Mayfield

Robert Mittendorff, Partner, Norwest Venture Partners

Roy Bahat, Head of Bloomberg Beta

Saeed Amidi, Founder, Plug & Play

Sanjit Singh Dang, PhD, Managing Director, Intel Capital

Scott Frederick, Partner, NEA

Shawn Carolan, Partner, Menlo Ventures

Steve Mitzenmacher, VP Corporate Development, NetApp

Tim Draper, Founder, Draper Associates

Vanessa Larco, Partner, NEA

Vijay Pande, General Partner, Andreesen Horowitz

Wei Guo, Founding Partner, UpHonest Fund





Influencers (Professors, leaders)

Baron Davis, Angel Investor,Former NBA Star

Caroline Winnett,Executive Director, Berkeley Skydeck

Daniel Burnett, Professor at UCSF, Founder / CEO Theranova

Daniel Kraft, Chair of Medicine, Singularity Exponential

Duncan Logan, Founder & CEO, Rocketspace

Franklin Urteaga,Former Whitehouse Advisor

Jeffery Gruen, CMO, Huron

Jeremy Hillman, Head of Global Communications & Strategy, The World Bank

Keith Krach, Chairman, DocuSign

Mang Yu Sr Research Scientist of Pathology Stanford

Myron Scholes, Professor, Stanford GSB, Economic Nobel Prize Winner

Ron Zaidman, MBA, MTCM, President & CEO, Five Branches University

Roy Geva Glasberg, Founder & Global Manager, Google Global Accelerator

Steve Stevanovich, Board of Governors, U.S. Department of Energy's Argonne National Laboratory

Tatyana Mamut, Amazon, SalesForce, Sapphire Ventures

Uli K. Chettipally, MD., MPH Physician Kaiser Permanente

Vitaly, COO, UNOPS





Media

BÉRÉNICE MAGISTRETTI, VC Reporter, VentureBeat

Blaise Zerega, Editor in Chief, VentureBeat

GENÉ TEARE, Head of Content, CrunchBase

Josh Constine, Editor-at-Large, TechCrunch

KATIE ROOF, Senior Writer, TechCrunch

Kate O'Keeffe, Reporter, Wall Street Journal

Rebecca Fannin, Founder, Silicon Dragon

Tom Giles, Executive Editor, Global Technology, Bloomberg





F50 Summit Companies:

AERO Farms, GUY BLANCHARD, CFO

Clari, ANDY BYRNE, CEO

Apeel Sciences,J AMES ROGERS, Ph.D., Science Director & CEO

ATomwise. ABRAHAM HEIFETS, Founder & CEO

Boom, JOSHUA KRALL, Co-Founder & CTO

Cherry Labs, NIKOLAY DAVIDOV, Co-Founder

CrowdFlower, ROBIN BORDOLI, CEO

DeepMap, WEI LUO, COO

Doctor on Demand

DWave, DAN COHRS, CFO

Element Analytics

Fabric Genomics, MARTIN REESE, Ph.D., Founder, President, and CEO

Fisker, HENRIK FISKER, Chairman & CEO

GrubMarket, Mike Xu, Founder

KnightScope, WILLIAM SANTANA LI, CEO

Maana

Mammoth Diagnostics

Mission Bio, CHARLES SILVER, CEO & Co-Founder

Neuro Therapeutics

ObEN, NIKHIL R. JAIN, CEO & Co-Founder

Paradromics, MATT ANGLE, CEO,

Paxata

Peloton Tech

PETER LEE, CEO, RapidMiner

Petuum, QIRONG HO, Co-Founder

Quantum Health Corporation , Dr. Guo-Liang Yu, Chairman

Sight machine, SYED HODA CMO

Subtle Medical

Talroo, Bruce Ge, Chairman

Verb Surgical

Vicarious, SCOTT PHOENIX, Co-Founder

Viv Labs, ADAM CHEYER, Co-Founder

x.ai,DENNIS MORTENSEN, Founder and CEO

XTI Aircraft, ROBERT LABELLE, CEO

Zipline, KEENAN WYROBEK, Founder




Office website: http://f50.io/gcs

Our past sponsors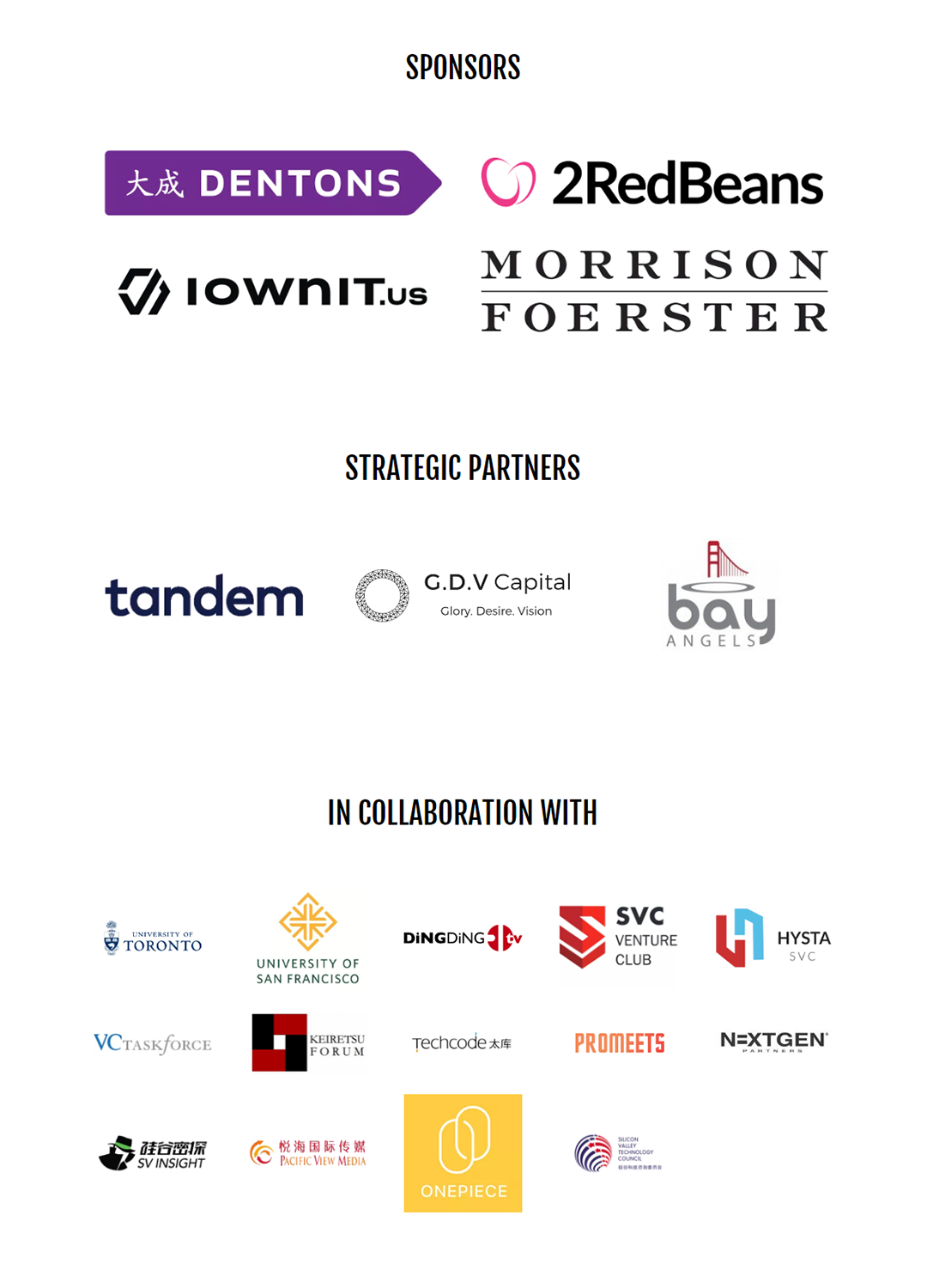 *past sponsors and partners
F50 is a venture capital platform that searches for extraordinary companies and connects them with an exclusive network of global investors, especially leading players from Silicon Valley and China. F50 identifies the most promising technology companies in North America by leveraging the collective intelligence of our investor network, corporate partners, and industry experts. F50 supports the growth of these companies together with our cross-border network of VC, PE, corporate, and strategic investors in global market development & strategic partnership.


Space is limited and this summit will be at capacity. For further information or questions, please visit f50.io/gcs or contact us at info@f50.io.
Have questions about F50 Global Capital Summit 2019 #F50Summit?
Contact F50.io
Save This Event
When & Where

Menlo Park

Menlo Park, CA 94306


Wednesday, May 1, 2019 from 9:00 AM to 8:00 PM (PDT)
Add to my calendar