F16- Fawakih & TFI Present: Language of Prayer - Winter Arabic Program

Saturday, December 17, 2016 at 10:00 AM

-

Saturday, December 31, 2016 at 10:00 PM (EST)
Event Details
You can now grow Fruits in Winter!
WHO: College students and adults (age 18+) who want to develop a personal relationship with the Quran and enrich their prayer through knowledge of Arabic. We cater to students of all levels. Whether you have no prior knowledge of the Arabic alphabet, or have studied at an advanced level, we have something for you!
WHAT: Fawakih Winter Arabic Program, with special enrichment sessions focusing on prayer.
Like Fawakih's summer program the course will have 3 hours of Arabic instruction at all levels daily, covering grammar, morphology, and reading. These skills classes will be supplemented by prayer enrichment sessions, which will include topics such as 
Tajweed and pronunciation

Analysis of short surahs, duas, and parts of prayer

In-depth analysis of Surah Fatihah

Stories from the seerah regarding the origins of various parts of the prayer

Quranic ayaat and hadith about prayer

The fiqh of prayer

Inner dimensions of prayer.
WHERE:  The Fairfax Institute, 500 Grove Street, Herndon, VA
WHEN: Saturday Dec 17th (orientation) - Saturday Dec. 31st, 9 am - 5 pm daily

COST: $550. Includes course pack, books & daily lunch. Housing available at an additional cost. 
HOUSING: Housing is provided by Hawthorn Suites by Wyndham. Room options are as follows:
Room options: 
Studio (up to 4 people) - With max occupants $12.50/night per person (before tax)

1 Bedroom (up to 4 people) - With max occupants $15.50/night per person (before tax)

2 Bedroom (up to 6 people)- With max occupants $11.67/night per person (before tax)
A housing form will be sent to students who request they need housing from Fawakih. Fawakih will help coordinate roommates for students who wish to share a room with other.

Students requesting housing must submit the $50 deposit by Nov. 15th in order to receive the housing form.
Instructors (partial list):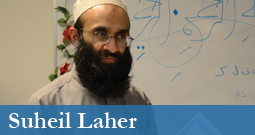 Dr. Suheil Laher serves as Academic Dean at Fawakih. Dr. Laher has played an important role in developing and teaching the Tafsir and Tajwid courses at Fawakih since. After studying Electrical Engineering at MIT, he earned an MA in Religious Studies from Boston University and recently completed his PhD in Islamic Studies at Harvard University. He has previously taught Arabic and Persian at Harvard, Brandeis, and Boston Universities. He has benefited from a number of teachers of traditional Islamic disciplines, in the US and abroad, and has ijazahs in Islamic theology ('aqidah), Islamic law (fiqh), hadith and other subjects. His publications include two articles on the Law of Jihad, published in The State We Are In, ed. Aftab Malik (Bristol: Amal Press, 2006), a collaborative volume published as a concerned Muslim response to terrorism.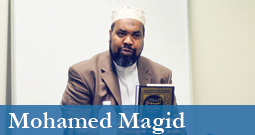 Imam Mohamed Hag Magid Ali came to the United States in 1987 and is currently the Imam and Executive Director of the All Dulles Area Muslim Society (ADAMS) Center in Sterling , VA. He was born in Sudan , the son of a leading Islamic Scholar, who was an Azhar graduate and the Mufti of Sudan. Imam Magid studied at the hand of his father and other notable scholars, gaining ijaza in several disciplines, including Ghazali's Ihya-Uloom-al-Deen. His duties, as the Imam and Executive Director of the ADAMS Center , include giving Juma Khutbas and teaching classes in many aspects of the Islamic Sciences. Imam Magid is in great demand for Khutbas and lectures throughout the US. He is a passionate advocate for, and a practitioner of, reaching out to our neighbors and all citizens. Imam Magid is also well known as an effective communicator to our youth and for work with other organizations and interfaith dialogue. Imam Magid is also well known for his counseling and family counseling expertise.
Winter Intensive Schedule:

Daily (12/18 - 12/31)
9 am – 12 pm: Arabic Grammar, Morphology, and Reading
12 – 1 pm: Lunch  & Dhuhr
1 – 3 pm: Prayer enrichment sessions
3:30 – 4:30 pm: Arabic Office Hours
Friday, Saturday & Sunday (12/23 - 12/25) 7 – 9 pm: Special Sessions

When & Where

The Fairfax Institute
500 Grove Street
Herndon, VA 20171


Saturday, December 17, 2016 at 10:00 AM

-

Saturday, December 31, 2016 at 10:00 PM (EST)
Add to my calendar
Organizer
Fawakih Institute
Fawakih is a 501c3 established in 2008 which aims to promote Quranic Literacy among Muslims throughout the United States. It offers Quranic Arabic classes in over 15 cities across the US and online. Fawakih partners with local institutions to supplement the great work happening in our communities and hopes to enhance each partner's ability to provide quality services to their constituents. It also offers summer and winter intensives for students to accelerate their learning. On top of the Quranic Arabic classes, Fawakih offers tajwid and tafsir classes. For more information, visit www.fawakih.com.
F16- Fawakih & TFI Present: Language of Prayer - Winter Arabic Program