Eyewitness Identification Procedures in the Commonwealth

Wednesday, April 3, 2013 from 10:00 AM to 3:00 PM (EDT)
Event Details
Sponsors: The Virginia Journal of Criminal Law at the University of Virginia School of Law, in cooperation with the Virginia Association of Chiefs of Police
On Wednesday, April 3, 2013, the Virginia Journal of Criminal Law is pleased to host a FREE symposium on eyewitness identification procedures in the Commonwealth of Virginia, at the University of Virginia School of Law, in collaboration with the Virginia Association of Chiefs of Police. The Symposium topic is timely – the Commonwealth and several states have reconsidered eyewitness identification policies to improve accuracy of criminal investigations and prevent wrongful convictions. The New Jersey Supreme Court in Fall 2011 issued a decision that received national attention, adopting a social science framework for admissibility of eyewitness identifications. Also in Fall 2011, Virginia's Department of Criminal Justice Services (DCJS) issued a landmark model policy making a series of important recommendations on eyewitness identification procedures. 
Panelists will include police chiefs, prosecutors, and policymakers from around the state, and prominent social scientists who have studied eyewitness memory. We will discuss the role that social science research plays in understanding eyewitness memory, the reasons that the new DCJS model policy was adopted, and lessons from efforts to implement eyewitness procedures in the Commonwealth.
The course has been approved for 4 DCJS in-service credits.
Time & Place
The Symposium begins at 10:00 a.m. at Caplin Auditorum (note the room change) at UVA Law in Charlottesville, VA. There will be a break for lunch (and lunch will be provided for all, with, in addition, a lunch in Stone Dining Room for presenters and the first 30 participants to register).
Preliminary Program
10:00 a.m.               Introductions: Greg Schneider & Greg Gellert
                                   Symposium Overview: Prof. Brandon L. Garrett
10:20 a.m.               Eyewitness Memory and the Social Science Research: Prof. Jennifer Dysart
11:30 a.m.               Question and Answer Session
12:00 - 1:00 p.m.    Break for Lunch
1:00 p.m.                  Police Roundtable on Lineups
                                        Charlottesville Police Chief Tim Longo & Detective Sergeant David Harris
                                        Roanoke Police Chief Chris Perkins & Philip Patrone
1:00 p.m.                  Virginia Policy Roundtable
                                        Accreditation: Gary Dillon, DCJS
                                        The Role of DCJS: Teresa Gooch, Law Enforcement Division Director, DCJS
                                        Best Practices: Dana Schrad, Executive Director, VACP 
                                        The Prosecutor's Perspective: Hon. Michael R. Doucette, Lynchburg CA
2:45 - 3:00 p.m.      Q&A, Discussion, and Concluding Remarks
                                        Moderated by Brandon L. Garrett
Questions?
If you have any questions at all, please email the law journal's Special Projects Editor Greg Gellert at ggellert@email.virginia.edu or Professor Brandon L. Garrett at bgarrett@virginia.edu
Directions/Parking
There are driving directions to the law school here – http://www.law.virginia.edu/html/insider/oriented_cville.htm#bycar .  The image below displays the location for parking and the Auditorium for the event itself - the parking lots to be used for the event are the D2 and D5 lots at the end of Nash Drive.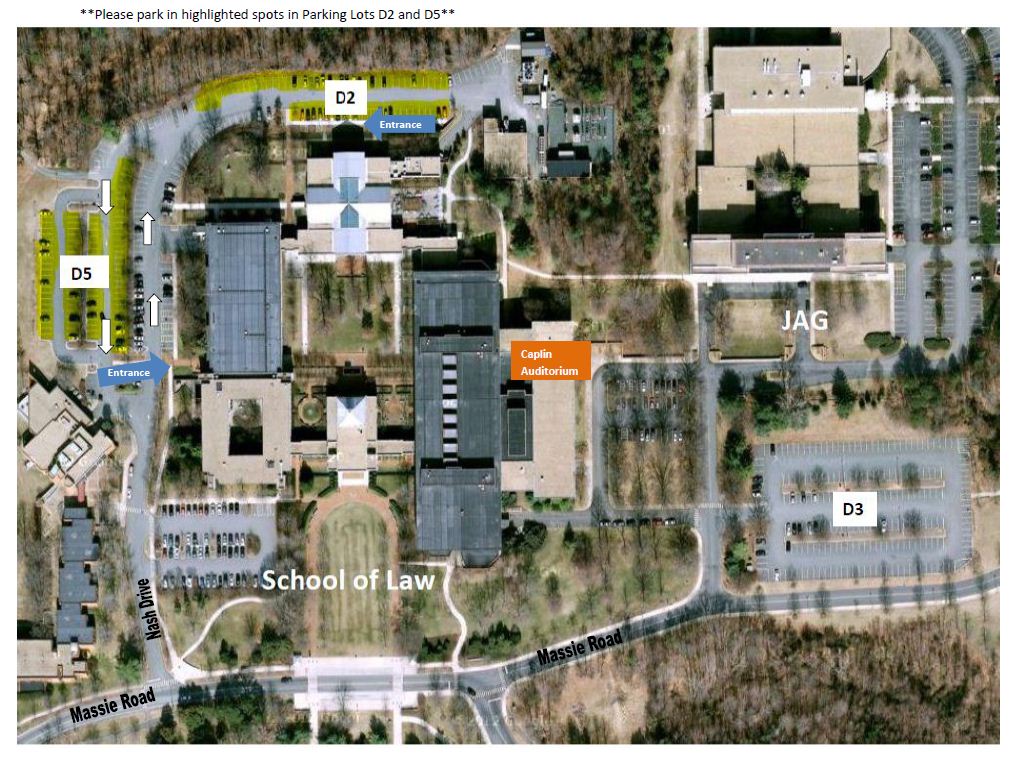 When & Where

UVA School of Law, Caplin Pavilion
580 Massie Road
Charlottesville, VA 22903


Wednesday, April 3, 2013 from 10:00 AM to 3:00 PM (EDT)
Add to my calendar
Organizer
Virginia Journal of Criminal Law, U.Va. School of Law