Eyes Wide Shut Play Party - Exclusive Multi-Mistress FemDom BDSM Play Party...
Event Information
Location
Ivy Manor DTLA
Isabella Sinclaire's Ivy Manor DTLA
los angeles, CA 90013
Description

"EYES WIDE SHUT PLAY PARTY"
An Exclusive Multi-Mistress FemDom BDSM Play Party
---
Spend an evening full of uninhibited play at what has become LA's most coveted and exclusive "underground" Multiple Mistress/slave party. Step into another world ruled by an array of distinguished Dominas and illustrious guests. Here, you are subject to Our every perverse whim and desire.
---
New Date: Friday, Jan 19th, 2018
Time: 9:00 PM – 1:00AM
No additional admittance past 11PM
Location:
Isabella Sinclaire's IVY MANOR - Downtown LA
Register to receive address
Admission Fees:
Admission Fee: $300 (see below for payment details)
Amazing ALL STAR Mistress Lineup

International Dominatrix Isabella Sinclaire (host)

Mistress Jewell Marceau

Kink Goddess Aiden Starr (host)

Goddess Ms Eden Winter (host)

Domina Helena Locke - NEW

Mistress Stella Liberty

Mistress Sheri Darling

Princess Marx

Mistress Bettie Bondage

Madame Grace Marie

Mistress An Li

TS Mistress Tamara
---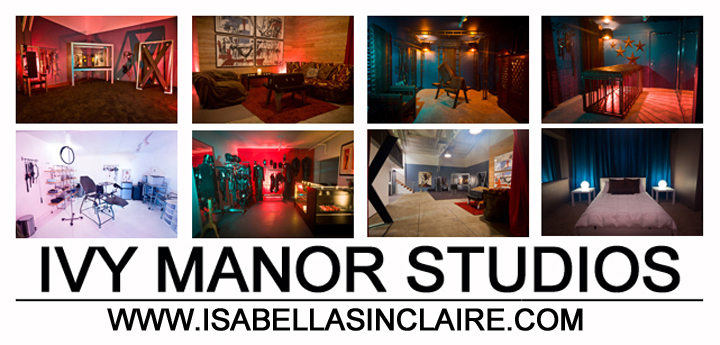 Venue - Isabella Sinclaire's Ivy Manor
Newly remodeled, 2500 square feet of play space with state of the art dungeon furniture including newly launched private DeMasK DTLA showroom. The showroom will carry only the finest fetish wear available by DeMasK latex as well as other BDSM play essentials Isabella refers to as "slave tested, Mistress approved", insuring the best quality items are available to her contemporaries, customers and collectors. The showroom will be open and all items available for purchase during the party.
Lower Level
With an open floor plan, delicious champagne/hors d'oeuvres bar, lounge seating, bathroom with walk-in shower, play area with custom made double St. Andrews cross, spanking horse, canopied bondage table, throne, and pommel horse as well as the DeMasK showroom.
Upper Level
Here you will find the white tiled Medical Play area with gyno table, small lounge area, bathroom with shower/tub. Step a little further to the rear and you will find beautifully appointed play room. With a more intimate feel this room features custom throne, bondage horse, padded bondage table/cage, steel frames for standing bondage and more.
---
FAQ's
How does it work?
After you have successfully reserved your spot you will receive a confirmation email with further information including studio address.
Doors open promptly at 9PM and Lockout at 11PM. No additional admittance after Lockout, play continues.
Upon entry, you will be greeted by an event host to complete "check-in" process. Here you will have a chance to safely store your belongings and make any additional requests before joining the party. Hoods and masks to be provided upon request.
HARD LIMITS - when purchasing your ticket you will be given an option to select from a list of HARD LIMITS to be noted. These limits will always be respected.
You will be asked to provide a "scene name" to be entered onto the guest list. You may also specify if there is a particular Mistress you are serving.
Each listed/confirmed Mistress is committed to be in attendance from 9pm - 1am. Any play beyond is at the Mistress's discretion.
Mistress to slave ratio averages 1:1 with a maximum 1:2, PLAY IS GUARANTEED.
PARTYING AND PLAY DOESN'T STOP UNTIL OUR INSATIABLE MISTRESSES ARE SATISFIED!!!
How do attending males get paired up with the Mistresses? What if there is someone I wish, or do not wish to play with?
You will have an opportunity to make additional requests during the check-in process before you join the party. If you are interested in meeting/playing with a particular Mistress, be sure to make a good first impression by bringing a bottle of wine or champagne as a token of your appreciation. We know you'd be more than happy to help keep some of LA's most pre-eminent FemDom Mistresses, sipping all night long!
Are there ID requirements or an age limit to enter the event?
You must be 18 years of age or older to attend this event. A photo ID may be required.
What can/can't I bring to the event?
YES - A bottle of wine/champagne for our Attending Mistresses
YES - Open mind, ready to serve.
YES - Cash for tipping, envelopes and drop box provided.
NO - Illegal drug or activities.
NO - Unregistered guests (male or Female).
NO - Aggressive, pushy or obtrusive behavior.
ALWAYS - SAFE, SANE, CONSENSUAL
Where can I contact the organizer with any questions?
You may contact the event organizer via email to eyeswideshutplayparty@gmail.com, subject header "Multi-Mistress Party".
The name on the registration/ticket doesn't match the attendee. Is that okay?
Yes, that is okay. Some people may choose to use an alternative "scene name" for privacy reasons. Any personal information such as legal name or credit card number is for official ticket payment processing only and will never be shared or used for any other purpose.
Payment options?
There is a $40 Guest List Reservation Fee for every event. This fee ensures you a spot on the guest list, of which there is a limited number. This fee must be paid in advance online via Eventbrite.
1) $40 Guest List Reservation Fee - The $40 Guest List Reservation Fee must be paid in advance online via Eventbrite and the remaining ticket price of $260 will be due at the door (cash only).

2) Pre-pay - When you select to pre-pay online for an event, we will waive the $40 Guest List Reservation Fee. Pre-pay up to 24 hours before the scheduled event. Total due for Pre-Pay is $260

3) Same-day Eventbrite - You may purchase your ticket on the same day of the event. The $40 Guest List Reservation Fee will be included in the price of the ticket. Ticket sales will close 30 minutes prior to the event start time. Total due for Same-day is $300


Entry will NOT be permitted to anyone who has not paid the required $40 Guest List Reservation Fee without express permission of the event organizer.
BDSM PLAY PARTY FemDom Kink Fetish Mistress Play Party
Date and Time
Location
Ivy Manor DTLA
Isabella Sinclaire's Ivy Manor DTLA
los angeles, CA 90013