Eyes Like Mine Live To Give Christmas Benefit and Gala
LIVE TO GIVE! Join our Annual charity event "Live to Give" entertainment gala for a fundraising effort to help Foster and Adopted Youth.
About this event
"Live To Give"
Join our Annual charity event "Live to Give" entertainment gala for a fundraising effort to give, teach, mentor and help Foster and Adopted Kids in our communities.
The night includes: live performances, food, beverages, silent auction, door prizes, special guest DJ Patrick, foster care awareness, and dancing!
WE NEED YOU!
Eyes Like Mine "Live to Give" Christmas Gala will focus on spreading foster care awareness and empowering our foster and underprivileged youth. We will also be gifting several foster, adopted, and underprivileged youth with Christmas gifts as well as gifting one lucky teen with a scholarship toward college in Honor of Peyton Manning. Find out why! Our team is dedicated to foster and adopted children. We are a support system and outlet for those children who feel alone, abandoned, or invisible! We provide awareness, clothes, shoes, toiletries, toys, counseling, mentoring, grants for school, life skills, transportation, trips, food, love, and much more throughout the year! These are only a few ways we cater to the foster, adopted and underprivileged youth!
Current Collaborators and Partners- Girl Scouts, LCGA, Eyes Like Mine, Hackett House, G&C Productions, Phoenix New Times, Elevate Phoenix, Gardenia Events, Being Dapper, Front Doors Media, WGSJ 90.5FM. KJAZ 90.5FMHD. WIZU 88.1FM radio stations, banks, news channels and more to come!
Current Featured Performers include; Sydney Davis, John Michael, Ashlyn Kronik, and Danny Also More to come!
Stay Tuned!
FAQs
Dress Code: Formal
**EACH GUEST IS REQUIRED TO HAVE NEGATIVE COVID TEST 72 HOURS PRIOR TO EVENT AND MUST SHOW PROOF OF NEGATIVE RESUTS OR VACCINATION CARD EITHER PRINTED OR IN EMAIL FORM AT DOOR UPON ENTRY STAFF WILL VERIFY NEGATIVE RESULT TO LET YOU IN**
How can I contact the organizer with any questions?
Email us at: theeyeslikeminefoundation@gmail.com
Visit our website at: www.eyeslikemineinc.org
Please Email Us for Volunteer Opportunities.
Please Email Us to sign up your foster teen for a chance to be selected for the 2021 Scholarship award in Honor of Peyton Manning.
Teens must be in the graduating class of 2021 email us to get more details! :)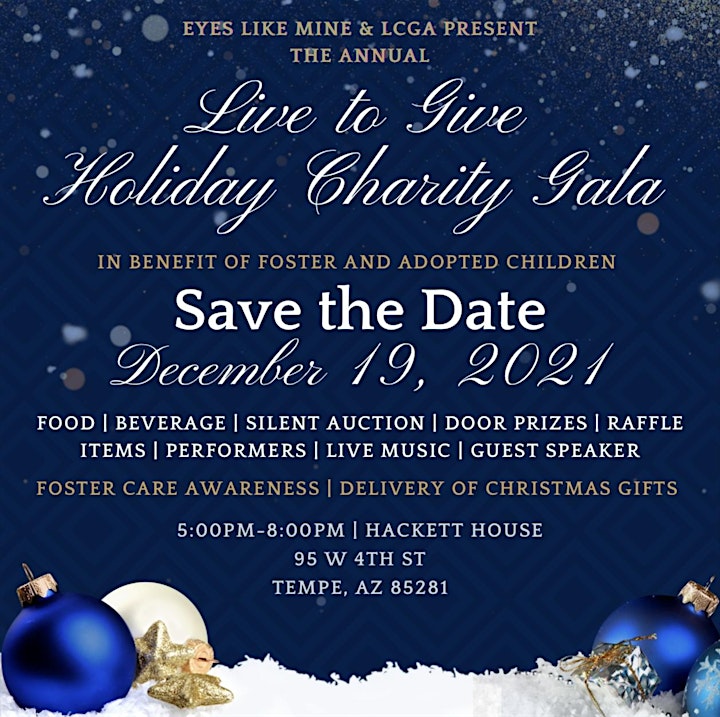 Organizer of Eyes Like Mine Live To Give Christmas Benefit and Gala