Description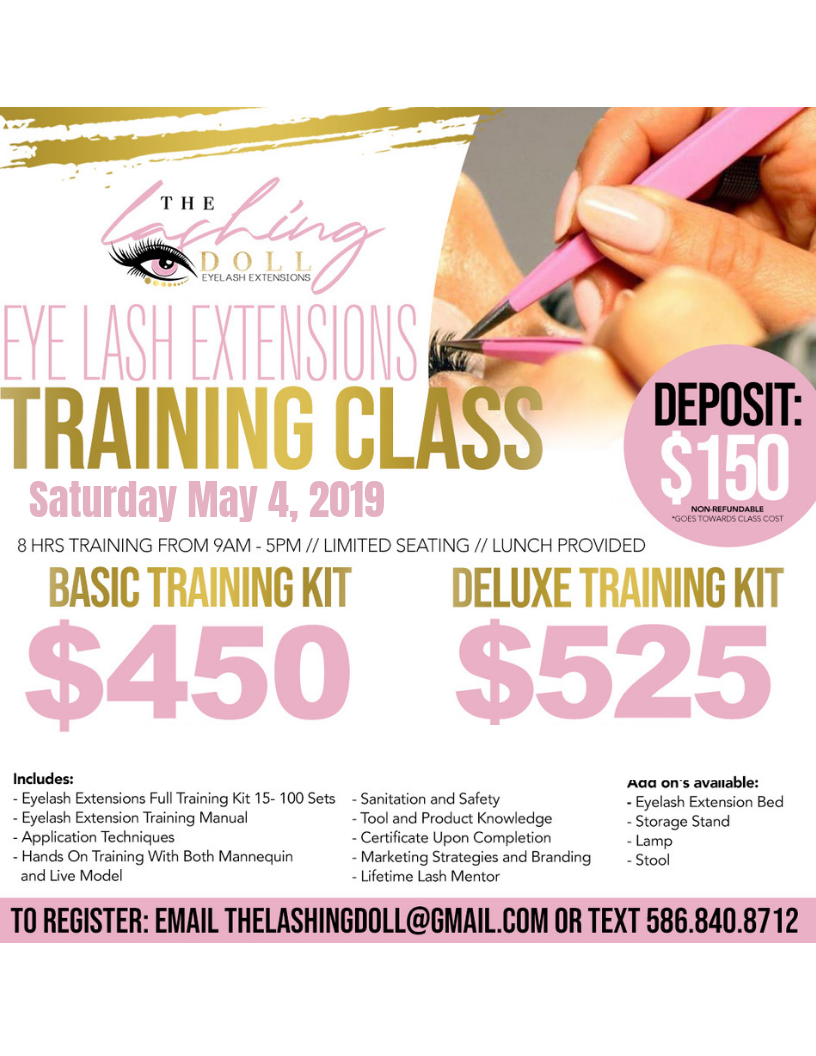 Eye lash Extension Training Class includes learning how to properly apply Classic Eyelash Extensions. You will receive hands on training. This is a 8 hour training course. Group training will be for the first half of the class and the second half of the class will be individual hands on training. When your training is complete you will receive your lashing certificate.

Covered Topics:
Intro to Eyelash Extensions
Safety & Sanitation
Review Products
Lash Styles
Lash Application/ Fills/ After-care Instructions/ Removal
Marketing Tips
Provided With Class:
Full Lash Kit and Supplies for up to 100 Clients
Training Manual
After Care Instructions
Life-time Lashing Mentor
*********LUNCH WILL BE PROVIDED
The ticket price is the deposit which will secure your seat and supplies. The full price of eyelash extension training is $450 Basic package and $525 for the Deluxe package. The balance is due in CASH, before start of class. By purchasing a deposit ticket, you confirm that you agree to these terms.
One-on-one Eyelash training is avalibe starting at $600. Dates and times for One-on-one training can be set up to fit your schedule. Deposits for One-on-one training is $200. If you have any questions, don't hesitate to call me at (586)840-8712. The location will be announced one week prior till the class via text.
$150 Ticket is for deposit purposes only remaining balance will be due the day of the class before it starts in CASH ONLY!
Add-on's Availabl: Lash Bed, lash stool, lash drawer, lash light, extra supplies. *prices vary *****If you plan to take the class with a friend please let me know. You will each receive $50 off class total.