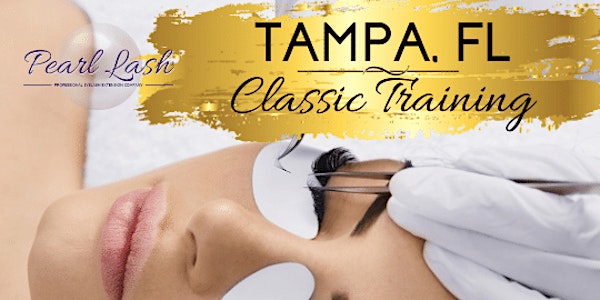 Eyelash Extension Training by Pearl Lash Tampa
Tampa's Highest Rated Eyelash Extension Academy is hosting a Classic Eyelash Extension Training at the Courtyard Marriott Tampa Westshore!
When and where
Location
Courtyard by Marriott Tampa Westshore/Airport 3805 West Cypress Street Tampa, FL 33607
Refund Policy
Contact the organizer to request a refund.
About this event
Training Date: December 17th , 2022
Class Hours: 9:00 am – 6:00 pm
Theory – 9:00 am – 1:00 pm | Live Model Training – 2:00 pm – 6:00 pm
Location address: 3805 West Cypress, Tampa FL 33607
What's included: All classroom training materials including manuals as well as certification.
Pearl Lash Classic Eyelash Extension Training© has been designed by our industry-renowned Master Trainer from the ground up. This course contains priceless information accumulated from decades of practical experience throughout the world. Our professional approach to eyelash extension education goes way beyond simple application.
The focus of this introductory course is to create a Professional Eyelash Extension Artist by building a correct foundation. We incorporate a medical-grade client consultation, client's medical condition analysis, eye anatomy, allergic reactions, troubleshooting, and much more.
This introductory class is designed for beginners and is recommended to students with little or no prior eyelash extension experience. The key objective of the true natural Classic eyelash extension set is an application of a single eyelash extension to every single natural lash on the client's eye. Each student will be provided with an industry-exclusive Pearl Lash detailed professional training manual filled with valuable practical information for every future lash artist.
This Classic Eyelash Extension Training course will also include a 4-hour live hands-on model training under the supervision of our Master Trainer. Our students are encouraged to bring their own models for the hands-on portion of the class. For traveling students or students who cannot provide their own model, our team does have the ability to utilize the Pearl Lash volunteer model list at no additional charge to the student. Please choose your model availability status at the registration checkout page to advise our Event Staff.
Upon completion, our students are equipped with enough expertise to confidently begin their new careers, start their own business, and earn an above-average income.Our goal is to create professionals, not simply hand out Certificates for attendance. Please feel free to read our reviews from some of over 1500 Pearl Lash Certified Lash Artists working all over the world!
Key curriculum objectives of the Classic Eyelash Extension Training:
♦ Latest Eyelash Shaping and Styling Information
♦ Eyelash Extension Application Theory & Techniques
♦ Detailed Eye Anatomy, Allergies & Medical Consultation Review
♦ Eyelash Aftercare & Troubleshooting
♦ Eyelash Fill & Removal Techniques
♦ Live Model Practice Including One-on-One Time With Pearl Lash Master Trainer
♦ Focusing on Complete Client Experience, Offering Professional Service
♦ Detailed Product Information Including Proper Adhesive Selection
♦ Self Promotion, Marketing Advice & Free Listing On Pearl Lash Network of Professional Lash Artists
♦ Much More Valuable Theory, Fundamentals, and Industry Tips & Tricks!
♦ Spanish translated training material is available upon request (El material de formación en español está disponible bajo petición)
♦ All classroom supplies and materials are included and provided for each student during the training. An optional Lash Artist take-home Starter Kit ($170.00 value) is available for each student to purchase for $150.00 during registration or during each training event.
After completing the Classic Eyelash Extension Training, your lifetime membership benefits include:
♦ Free lifetime refresher training available to all graduates
♦ Discounts on Pearl Lash premium products and supplies
♦ Free Shipping on all orders within the US
♦ Exclusive Pearl Points Program to earn additional discounts on all supplies
♦ Direct line of communication to your trainer
♦ Free listing on The Pearl Lash Network of Professional Artists to market your business.
This is a one-day Classic Eyelash Extension Training class with lifetime complimentary refresher options! To learn more about why Pearl Lash values your time, please read our Knowledge Archives written by our experts to find your answer!