Description
Join us on November 30th, 2012 for an Extreme Futurist Festival Pre-Party at RallyPad. This is a beneift event to raise money for Survival Research Labs to have bleachers at XFF and cover further costs of the event. Donations at the door will be $10-$100 though you can also purchase tickets in advance. We will have various guest speakers from both XFF and Dorkbot including:
Mark Pauline

R.U. Sirius

Val Vale

Rachel Haywire

Tiffany Shlain

Ken Goldberg

Michael Keenan

Amy Critchett

Peter Rothman
With live entertainment by:
SRL

DJ

Steev Hoefchen

Alex Peake

Bobby Venomous
Mark Pauline originated and developed the concept of large scale machine performance beginning in 1978 with the founding of Survival Research Laboratories. He staged over 57 machine performances in the US, Europe, and Japan as director of SRL. Various SRL films will be screened for your viewing entertainment.
R.U. Sirius, Val Vale, and Rachel Haywire will have a live conversation on DIY Transhumanism. They will discuss the Extreme Futurist Festival, RE/Search Publications, Mondo 2000, and all things connected to these cultural currents. They will answer difficult and controversial questions ranging from "is cyberpunk dead?" to "are GMO babies cooler than normal babies?"
Tiffany Shlain will discuss "Cloud Filmmaking." Her film studio The Moxie Institute have been experimenting with a new way of making films. They invite people from all over the world to send in art work and videos. Then they mash it all together and make films that they then invite people to help translate. The films include music by Moby, Supertramp and Polyphonic Spree. They have made customized versions for 300 non-profits in the last year. Tiffany will share these films and the experiments in making them.
Ken Goldberg will present his latest project, Bloom, which will open at the Nevada Museum of Art in mid-February. Colors are extracted from photographs of flowers found on Flickr. The size and position of each bloom is based on real-time changes in the Earth's motion, measured as a vertical velocity continuously updated from the seismometer. The horizontal position of blooms is based on time, their vertical position is based on magnitude of the second derivative, and their size is based on the time between extrema.
Michael Keenan is an entrepreneur, activist and futurist who works with The Seasteading Institute and the Center For Applied Rationality. His talk, How Robot Cars Will Change The World, describes how robot cars will save millions of lives, billions of hours and trillions of dollars.
Amy Critchett will discuss her execution of The Bay Lights: World's Largest LED Light Sculpture. The Bay Lights is an iconic light sculpture designed by internationally renowned artist Leo Villareal. This stunning fine arts experience will live for two years on the San Francisco Bay Bridge West Span, starting with the Grand Lighting on March 5, 2013.
Peter Rothman will set the record straight once and for all. Based on popularizers of The Singularity idea, many people have come to believe that The Singularity is an event that lies in our future. Wrong. The Singularity Already Happened and is happening right now. We are living during the moments shortly after the event itself. Evidence wil be presented including many technical papers, recently de-classified CIA reports, and more from his archives.
Steev Hoefchen has been performing around the San Francisco Bay Area since 2000. With a melodic and quality-first approach to dance music, his style closely mirrors the House DJs he grew up listening to in the early 90's such as Bay Area legends Jeno, Mark Farina, Garth and Rick Preston. After making a splash on the scene at the age of 16, he was consistently invited to spin events ranging far and wide from warehouse parties, underground raves, outdoor festivals, radio shows, and bars all across California, always focusing on showcasing quality dance music from around the world wherever he went before dropping out of the scene in 2005 to spend time exploring other artistic avenues. In 2012, he has reemerged and is looking forward to bringing his unique blend of Deep House, Electro and Techno back to the ears of the Bay Area's quality-focused dance music enthusiasts.
Alex Peake is the founder of the game Code Hero and will be giving a live audio/visual presentation.
Bobby Venomous is a multimedia artist who has applied his talents to music, video, and business development. Breaking into the underground video community in the late 00's, he took his talents to the Bay Area and has since been in the SF Underground Film Fest among various others festivals. Bobby Venomous will also be DJ'ing a Cyber Industrial Gamer Core set toward the end of the night.
[This is a unique San Francisco event for freaks, geeks, intellectuals, artists, entrepreneurs, hackers, and social malcontents. Help us kick off the apocalypse and assure that we make the necessary funds for SRL to provide the attendees of Extreme Futurist Festival a grandiose experience.]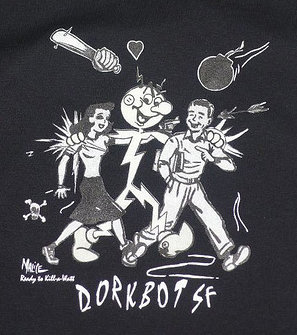 Also check out:
http://extremefuturistfest.info
Organizer of Extreme Futurist Festival Pre-Party with SRL and Dorkbot @ RallyPad