Extreme Cowboy Competition

Multiple Dates
Event Details
Our Six-Part Extreme Cowboy Competition (with courses for both intermediate and expert riders) takes place at the Lord of the Lake Competition Cowboy Course here on our grounds on the following dates and times:

Saturday, April 28th, 2012 from 10 a.m. to 7 p.m.
Saturday, June 2nd, 2012 from 10 a.m. to 7 p.m.
Saturday, July 14th, 2012 from 10 a.m. to 7 p.m.
Saturday, September 1st, 2012 from 10 a.m. to 7 p.m.

Trophies are awarded for 1st-3rd Place in both divisions and runners-up receive ribbons.

Entry fee for the Expert Course is $20 per horse and rider and consists of 18 timed obstacles.  Experts may wear wetsuits under your traditional riding gear as you will get wet.

Entry fee for the Intermediate Course is $15 per horse and rider and consists of 13 timed obstacles.
Double-heat tickets are available for morning AND afternoon runs... $30/Expert & $25/Intermediate.

This is the Southeast's MOST EXTREME COWBOY COMPETITION so only the bravest horses should apply!

On Saturday, October 6th, 2012 we will host the Top Cowboy Course Champion Competition for winners of all six of the 2012 Extreme Cowboy Events to compete against one another for top prize!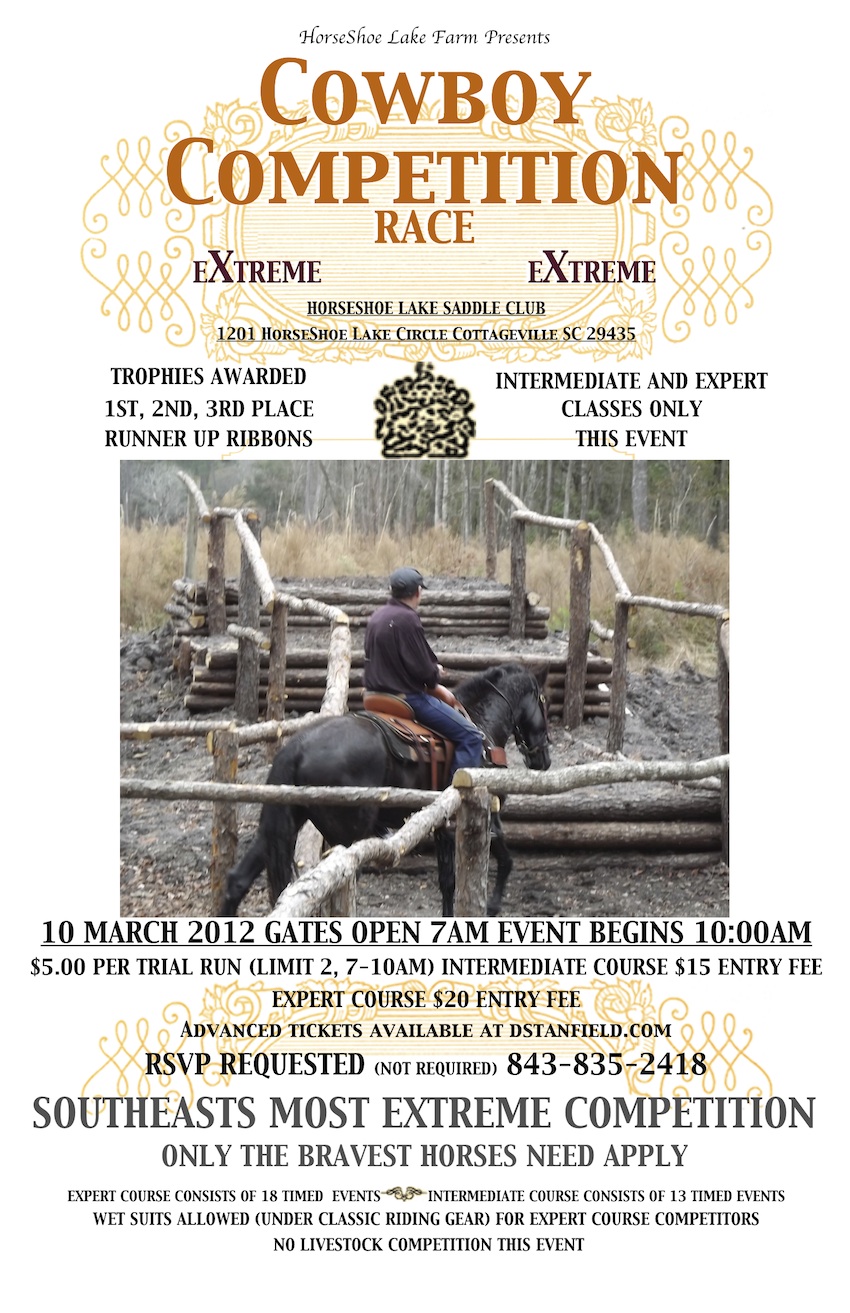 Where

Horseshoe Lake Farm
1201 Horseshoe Lake Circle
Cottageville, SC 29435


Multiple Dates
Add to my calendar
Organizer
Horseshoe Lake Farm is the home of Horseshoe Lake Saddle Club.

Club members participate in Monthly Rides, Events, Shows, Activities and Challenges, including our "Extreme Cowboy Competitions".

Amenities available to club members include discounts on Tent & RV or Lakefront Cabin Rentals right here at Horseshoe Lake Farm... as well as on Boating, Fishing, Swimming, and Special Events & Activities.

We also welcome cyclists. Our riding trail offers a fun, rugged mountain biking opportunity or road cyclists camping on-site can pick up cue sheets for scenic rides into Charleston or Beaufort on quiet, country roads.

There's literally something for every member of your family at Horseshoe Lake Farm!