Event Information
Refund policy
Contact the organizer to request a refund.
Eventbrite's fee is nonrefundable.
Having a personal brand is an effective strategy for leaders who want to extend their reach. In this event, learn how to develop yours.
About this event
When it comes to business and marketing, many initially think that branding is all about fancy logos and witty company or product names. However, personal branding is the single most important part of your overall marketing strategy and how your business will be perceived in the market.
Many entrepreneurs and leaders put themselves out as the face of the business. A great example of this would be Tony Robbins. The motivational speaker owns and manages several businesses, but I bet you can't name a few if any of them. Tony Robbins, the name and the face, is who you think of. Not the company. This is a personal brand.
Here's why you should have a personal brand:
Personal branding makes you more relatable, both as a professional and as a business.
It gives your audience some insight into who you are as a person. This is HUGE for increasing trust and driving many more sales.
Having a personal brand boosts your confidence.
It fosters credibility to the brand.
It helps you distinguish yourself from the competition.
In building a really attractive and compelling personal brand, you need to discover what your unique selling proposition (USP) is. Join us for this Extreme Branding event. Where we'll help you understand what a great USP looks like. We walk you through the steps of building one for yourself and your business. We'll also dive deep into the following topics:
Things to avoid when creating your USP
How to position yourself in front of your audience
How to differentiate yourself and highlight your competitive edge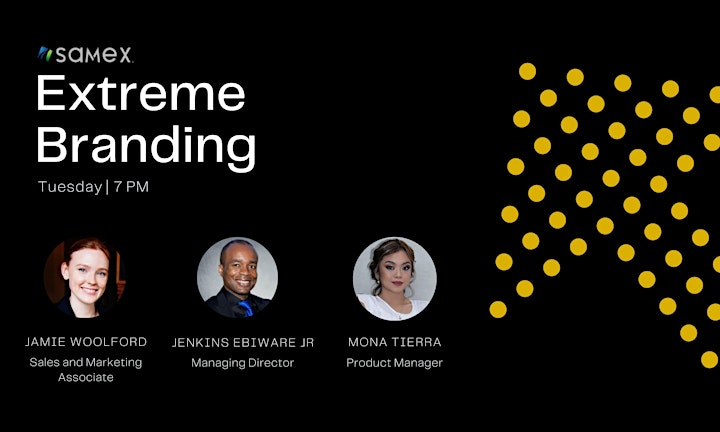 What is Focused Branding?
In addition to your seat in our Extreme Branding workshop, the Focused Branding ticket enrolls you in a MasterClass program in Social Media Marketing and Personal Branding. You'll learn the basics of how to build your brand as a professional or leader on social media, and get hands-on exposure to tools and content-building examples. All designed to increase your ability to connect with and engage your audience on social media.
How does Focused Branding Work?
On the day of your Extreme Branding workshop, you'll get access to our active-learning platform, where we'll guide you through 20 immersive lessons over the course of 5 days. You'll complete daily action items, get hands-on training building your personal brand and content writing to communicate that brand effectively. You'll also learn:
The bare minimum needed to be seen as a thought leader in your industry
How to create video campaigns that capture people's attention
Creating email campaigns; expanding your brand's reach
Focused Branding also comes with premium access to the following brand-building tools:
Constant Contact
LeadPages
Camtasia
With hands-on instruction on how to build your brand and extend your reach with each of these tools.
Whether you're a professional, an entrepreneur, or a seasoned business leader, first impressions matter. Your personal brand is the first impression that people will have of you and your role within your organization. The Focused Branding training package allows you to develop your personal brand in a hands-on environment, where you can repeat as often as you like to re-shape your brand when needed.
Are Certificates Provided?
Yes. Focused Branding attendees will receive a Certificate of Completion and endorsements to showcase their brand-building skills.
Register now!
Date and time
Location
Refund policy
Contact the organizer to request a refund.
Eventbrite's fee is nonrefundable.
Organizer of Extreme Branding: How To Create a Compelling & Profitable Personal Brand
Samex LLC, a 3-time award winning management consulting organization, is providing leaders and entrepreneurs of technology companies with a clear path to the growth of a sustainable business. We do this by providing an active consulting experience (supported by artificial intelligence and automation) to help each employee bring their best selves to work, along with streamlining operational management, sales and lead generation with our software platforms.