Event Information
Refund policy
Refunds up to 1 day before event
Eventbrite's fee is nonrefundable.
In this hands-on workshop, you'll build a brand that will be hard to forget & learn how to repeat the process to build a brand in 5 days.
About this event
Some would say that developing your brand as a professional a waste of time. That it's something only entrepreneurs and businesses should worry about. If you aren't hoping to grow in your career as a professional, you'd be right. Your brand is the single most important part of your success as a professional or as a business.
Samex, a management consulting organization, is empowering professionals and leaders to achieve their career and business goals. Having successfully transformed leaders in industries such as Automotive, Healthcare and Finance, we've accelerated careers for over 3,000 professionals.
As a professional, your brand is your reputation. It's what people say about you, your work ethic, and your overall personality when you're not around. Starting to work on your personal brand as a professional can bring benefits that will help in your career. Such as:
It makes you more relatable
It gives insight into who you are; which makes it easier to trust you
It boosts people's confidence in your problem solving abilities
It allows you to have more control in how much you earn
Whether it's a promotion, a new job, or establishing yourself as an entrepreneur, your personal brand and reputation will determine how far you succeed. If this is something that you haven't given much thought to, there are ways you can quickly establish yourself as a problem solver and build your personal brand.
To start, the first thing you'll need to do is discover your unique selling proposition (U.S.P.). This is what sets you apart from everyone else. In this Extreme Branding workshop, you'll come to understand what a great U.S.P. looks like, and be guided through the steps of building an unforgettable personal brand for yourself or your business.
You'll learn how to differentiate yourself, highlight your competitive edge and how to accelerate the process to build a brand (or re-brand) in 5 days.
Sign up for this event and learn how to build a memorable personal brand and showcase your professional expertise in the best possible way. All attendees of this workshop receive a 5-Part You 2.0 PERSONAL BRANDING CHALLENGE with attendance.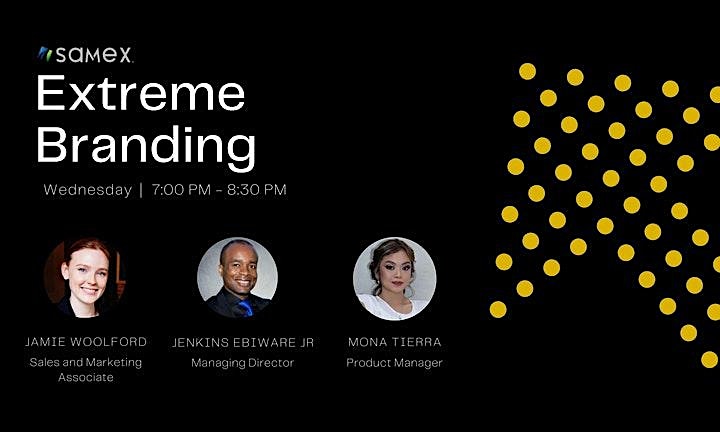 What is Focused Branding?
In addition to your seat in the Extreme Branding workshop, the Focused Branding ticket enrolls you in our marketing training program in Social Media Marketing, Email Marketing & Content Writing.
You'll learn how to establish and position yourself (or your business as an entrepreneur) on social media. Get hands-on training in copywriting, social media automation and learn how to maximize the use of platforms like Constant Contact for email marketing. All designed to increase your ability to create a memorable brand in only 5 days.
How does Focused Branding Work?
On the day of your Extreme Branding workshop, you'll get access to our active-learning platform, where we'll guide you through 25 immersive lessons over the course of 5 days. You'll get hands-on training with premium marketing automation tools. You'll also learn:
How to write content that motivates people to take action
How to craft attention getting emails and subject lines
How to increase your credibility on social media
As a professional, entrepreneur or seasoned business leader, your personal brand goes a long way in determining your success. It's the first impression that people will have of you and your organization. The Focused Branding program allows you to quickly develop a memorable first impression in only 5 days.
Are Certificates Provided?
Yes. Focused Branding attendees will receive Certificates of Completion and endorsements to showcase their digital marketing and brand building accomplishments.
Date and time
Location
Refund policy
Refunds up to 1 day before event
Eventbrite's fee is nonrefundable.
Organizer of Extreme Branding - How to Build an Unforgettable Reputation in 5 Steps
Samex LLC, a 3-time award winning management consulting organization, is providing leaders and entrepreneurs of technology companies with a clear path to the growth of a sustainable business. We do this by providing an active consulting experience (supported by artificial intelligence and automation) to help each employee bring their best selves to work, along with streamlining operational management, sales and lead generation with our software platforms.