Join the College Football Playoff Foundation virtually from the 2022 Extra Yard for Teachers Summit powered by Get Your Teach On!
About this event
Experience includes keynotes with Hope & Wade King, a fireside chat with the U.S. Secretary of Education Miguel Cardona, sessions with LaNesha Tabb, Amen Rahh, and Chris Pombonyo, a special appearance by The Bachelorette's Rachel Lindsay, and much more!
The 2022 College Football Playoff Indianapolis Host Committee, College Football Playoff Foundation, and Get Your Teach On are pleased to invite you to register VIRTUALLY for the 2022 Extra Yard for Teachers Summit Powered by Get Your Teach On at the NCAA Hall of Champions and Conference Center, happening on Saturday, January 8th in Indianapolis! This experience includes on-demand access to content through April!
The College Football Playoff Foundation hosts the Extra Yard for Teachers Summit as a way to inspire and empower teachers each year in the host city. Past speakers and presenters have included Condoleezza Rice, former US Secretary of State; Charles Best, founder of DonorsChoose.org; Desmond Howard, College Football ESPN Analyst, and Eddie B, former teacher turned comedian and many more. The Summit includes sessions to educate, entertain, and pamper attendees. This year, the CFP Foundation is teaming up with Get Your Teach On and will be streaming the Summit live from Indianapolis, giving educators across the country the chance to be a part of this special event.
Register now and join us virtually for this engaging professional development experience on Saturday, January 8th or on-demand when it's convenient for you!
Click here to download the official Conference Guide.

Registration Includes
Access to the summit live stream on Saturday, January 8th
Keynotes by Hope & Wade King and Special Guests (like U.S. Secretary of Education, Miguel Cardona)
Four engaging professional development breakout sessions
Replay access to the sessions and content through April 30th
Certificate for 8 hours of professional development credit
Giveaways and prizes throughout the live stream from our summit sponsors and partners!
Indiana Educators
Indiana educators have the opportunity to join the Summit for FREE through their Indiana Learning Lab account. Click here to access the Learning Lab.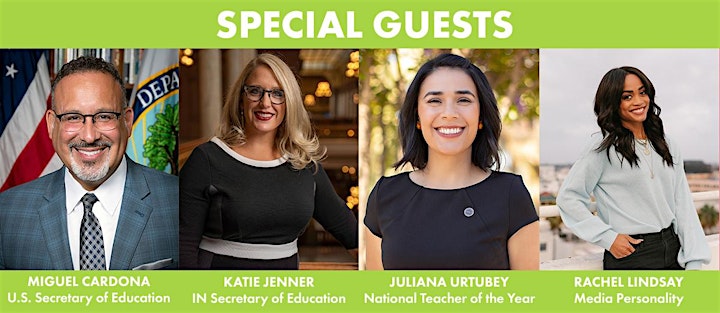 Special Guests
Miguel Cardona - U.S. Secretary of Education
Katie Jenner - Indiana Secretary of Education
Juliana Urtubey - National Teacher of the Year
Rachel Lindsay - Media Personality (Extra & The Bachelorette)
Nick Ferroni - Nationally Recognized Educator and Activist
VOYA Finance - Recognition of HBCU Scholars
And More Coming Soon
Content Sessions & Presenters
Set the Stage to Engage Keynote with Hope & Wade King
Getting Global with LaNesha Tabb
The Game of Rigor with Hope King & Chris Pombonyo
School Culture with Principal Amen Rahh
Making Educational Magic with Music & The Great Debate with Wade King

Agenda
LIVE MORNING SESSIONS
8:30am ET - Summit Kicks Off LIVE from Indianapolis
Special Guests & Speakers
9:15am ET - Opening Keynote
Set the Stage to Engage Keynote with Hope & Wade King
LIVE AFTERNOON SESSIONS
4:00pm ET - Live Portion Resumes
Welcome Back with Hope & Wade King
Fireside Chat with Dr. Miguel Cardona
Surprise Special Guests
Closing Q&A
ON DEMAND BREAKOUT SESSIONS
The engaging breakout sessions below will be available after the Summit with on-demand access until April 30th to watch on your own schedule! These sessions are some of Get Your Teach On's most popular sessions. Our team of educators present these sessions to schools and districts around the country, and you can experience them virtually!
Getting Global with LaNesha Tabb
Young children come to school with no shortage of questions about the world- and thank goodness for that! In this session, LaNesha will break down some strategies for exposing big ideas to little learners through social studies. We will discuss how we can use those questions to learn about the world through geography, civics, history, sociology, and economics!
The Game of Rigor with Hope King & Chris Pombonyo
Do you have what it takes to WIN the Game of Rigor? Roll the dice, take a chance, and get on the rigor board with Hope and Chris as they take you on a transformational journey from start to finish! Create your own path to success in your classroom with the perfect spin of rigor and engagement to bring your standards to LIFE in all content areas. With unexpected surprises around every corner be prepared to expect the unexpected as you take your turn and collect your "winnings."
Making Educational Magic with Music & The Great Debate with Wade King
It's time to ROCK your classroom. Not a singer? Have no musical ability whatsoever? Don't worry! You won't Wipe Out in this session. Join Wade as he shares how to take today's top hits and transform them into an educational wonder. Wade will break down all of the best ways to use music to enhance your instruction, raise the level of rigor, increase your engagement, and bring a brand new level of energy and excitement to the learning process. You're sure to leave with GOOD vibrations! Get ready to Walk on the Wild Side of student engagement.
Tap into higher-level thinking with strategies that will enhance public speaking, in-person and virtual conversations, and depth of thought. Learn how to use questioning techniques that will place you in the role of facilitator and your virtual students in the captain's seat. Wade will share tips and strategies from a virtual perspective that will teach your students to become independent thinkers and confident speakers.
Revolutionary School Culture: The 6 Principles of Unlocking Your School's Hidden Treasure with Amen Rahh
Build a resilient school culture that can overcome any challenge. Join Principal Amen Rahh as he will walk with you through the journey towards the educational revolution. Amen Rahh, a principal, speaker, and author. Trained at the International Institute for Restorative Practices, he has been a leading voice in the quest to transform the education experience in America. He founded University Pathways Public Service Academy, now considered a model school for building a Restorative Community just two years into its establishment, and continues to share his sweeping ideas to schools all over the country. With his 6 principles of revolutionary education, he has upended the outdated beliefs about molding the next generation. From transforming the classroom to involving the wider community, Principal Rahh outlines how to implement real and lasting changes to your school in this powerful work.
GIVEAWAYS & MORE
Plus, be on the lookout for exciting giveaways from our sponsors and partners throughout the day as we celebrate teachers! We'll be giving away Donors Choose and Nike gift cards, free stays at the Fort Lauderdale Marriott Harbor Beach Resort & Spa, and much, much more!

Meet Your Summit Hosts
About the College Football Playoff Foundation and Extra Yard for Teachers
The CFP Foundation is the community engagement arm of the College Football Playoff, supporting education across the country. The CFP Foundation's primary cause platform, Extra Yard for Teachers, is dedicated to elevating the teaching profession by inspiring and empowering teachers in four focus areas: resources, recognition, recruitment and professional development. The CFP Foundation utilizes multiple partnerships to execute its initiatives and support positive educational outcomes. To learn more, visit cfp-foundation.org and follow Extra Yard for Teachers (@CFPExtraYard) on social media.
College Football Playoff Foundation / Extra Yard for Teachers
About Get Your Teach On
Get Your Teach On (GYTO) specializes in professional development and encouragement for educators and administrators in the form of conferences, workshops and events. GYTO conferences are known for their passionate celebration of teachers and their ability to inspire life-long learners. Founded in 2016, GYTO now hosts National Conferences, Regional Conferences, Virtual Conferences, and additional events for a wide variety of educators and school administrators each year. GYTO is also the parent organization for the worldwide Rock Your School initiative which encourages out of the box teaching.
About The Indianapolis 2022 Host Committee
The 2022 College Football Playoff Indianapolis Host Committee works with the CFP to promote, organize and execute the January 10, 2022, CFP National Championship and its related events in the Indianapolis community. The Indianapolis Host Committee remains committed to a seamless partnership with the CFP and stakeholders to continue making a difference in communities across the state of Indiana after the game and into the future.

What Else?
Payment
Payment must be made via credit card at the time of the registration. Purchase orders, checks, wire transfers, and payment plans are not accepted for this virtual experience.
Multiple Attendees/Registering On Behalf of Someone
If submitting multiple registrations or registering on behalf of someone else, you will be prompted to enter names and emails for each attendee. It is critical that you include the actual attendee's email as this is how they will access the online content. If your school district regularly blocks emails, we highly suggest using a personal email (like Gmail). Again, each attendee's actual email address needs to be entered during registration or they will not be able to access the online conference.
Certificate & Hours
All attendees will receive a certificate for the hours attended upon completing the conference. However, districts and states often have different requirements for hours, and we encourage you to check with your district to ensure this will count towards your professional development hours. The certificate will be available via download link within the main event portal.
How Does it Work?
This is a a virtual conference in the form of an online webinar and on-demand content. You will receive links to access the event portal in your confirmation email. Once the conference is over, you will have access to session content and replays until April 30, 2022.
Miscellaneous
The Extra Yard for Teachers Summit is produced as a collaboration between Hope King Teaching Resources Inc ("Get Your Teach On") and the College Football Playoff Foundation. Agenda subject to change. We reserve the right to withdraw, replace, add, or substitute presenters without notice. We use Eventbrite as our online registration provider. By registering for the conference you agree to our and Eventbrite's Terms of Use and Privacy Policies. By registering for the conference, you also agree to be added to our email lists. You will have the ability to opt out at any time. All material and content is subject to copyright by the individual presenter(s), Hope King Teaching Resources Inc., and the College Football Playoff Foundation. The sale or distribution of the content is strictly prohibited without the express written consent of Hope King Teaching Resources Inc and the College Football Playoff Foundation.
Date and time
Location
Refund policy
Organizer of Extra Yard for Teachers Virtual Summit