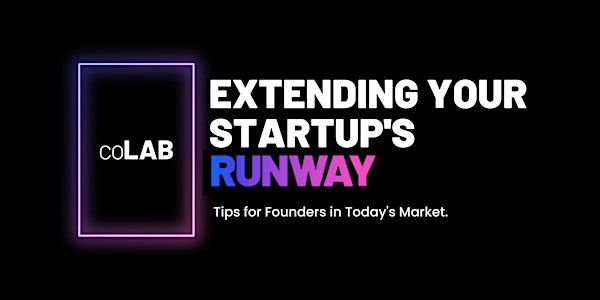 Extending Your Startup's Runway: Tips for Founders in Today's Market
Join an exclusive event for venture-backed startups. Hosted by a team of growth architects behind unicorn success stories.
About this event
Join Noelle Tassey, CEO & Founder of coLAB for an exclusive presentation as she walks through the essential concepts her team uses to help seed-stage and series A startups extend their runway and successfully raise follow-on rounds.
The coLAB team of growth architects has been working with venture-backed startups for the last five years, helping them reach over $1bn in sales.
Now they're sharing that playbook for the first time ever.

Registration is required and spaces are limited.
Questions? Contact startups@letscolab.io

With over a decade of experience working in venture-backed startups, Noelle has seen growth from every angle. She's taken a SaaS company from $15k in ARR to unicorn status, successfully turned around a national coworking business with an exit to a Fortune10 company, and built + acquired leading D2C brands for the biggest retailer in the world. As a founder who has dedicated a lot of her career to working with other startups, she knows what moves the needle during growth stages, and what is a waste of time. She's passionate about helping founders grow quickly and efficiently, with scalable operations and processes.

coLAB is a boutique consultancy that works as an extension of your c-suite, supporting startups with everything from customer acquisition and retention, strategy, fundraising, hiring, operations, and beyond. Whether you're a seed stage startup looking to go from 0 paying customers to 1,000, or you're trying to close your next $50M in enterprise ARR, we can help (And we have! Our partners have gone on to raise literal billions of dollars in venture funding from some of the biggest venture funds in the world).