EXTENDED DAYS: 2018 UF/IFAS Bee College
Description
Due to the high levels of interest in Bee College this fall, we will be extending the event into the following week (Monday and Tuesday, October 15th and 16th)!
Many of the classes offered on Friday and Saturday will be repeated on Monday and Tuesday for anyone interested in attending. Please note that fewer class options will be available on these extended dates due to the limited availability of speakers (see the schedule at the bottom of the page); however attendees of these extended dates will still receive all of the course materials for the classes offered on the Friday/Saturday event. These extended Bee College dates will be limited to 200 attendees.
Classes offered are appropriate for beekeepers of all experience levels, gardeners, naturalists, county agents, and anyone else interested in bees. Courses cover practical beekeeping skills, honey bee behavior, native bees, honey bee research updates, and more. Beginner classes will be offered both days for anyone new to the world of honey bees, while advanced classes are appropriate for backyard and sideline beekeepers. If you are a commercial beekeeper, be sure to check out the classes being offered by the Florida State Beekeepers Association, concurrent to Bee College on October 12th and 13th.
VIEW THE SCHEDULE AT THE BOTTOM OF THIS PAGE


Included in Bee College Registration
Admission to all classes (1 day and 2 day tickets available)
Course materials (digital copies will be provided at least a week before the event)
Goodie bag
Snacks and refreshments at breaks
Discounted Rates
All tickets will be offered at a discounted rate of $150 for two days, $100 for one day. As such, no other discounts will be offered for this event.
Food
Light refreshments will be available for attendees at the breaks throughout the day.
On both days, we will break for lunch for 2 hours. There are many lunch options nearby.
Vendors
All Bee College (Friday/Saturday) vendors will be invited to participate in the extended Bee College dates, free of charge; however, there is no guarantee that there will be any vendors during these extended dates. If you are interested in becoming a Bee College vendor, please read the vendor guide and fill out a vendor application.
Misc.
No refunds will be granted for this event.
Registration will be 7:30am-8:45am on both days. Doors to the building will not be open prior to 7:30am.
Bee veils and other protective equipment will be provided for all in-hive courses, however, you are welcome to bring personal veils, suits, etc. if you would prefer.
Lodging: Many hotel options are available around Gainesville, at a variety of price points. The intersection of I-75 and Archer Rd. has many options that are nearby the Bee Lab.
Honey Show: There will be no Honey Show for the extended Bee College dates
Jr. Bee College: There will be no Jr. Bee College for the extended Bee College dates.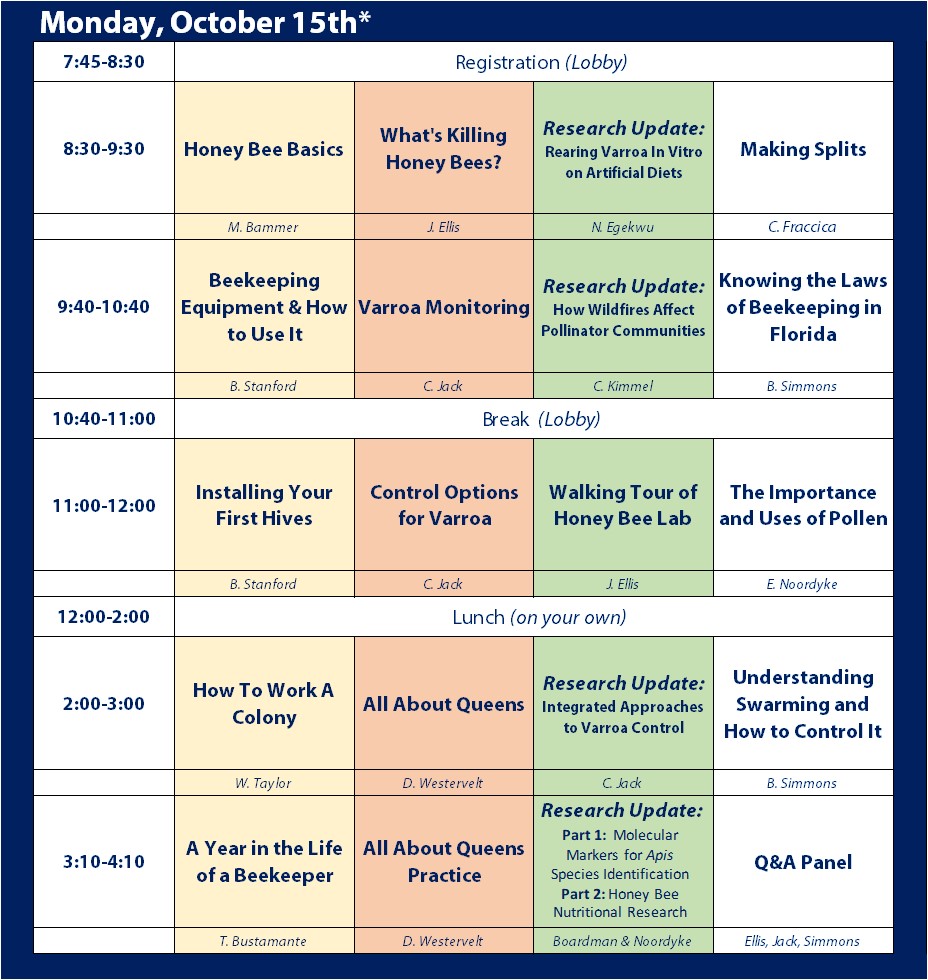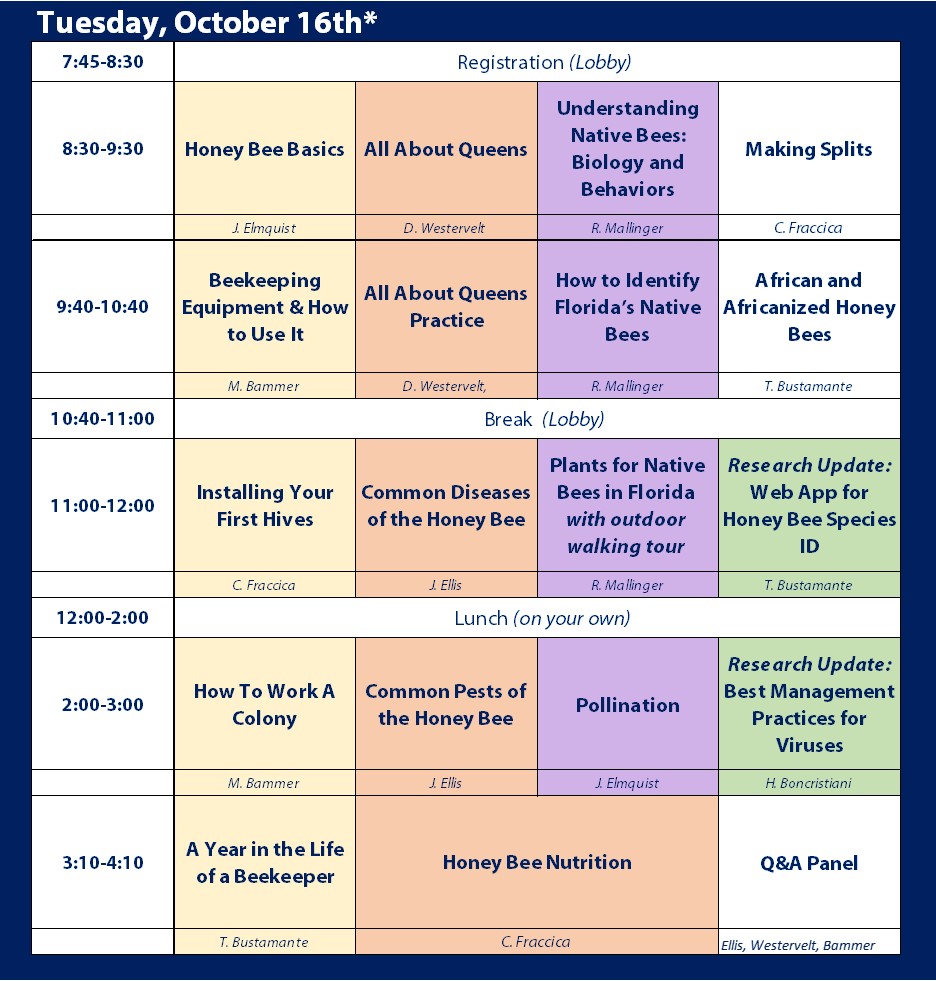 *This schedule is subject to change.
These classes are divided into five general tracks:
Beekeeping 101 (yellow)
Keeping Your Colonies Alive (orange)
Industry Updates (green)
Native Bees and Pollination (purple)
Other/Misc (white)