Description
Class 5 - Salt & Watercolor Art

It's fascinating to watch the wet watercolor react to the salt. There is some immediate effect that you see as you add the salt (more noticeable with larger crystals), but when you come back and brush off the salt, you can see the real transformation. The texture the salt creates in the paint adds interest to any painting, no matter what your level of artistic ability.
On the Kinesthetic side, art can be healing by activating energy or allowing the discharge of energy to reduce tension. Working wet on wet with the watercolor, trying to cover the whole page with paint, and the additional activities of spraying with the spray bottle and sprinkling salt can all help to activate kinesthetic expression. Really focus on being aware of the colors, the movement of the paint, and the effect as the salt is added. This is also a good exercise to practice giving up control and accepting what happens in the process.
On the Sensory side, art is healing as the sensory experience allows the mind to relax, easing thoughts and feelings as the focus moves to the physical sensations. Notice the way the paint moves, blends, and changes as you work. Try spraying the paper with water and then touching the paint to the wet puddles or try dripping paint on the page, watching as the color spreads out on its own. If you sprinkle salt with your hands (as opposed to just shaking it out of a container), there will be the addition of a more tactile experience. As the salt settles on the wet paint, visually observe the effect that it has on the paint.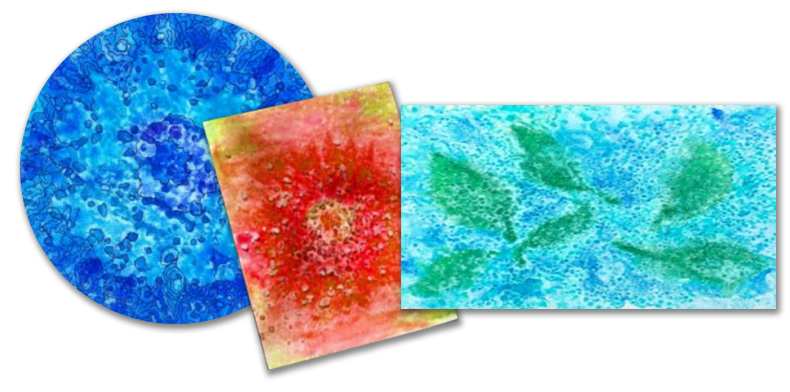 ---
It is NOT necessary to be an artist to benefit from art therapy. Don't worry about the technical skills; there will be no grades and no judgments about whether your artwork is "good enough." This time you DO NOT have to "stay within the lines."
---

DATE: Wednesday, March 25th, 2020 • TIME: 6:30 pm- 8:30 pm

LOCATION: Wellstreams Group - 1210 Davie Avenue, Statesville, NC 28677

PRICE: $30.00