Description
Class 4 - Fluid Painting

One of the benefits of this activity is that it helps to focus your mind on the here and now. By turning away from worries, planning, over analyzing, negative thoughts, etc. and focusing on the painting, you can take a break from stress and allow yourself to relax.
Because there is no "right or wrong" with fluid art, the activity exemplifies the simplicity of the painting by allowing the paint to flow and change with your every movement, weaving together it's unique patterns. The activity shows us how the paint acts just like or emotions and moods that constantly change throughout our day-to-day thoughts. It helps to remove anxiety or perfectionism in your creative process. The end result is abstract and cannot be interpreted as good or bad, so you do not need to worry about the result, only enjoying yourself and allowing yourself to be "carefree."
Using fluid paint is lighthearted and fun and helps feeling stressed and overwhelmed by allowing you the ability to "play" with the paint and not worry about making a mess.

This class will incorporate fluid acrylic paint; squirt bottles, poster board, water, paper towels, and disposable gloves if needed. All materials are included.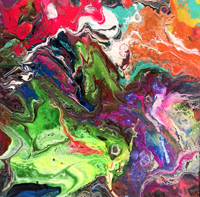 ---
It is NOT necessary to be an artist to benefit from art therapy. Don't worry about the technical skills; there will be no grades and no judgments about whether your artwork is "good enough." This time you DO NOT have to "stay within the lines."
---

DATE: Thursday, June 27, 2019 • TIME: 6:30 pm- 8:30 pm

LOCATION: Wellstreams Group - 1210 Davie Avenue, Statesville, NC 28677

PRICE: $30.00