Description
Are you a museum or heritage learning professional?
Are you interested in developing more robust work with SEND audiences?
Then this exploratory, hands-on day is for you!
We know that the numbers of SEND pupils in mainstream settings are increasing and that teachers often don't tell us about pupil's additional needs before they visit one of our museums. We know that lots of museums want to build strong, local partnerships with local schools, and that museums often find working with SEND setting especially challenging. During the day, we will explore different models of inclusive engagement, and try out methodologies that we know can raise attainment in schools and help you build robust, long term relationships. If we get our programmes right for SEND audiences, we make everything more inclusive for everyone.
The event is in partnership with GEM Yorkshire and Humberside.
Programme for the day: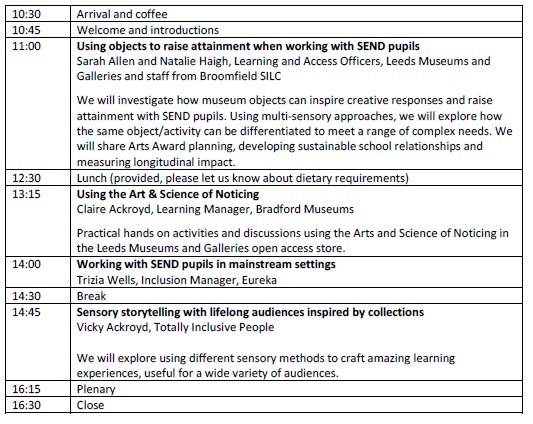 Rate for the day is £30.00 per delegate. This includes all refreshments, including lunch. If cost is a stumbling block, please contact Kate Fellows on kate.fellows@leeds.gov.uk
We really hope to see you there!