Description
This place is going to be OVER PACKED!! This Edition of Exposure will have wall to wall producers and industry resp! Contact WEWORKMUSIC@GMAIL.COM

The opportunities are limitless. Record Deals, Placements, Mix-tapes, EXPOSURE!

Sign up starts @ 8pm Show starts @ 9pm
For All Registration Info Contact weworkmusic@gmail.com

Exposure open mic powered by B Rich of Grand Hustle & manager of multimillion platinum artist B.o.B & Mixtape King DJ holiday ( Holiday Season) and radio personality on Streetz 94.5 .fm.

This event is sponsored by Dat Piff . Com , The Commission , Real Rap Promo , Cory Mo Music , Grand Hustle , Atlantic Records & Making It magazine .

There are two ways of registering for this event. First option is Vip registration , it includes a guaranteed prime time performance slot and entry for artist and one guest free ONLY.

To secure this slot simply visit www.EXPOSUREOPENMIC.COM and select registration tab; the fee is $100.00 . ( VIP registration is over the Monday on the week of show) .

You can also register on the day of the event at apache cafe for $30 sign up starts at 8pm .The $30 spots are first come first served and are very limited so early arrival is strongly advised.

Its a $10 admission for fee for guests , set time on stage is 4min , and prizes vary every month.

One song can change your life , so perform your best song and bring your people out to support your movement .

You never know who's watching you at #exposureopenmic . All ages and genres of music are welcomed #weworking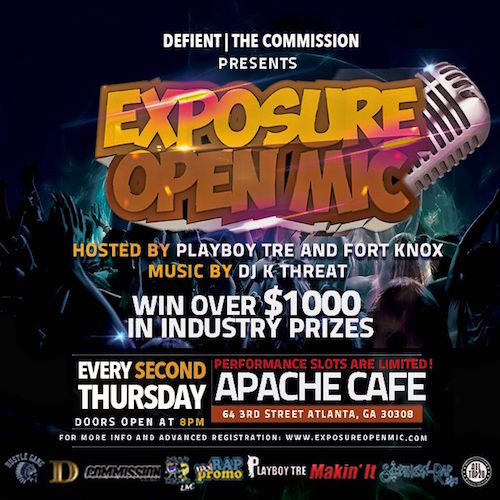 *Cash only, day of entry, at the door. There is an ATM inside the door for your convenience. The bar/restaurant takes VISA/MC/American Express/DISCOVER/Cash.
There is a $10 per person minimum for table seating.
Parking- 3 options:
1) on-street in a marked pay meter space. Most on-street is free after 10pm read signs!
2) Big lot between Apache Cafe and the Varisty. Self-pay at the pay kiosk on Spring St or get booted (not us!)
3) GA Tech Hotel and Conference center one block north of us at 4th & Spring, usually $1.50/hr read hours of operation!

------------------------------------------------------------------------------------------------------------
Regarding Table Reservations
(1) Table reservations are generally held until one (1) hour after doors open but make sure to refer to the event's specific ticket rules on Ticketweb; if you have not redeemed your table reservation by the specified time, you will lose your reservation and your table will be made available to others without refund.
(2) Table tickets are not required to attend, but they are recommended for guaranteed table seating. Try arriving early to be seated at an open an free table
(3) All reserved and walk-up tables have a $10 minimum per person
(4) A table ticket entitles you to the entire table with the described number of chairs. Do not purchase a table ticket for each person sitting with you at this table.
(5) General admission ticket is required per person to enter venue. Purchasing a table reservation does not include the price of admission. Admission may be purchased by selecting General Admission tickets or at the venue upon arrival.
(6) Table reservation fees do not go towards food or beverage, admission or gratuity.
(7) There are no refunds on table reservations (except event cancellations) additionally, seating/table arrangements or changes to them are non negotiable and provide no cause for refund.
(8) When you enter the venue, please see the Hostess to be seated and be prepared to show your reservation purchase credit card and picture ID before you are seated.

Should you have any further questions or concerns (ABOUT THE TABLE RESERVATIONS! PLEASE DO NOT CALL US ABOUT THIS EVENT!) please feel free to call the Apache Cafe @ 404.876.5436 or visit www.apachecafe.info

*When you enter the venue, please look for your table which will be held by name (eg J. Smith). Your server will be expecting you; please be prepared to show your credit card and picture ID before you are seated.