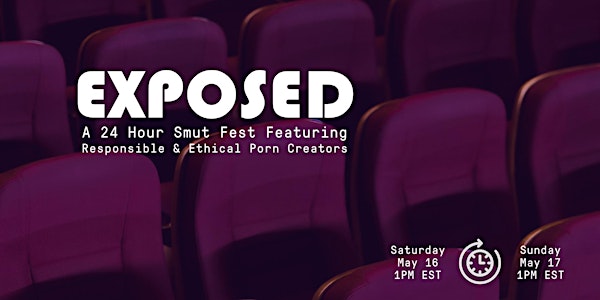 EXPOSED: 24 Hour Smutfest
24 Hours of Responsible & Ethical Film
Refund Policy
Contact the organizer to request a refund.
Eventbrite's fee is nonrefundable.
About this event
Welcome to the 24 Hour SmutFest
We love nothing more than responsibly produced er(o)tica that entices, arouses and excites as we break from the monotony and expectation of the norm. As many of us throughout the world are socially distancing, we're seeing a rise in adult content and viewing habits. To meet this, we're exposing you to a new world of yummy, and responsible smut.
Join us as we launch 24 hours of responsible film featuring leaders in the responsible p(o)rn space. Each will provide two hours of programming over the 24 hour period.
Featured creators, contributors and curators with many more being confirmed...
We're celebrating those redefining the erotic arts...The curators, producers, directors and performers of adult content. All ticket holders will receive a link, and will be able to drop in to view responsible smut whenever you'd like over the 24-hour period. A schedule will be shared with all attendees.
Donations will go to support the brilliant, strong and resilient creators within the community.
Note: Keeping with Eventbrite guidelines, this event is not sex based, hookup style, explicit or pornographic. This an educational cultural experience as explained in details above.
18+
By purchasing a ticket you confirm you are 18 years or older.
Responsible porn is created with the intent of centering consent, safety: on and offscreen, properly paying performers and crew, and shows a range of pleasure, bodies, and sexualities. Responsible porn is a continuous effort to improve, repair, and enhance the adult industry.
As a movement, this industry recognizes that we may fall short despite the best of our abilities. We infuse grace and value learning from our mistakes so to continue on the journey to a more shame-free, celebratory world.