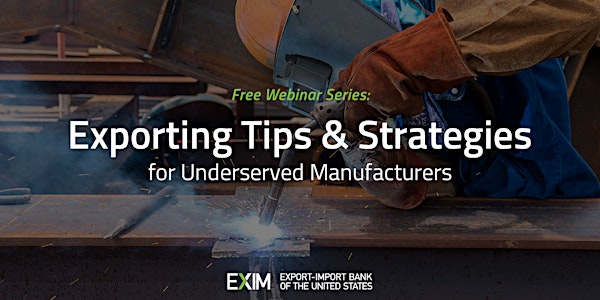 Exporting Tips and Strategies for Underserved Manufacturers
A conversation for underserved manufacturing businesses on how to export.
About this event
This is a great opportunity for manufacturers who want to get their U.S. made products on the global market. The event is hosted by the Minority and Women-Owned Business Outreach Division (MWOB) of the Export-Import Bank (EXIM) and focuses primarily on outreach to the underserved business community. Any businesses would greatly benefit from attending these sessions.
This event is free, and you will learn about
Strategies and tips for getting started with exporting
How to access capital to make sure that your venture is profitable
Local resources that can benefit your manufacturing company
Market research to find foreign buyers and other resources
Guest speakers include:
Scott Broughton | Director of Manufacturing Engagement | Office of Research and Innovation - University of Louisville
Denise Whiteford, MBA, CGBP | Business Advisor | Connecticut Small Business Development Center
Please RSVP as soon as possible due to limited space
Type of businesses that should register:
Must be in operations for at least 3 years  
No substances not approved by the Federal government 
Have a DUNS number 
Is a manufacturer in the US 
Located in a rural area 
Have a website  
51% owned or controlled by an individual or individuals considered to be socially and economically underserved (Veterans, DBEs, any Minority Status, Women-Owned, Disabled, Native Americans, etc)
Speaker: Nicole Woods
Nicole Woods is a lead global business development specialist at the Export-Import Bank of the United States (EXIM). EXIM provides U.S. businesses with competitive financing tools that mitigate the challenges and risks of selling goods and services abroad.
Ms. Woods specifically works with the underserved business community to educate them on how to qualify for and access EXIM financing.
She also manages the Bank's Client Care Unit which works with existing clients on maximizing the benefits of their policies for international business growth.
Ms. Woods is a graduate of Hampton University and a former public affairs specialist for the U.S. Army and U.S. Navy, with an extensive background in strategic communications and media relations.
Nicole also holds a Certified Global Business Professional (CGBP) designation administered by NASBITE International, which is the leading authority and industry standard for global business education, trade credentialing and training.
Speaker: Scott Broughton
Innovative leader with 30+ years working as a growth professional in B2B and B2C industries and business units. Experienced in design, development, and delivery of innovative change management and business growth systems. Developer and master trainer in Growth Management System and professional facilitator in internal operating and business processes/systems.
Scott currently is the Director of Manufacturing Engagement at the University of Louisville and is the proposed Director of the Kentucky Manufacturing Extension Partnership, a NIST funded not-for-profit focused on bringing best practices to Kentucky manufacturers to reduce operational costs and grow the economy through the manufacturing sector.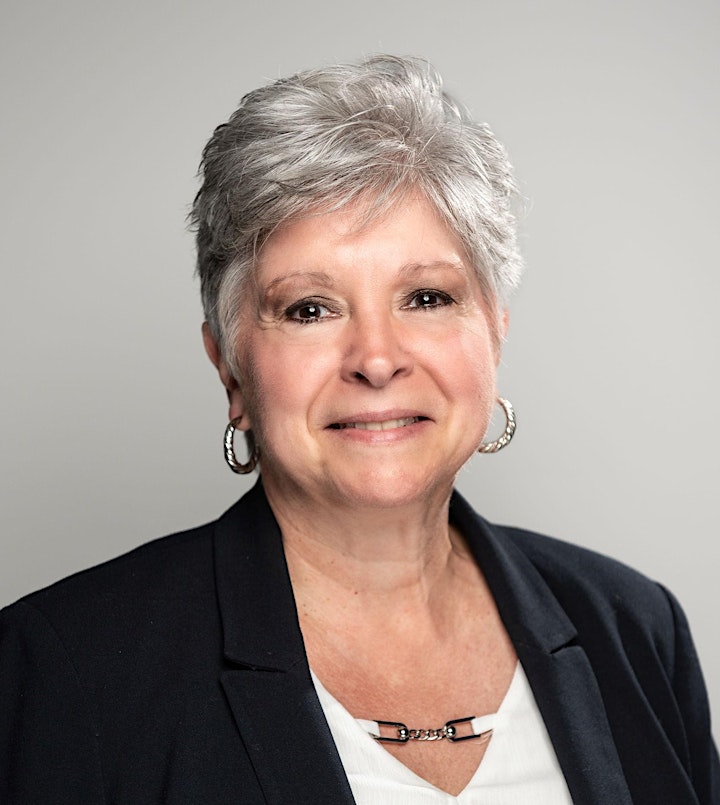 Speaker: Denise Whitford
Denise Whitford is a member of the NASBITE (National Small Business International Trade Educators) Governance Council and brings more than 35 years of experience as a senior executive, management consultant and successful entrepreneur. She leverages her extensive experience in strategy development, operations, project management, and as a thought leader in her role as a Business Advisor and International Trade Expert at the CT Small Business Development Center.
Denise takes a holistic approach to help businesses start-up and grow efficiently and sustainably in both domestic and international markets. Denise supports her clients with competitive insight, technical skills and strategic guidance to expand beyond the border of the US and into new international markets. This often includes developing and honing export business plans, adjusting working capital position, expanding workforce capacity and refining marketing strategies across a wide variety of industries and countries.
Prior to joining the CTSBDC, Denise founded Dexterity Business Advisors LLC, a boutique strategy and operations consulting firm that helps business become more functional and productive in the US and overseas. In this role, Denise has helped Global 500 companies drive cost reduction and revenue growth through business process reengineering, corporate climate assessment, organizational redesign, supply chain optimization, and financial repositioning through various debt and equity resources.
Denise earned her bachelor's degree from Lebanon Valley College in Annville, PA, and then continued her professional education through the American Bankers Association, earning diplomas in banking and consumer lending. Denise earned an MBA from the University of Connecticut with concentrations in Management and Human Resources, and the NASBITE Certified Global Business Professional (CGBP).
Denise shares a love of fine wine and unique food with her husband Lee - and can be found (in her free time) gardening, cooking and traveling the globe to catch a concert and a great meal… which from time to time can also mean a round of golf and an overnight in a cool bed & breakfast or country inn.