EXPO MICHIGAN marketplace crafters, exhibitors, vendors, pop up shops
Arts crafts decor, gifts hats jewelry & more!
About this event
30,000 foot store
100 Pop Up Shop space weekends before Christmas 2021,
set up your store, one weekend or more
arts crafts decor, businesses, Entrepreneurs, exhibitors, vendors & YOU!
EXPO:
display, exhibit, exhibition, exposition, fair, show
EXPO MICHIGAN MARKETPLACE 2021
For Immediate Release
CONTACT: Shirley
Oakland County Business Association Inc Michigan
EXPOMichigan@gmail.com
EXPO MICHIGAN MARKETPLACE 2021 - FOR EVERYONE TO EXHIBIT AND PROMOTE: LOCAL BUSINESSES, ARTISTS, CRAFTERS, ENTREPRENEURS AND EXHIBITORS, opens "Black Friday, November 26 from 10-7. Then Saturdays 10-7 and Sundays 12-5, November 27-28, December 4-5, 11-12, 18-19, event ends Friday, December 24, 2021, from 10-5.
*Oakland County Business Association of Michigan has hosted expos since 2012 at locations throughout southeast Michigan. Events benefit Michigan handcrafters, local businesses and the handicapped – ALL crafters welcome!
Novi, MI – The Oakland County Business Association of Michigan, a non profit organization will host another great EXPO MICHIGAN marketplace 2021, previously events in malls: ENTREPRENEURS EXPO, Small Business FAIR, Michigan Crafters Marketplace featuring handcrafted items by Michiganders and people with disabilities, entrepreneurs, exhibitors, local and new businesses, and more. The event will be held inside a large retail store, 30,000 at West Oaks Mall in Novi on Novi Road, prime shopping areas.
Set up a store for your business. . Set up Wednesday before Thanksgiving 3-7 pm, leave your exhibit up for 30 days.
Two for one admission. Admission is $5 per person, CASH ONLY. Coupons available online, make copies, print and bring.
All exhibitors, please post 2 for 1 admission coupons on all social media, email to everyone
EXPO MICHIGAN marketplace 2021, features many handcrafted items made by handicapped and non-handicapped people from around the state. It's a way to help those individuals with a handicap sell their items and get exposure to the public. Other Entrepreneurs EXPOS, since 2012 have been quite successful with over 100 exhibitor's booths and large crowds throughout the day.
$5 DISCOUNT for shoppers. Redeem paid $5 admission at participating exhibitors for $5 DISCOUNT on $30 retail purchase, limit 1 coupon discount per transaction.
"The goal of this event is to offer local people starting a new business or making products an opportunity to exhibit to public in a community setting." Disability agencies exhibit Free.
These events provide a regular opportunity for everyone to exhibit or present a micro-enterprise business opportunity. These EXPOs attract artists, authors, crafters, designers, direct sales, home based businesses, small businesses and services. A great opportunity for new businesses to get attention in the community.
EXPO MICHIGAN
MARKETPLACE 2021,
Please read and follow all information. Print EVENTBRITE receipt on paper and bring!!!
Bring your own table, chairs, nice black or white linen table cloth.
Rentals available tables, chairs, cloth
EVERYONE please print EVENTBRITE ticket / receipt on paper and bring to event before setup. No exceptions. No computer on site.
PAPER EVENTBRITE TICKET RECEIPT ON PAPER REQUIRED BEFORE SET UP
1 Info email: EXPOMichigan@gmail.com
2
3 Bring your own tables, chairs, nice black or white linen table cloth
4 Yes I understand all events subject to change without notice
5 Insured food exhibitors welcome, required to sell home made food items
6 No refunds to vendors for any reason.
7 I will deliver, bring in my own products and remove all
8 Hours 11 -7 Saturday & 12-5 Sundays
9 Location West Oaks Shopping Center, Novi Road, Novi, MI
10 No guarantee of sales or attendance
11 No soliciting in parking lot, other stores
12 Exhibitors collect 6% sales tax or claim on your taxes.
13 Mall may require removal of items or displays. . No open flames, no lit candles.
14 Abusive behavior will be termination and vendor must leave. NO Refunds
15 All mall rules will be followed. I will throw away my trash.
16 I will post events, posters on my facebook, website, other social media.
17 OCBA Inc and mall not liable for refunds, other liabilities for failure to fulfill this contract due to reasons of location event held before or during event if destroyed by fire, other calamity, acts of nature, weather, public enemy, strike, ordinances or other legal authority or cause beyond control.
18 Including negligence shall OCBA Inc, mall management, associates, families, be not liable direct, indirect, special, consequential damages resulting from attending events.
19 If any section, sentence, clause, phrase or portion of this contract is for any reason found invalid or unconstitutional by any court of in Oakland County, MI such portion shall not affect the validity of remaining rules, regulations and terms.
20 This is a legal contract to reserve a table at local events.
21 All exhibitors are asked to please help keep building and restrooms clean. No maid.
22 Facemasks or coverings will be required indoors.
23 $5 DISCOUNT for customers on $33 purchase, they give you admission ticket, redeem ticket at cashier for $2.50
24 EVERYONE unload back door only. Do not stop in firelane in front of store. Do not get hit by cars
# # #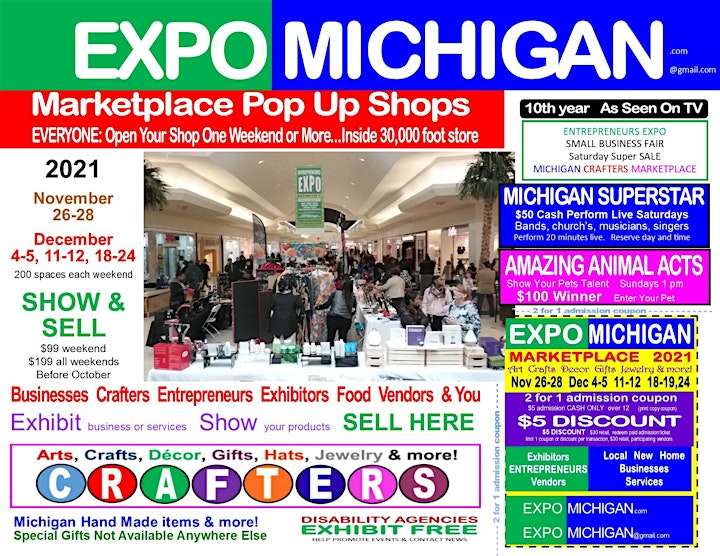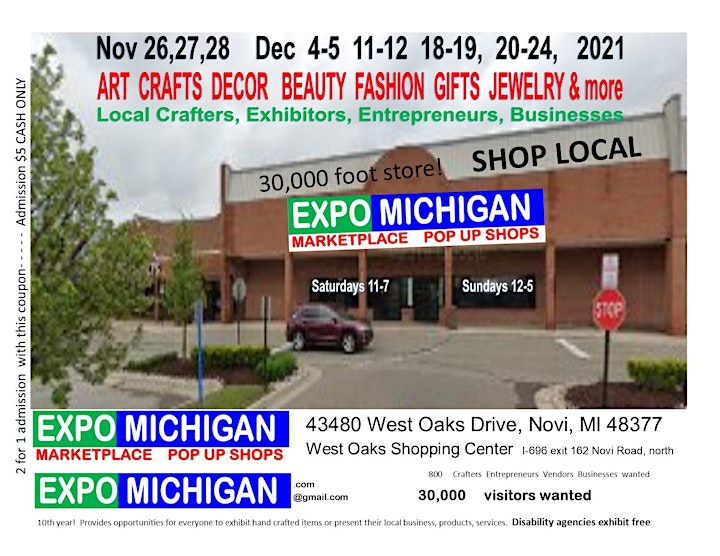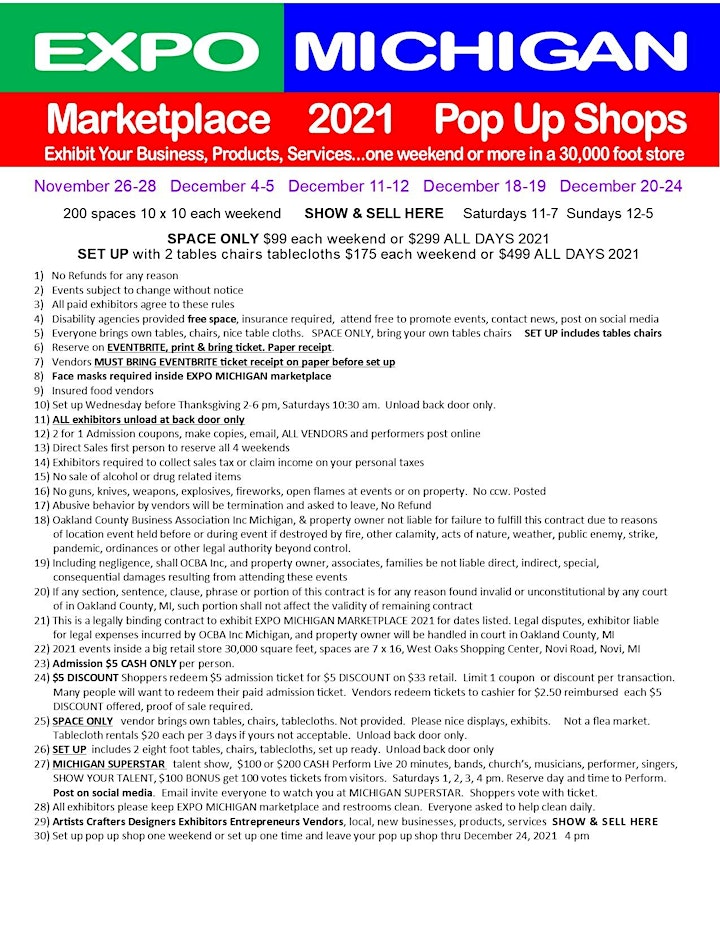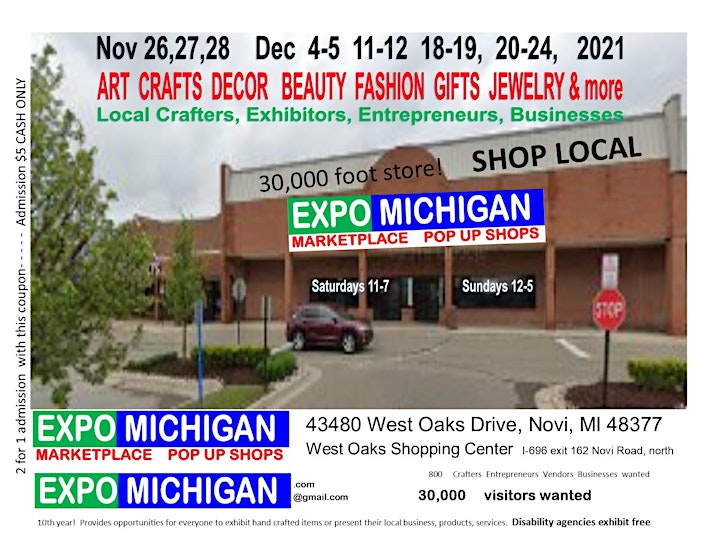 Organizer of EXPO MICHIGAN marketplace crafters, exhibitors, vendors, pop up shops