Expo for Women Ladies Day Out Celebration 2020
Description
Due to the current national health crisis COVID19 Coronavirus the Expo for Women Ladies Day Out Celebration has been canceled (postponed), however as soon as we get the "green light" we will let you know. Your tickets will be honored at the Expo for Women when it is scheduled and you will be entered into a special drawing to thank you for your support.
Press Release for the Expo for Women / Coronavirus https://conta.cc/2QkyLBi
Add me to the list. If you would like to be added to our email list click here https://tinyurl.com/sw2zrkv
Thank you for your patience, Cindy Cohen, Event Coordinator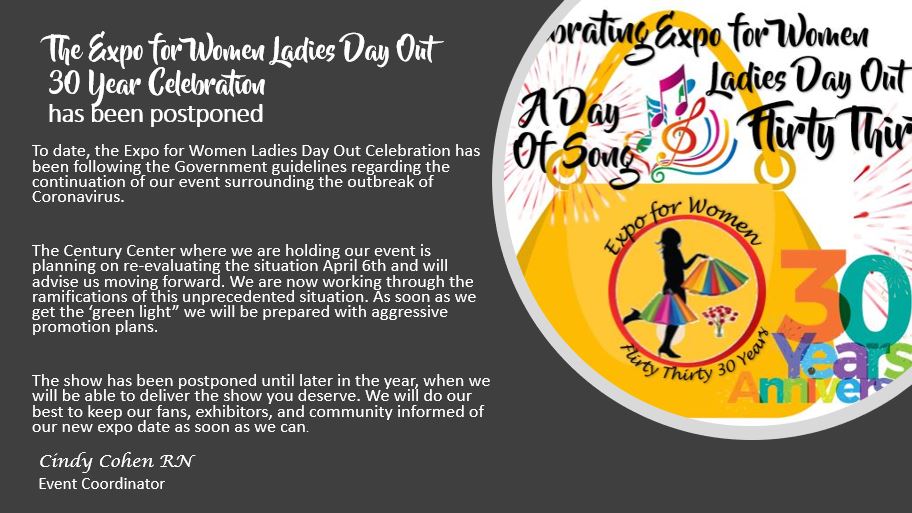 Celebrating Flirty Thirty with a Day of Song at the Expo for Women Ladies Day Out 30 Year Celebration Thursday, March 19th. Tickets on sale now.
$5.00 Ticket's on sale at the door
$2.50 Advance purchase http://www.expoforwomensouthbend.org
Featuring 7 professional female vocalists from around the bend on the main stage every on the hour, and half-hour throughout the day, Pitch to the Michiana Sharks, Michiana Angel Awards joining in recognition of National Women's Month and International Women's Day.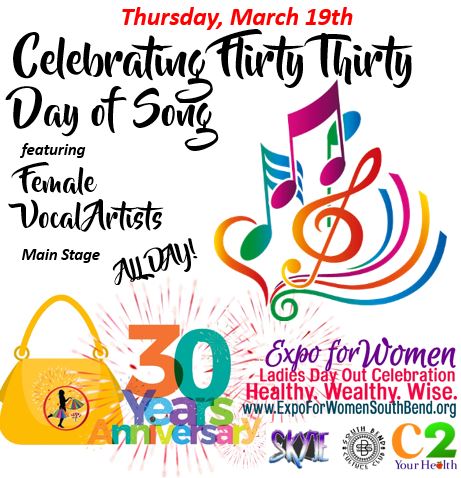 The Expo for Women Healthy. Wealthy. Wise. has been on a mission to help women from all walks of life to be healthy, wealthy and wise; and to rebuild, rejuvenate, educate and empower women in our community to improve their quality of life for 30 years. This event is a first-of-its-kind, large scale local community event that brings women from all walks of life together in an open environment to discover, share and have fun while supporting women in our community. Attendees will treat themselves and their girlfriends to a fabulous day of shopping, specialty retailers, local designers, food, beverage and product sampling, fashion shows, art, health and wellness demonstrations, rejuvenation services, nonprofits and more. A full day of beauty inside and out!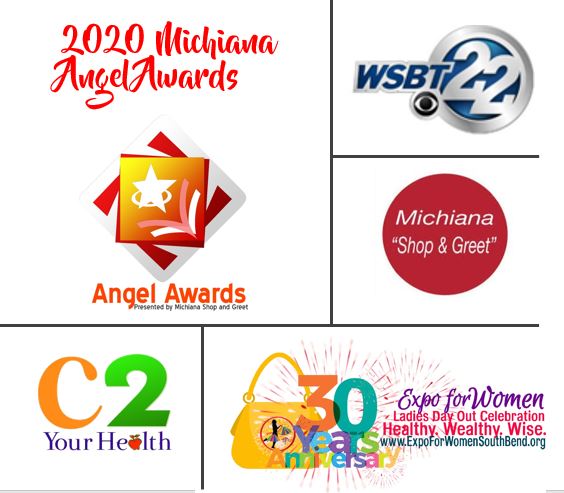 The Michiana Angel Awards is a volunteer service award honoring our community's most outstanding volunteers and recognize the impact they make. Since 2012 along side K. Enterprises recognizing these individuals and organizations for their valuable contributions is an essential part of the Expo for Women.

The mission of K. Enterprises, Shop and Greet is to support local charities while supporting Shop Local. To date K. Enterprises honored Paula Sours, Shield of Faith Ministry, Hello Gorgeous of Hope, Goodwill Industries, Dismas House of South Bend, Cultivate Culinary and Sassy Magazine.
We have introduced thousands of people to our local charities, helped to promote their activities in Michiana, helped to gather new volunteers, and raised money to support their work in Michiana. Thus opening the doors to the Angel Awards Cocktail Party for Charity to more people and raising awareness of what our Michiana charities are doing in our community.
#ExpoForWomen #CindyCohenRN #LadiesDayOut #C2YourHealth
Organizer of Expo for Women Ladies Day Out Celebration 2020
Cindy Cohen and the team at C2 Your Health LLC have been organizing the Expo for Women since 2008 for the Michiana Area. This is the largest Ladies Day Out event in Northern Indiana witn 3.000+ attendees and 60+ exhibitors. 
Contact: Cindy Cohen RN www.expoforwomensouthbend.org    www.CindyCohenRN.com   (800) 245.8917  
C2 Your Health LLC provides important health and wellness solutions through personal health coaching, worksite & organizational wellness and to our community encouraging a healthy South Bend, IN and surrounding community. C2 Your Health LLC is certified in worksite wellness, the recipient of national wellness awards and has assisted companies with achievement of the Indiana Business Wellness Tax Credit Certification. You can find them on social media.