Event Information
Location
Office Park 4
Towerstraße 3
1300 Schwechat
Austria
Plug and Play Vienna presents: EXPO Day! Register now to see groundbreaking tech trends across Travel & Smart Cities. Are you ready?
About this event
Plug and Play Vienna wants to bring you on an exciting journey to explore how leading corporations, disruptive startups, and knowledgeable experts are transforming the future of Travel & Smart Cities throughout Europe, and beyond.
What to expect:
30+ Speakers
6 Startup Pitches
3 Pilot Projects
3 Panel Discussions
1 Awards Ceremony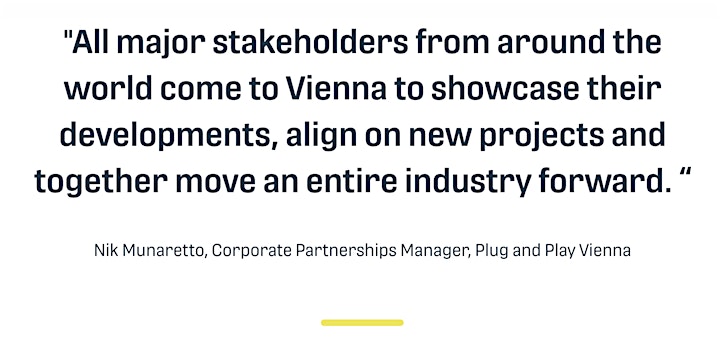 Itinerary of the day (CEST)
12:30 In-Person Reception
Part I: Preparing for Departure
13:00 Opening Remarks by Saeed Amidi, CEO of Plug and Play
13:10 Plug and Play Vienna: A Year In Review
13:20 Introduction to Vienna Region
Fireside Chat with Raphaela Graf - Executive Manager, Vienna Region
13:30 Special Announcement
Part II: On The Way to Sustainable Cities✈️
13:40 Panel Discussion on Advanced Air Mobility
Anna Pachinger - Manager Corporate Communications, Public Affairs & Corporate Responsibility, Austrian Airlines
Julian Jäger - Co-CEO & COO, Vienna International Airport
Andreas Perotti - Director Marketing & Communications, FACC AG
14:15 Pilot Project: Visitor Voice Analysis at Fraport
Fireside Chat with Michel Henss, CRO, Neticle
14:30 Innovation in Aeroporti di Roma – a Runway to the Future
Fireside Chat with Giulio Ranucci, Head of Innovation and Digital, ADR
14:45 Networking break
15:15 Panel Discussion on Open Innovation
Hannah-Katharina Jenal - Senior Innovation Strategist, Value One
Silvia Köry - Innovation Manager, Viesure Innovation Center
Alberto Taha Barriuso - Head of Innovation, AENA
15:50 Pilot Project: Digital Order and Heritage Management at Wiener Städtische
Fireside Chat with Karin Kafesie - Head of Strategic Marketing, Wiener Städtische and Steffen Stundzig - CEO, memoresa
Part III: Where to next?
16:05 Panel Discussion on Investment Landscape 2022
Martin Forstmeyer - Senior Investment Associate, Inven Capital
András Dunai - Partner, Lead Ventures
Pablo Egea Castejon - Innovation & Digital Transformation, AENA
16:40 Startup Pitch Battle!
Moderated by Gernot Schwendtner - Co-Founder & CEO, weGrow
17:30 Awards Ceremony
17:45 Closing Remarks & Networking
More than an event
Expo Day isn't just about listening to speakers; it's about creating an innovation community. You will get access to a global network of startups and corporate partners from all across the industry. Here are some of the superstars you will meet: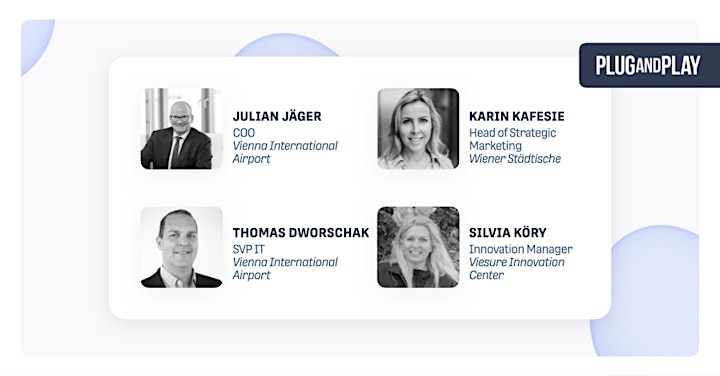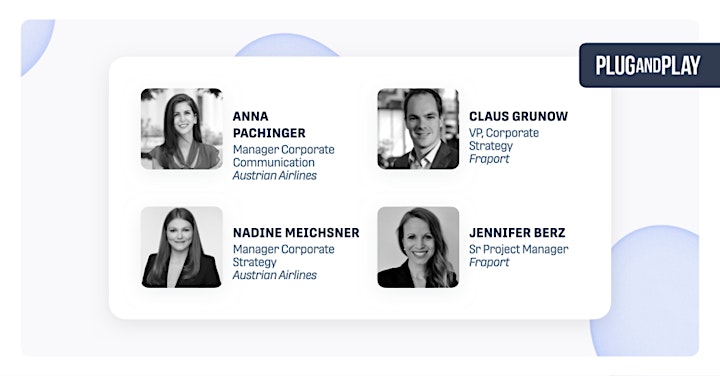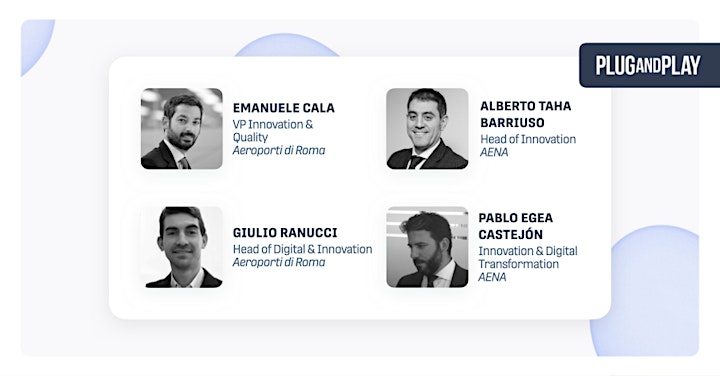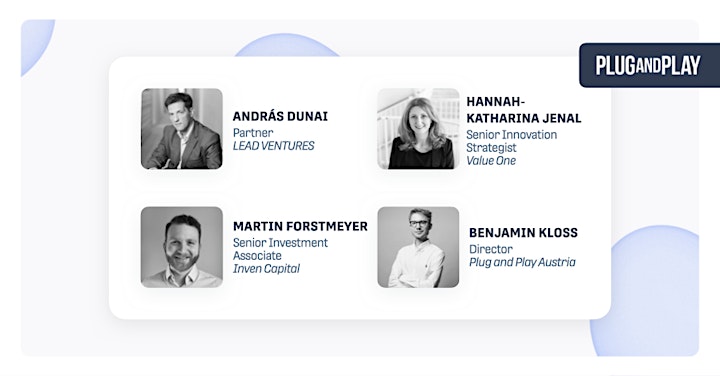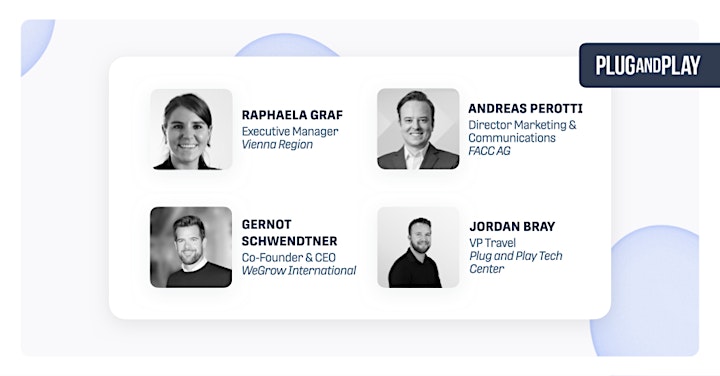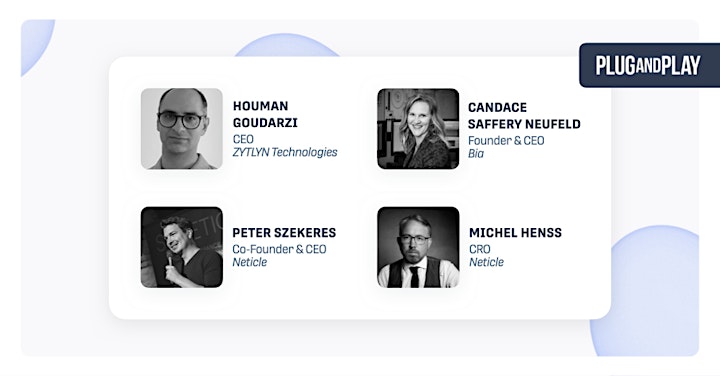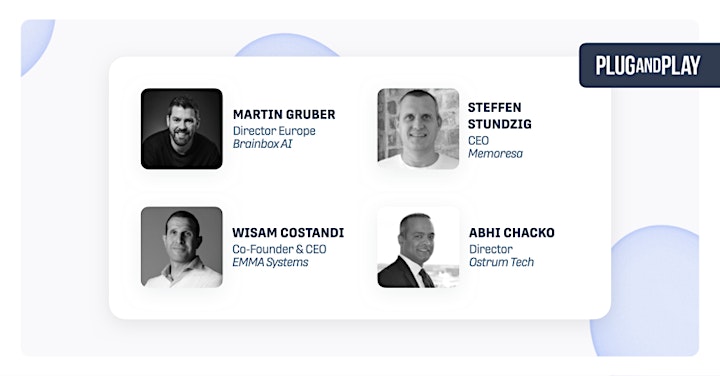 How to participate:
To include everyone we have created a hybrid experience. Participants can attend:
In-Person: The event will take place at the AirportCity Space Conferencing & Coworking, Towerstraße 3, 1300 Vienna, Austria.
Virtually: Details to follow upon registration.
For further questions regarding our Expo Day, please contact our team at vienna@pnptc.com.
About Plug and Play Vienna
Based in one of the world's most liveable cities, and with an office right at Vienna International Airport, Plug and Play Vienna marks the innovation hotspot for Travel, Hospitality, and Smart Cities in Central and Eastern Europe. Learn more
Date and time
Location
Office Park 4
Towerstraße 3
1300 Schwechat
Austria