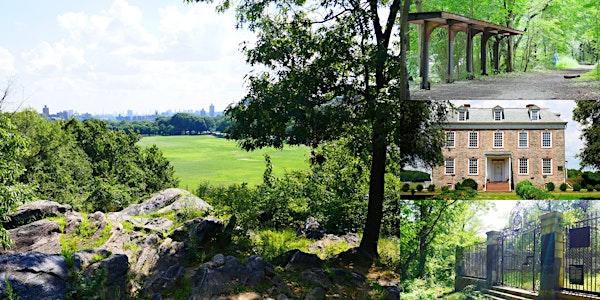 Exploring Van Cortlandt Park, From Hidden Cemetery to Railroad Remnants
New York Adventure Club | www.AdventureClub.com
By New York Adventure Club
Date and time
Sunday, June 4 · 1 - 3pm EDT
Location
Van Cortlandt Park (See Confirmation Email for Exact Meeting Location) Broadway and 242 st Bronx, NY 10471
About this event
A thousand acres of ridges and valleys, a quiet oak forest teeming with wildlife, 300 hundred years of historic remnants and artifacts...this might seem like a scene from a fictional novel, but it's very much a reality, waiting for you at the end of the 1 train in our northern-most borough.
Join New York Adventure Club for an exploration of Van Cortlandt Park in the Bronx, New York City's third largest park (1146 acres) that's home to the country's first public golf course, the oldest house in the Bronx, and the borough's largest freshwater lake.
Led by licensed tour guide and neighborhood expert Kyle Sallee, our unique neighborhood experience will include:
An overview of Van Cortlandt Park throughout the past 300 years, from its origins as a wheat plantation to becoming the third largest park in NYC
A stop at the the hidden Van Cortlandt cemetery on Vault Hill along with the historic Van Cortlandt House — the oldest surviving building in the Bronx
A walk along Old Putnam Trail to see railroad remnants of the decommissioned commuter line, and a stop at thirteen stone slabs in the woods that relate to the construction of Grand Central Terminal
A look at the oldest public golf course in America
A stop in front of Lloyd's Carrot Cake, one of New York's best places for many varieties of carrot cake
Our experience will conclude outside of Tortoise & Hare, which will have food and drinks available for purchase!
Click here to see pictures from one of our last trips to Van Cortlandt Park!
See you there!
*Please bring a water bottle and comfortable pair of shoes as we'll be doing a lot of walking — route includes periods of wooded terrain and an ascent up a hill
**This tour concludes at Tortoise & Hare restaurant located at 6115 Broadway, which is a five-minute walk from the 1 Train station
***While this experience does not go inside the Van Cortlandt House Museum for the sake of time, guests can visit the museum before or afterward — click here for more information on purchasing advance tickets to visit the museum
Testimonials
"Kyle our tour guide was very knowledgeable and presented interesting material in a very personable manner." -Katherine
"The 13 samples of the stone for Grand Central station." -Theresa
"It was interesting to learn about the history of the park, and the origin of the names. We also enjoyed visiting the golf course club house at the end with the group." -Kaitlin
"Always fun to explore a new part of the city. Well organized." -Carolyn
"I liked the scope of the tour, and the time period was just right (not too short, not too long)." -Jill
"I love the convenient start and end points; interesting content." -Ray
"I enjoyed the "Easter eggs": little discoveries that I would not have noticed just walking by on my own." -Ingrid
"Excellent tour guide. Fielded questions very well and definitely did his homework." -James
"It was very informative and an easy walk!" -Shivawn
"Venue and how well organized it was." -Steven
"The host was great - a fountain of knowledge, really professional, good energy, good pace." -Claudia
"Enjoyed the event, nice amount of history without being boring & dull." -Laura
"I enjoyed the walk in Van Cortlandt Park. It's a gorgeous area." -Laura
"Moderate and right amount of walking." -Taosong
"Kyle knew all the places and made them come alive for us." -Alan
"I liked visiting the different areas of the park and seeing some "hidden" things such as the Grand Central Terminal facades. I liked the story about the NYC public records being hidden in the family vault. Kyle is an excellent guide. Very knowledgeable, friendly and has a good delivery of the information." -Jill
"Kyle is an informed and excellent guide." -Steven
"Beautiful with unexpected interesting facts." -Deb
"The guide knew a lot of history for this tour." -Danielle
"Guide was friendly and sharing of his knowledge." -Ross
"Learned a lot about the park and history." -Suzanne
"Besides the hike and explanation of the local history, the tour guide chosen for this expedition was mindful of where restrooms were located, and could recommend a couple of local restaurants." -Laura
"It moved at a good pace; the guide was knowledgeable." -Kara
"Learning more about the history of the area. Being outside on a beautiful day. Also the Lloyds' Carrot Cake rec!" -Jessica
"Excellent presentation, very well organized." -Tanya
"Guide was great! Loved the view at the top!" -Debra
"A good introduction to a park I had never been to." -Eleanor
"Kyle is a very knowledgeable and professional tour guide." -Jane
"The guide was thorough and friendly." -Robin
"Discovering interesting points in the park." -Yevgeniya
"Guide was very engaging and informative. I loved that I was able to bring my dog." -Anne
"Kyle was a great guy. He was knowledgeable and had terrific delivery. The tour was interesting and it was nice to end up at Lloyd's carrot cake. My mother enjoyed it as well (Phyllis Lusskin)." -Shari
"Well organized itinerary, very interesting content by affable, well informed guide." -Phylllis
"Background history to a park we often drive by. The guided addressing the plantation history of the estate." -Kate
 "I loved hearing some of the history of Van Cortlandt and learning more about some hidden spots within the park." -Lindsay
"I liked being in nature and enjoying the history at the same time. The event was really great. I'd like more events like it." -Kathleeny
"I was surprised by how knowledgeable Kyle was about Van Cortlandt Park. He delivered the park's dense history in a clear and efficient manner and even included "Easter Eggs" along the way!" -Tom
"Guide was very knowledgeable!" -Robert
Disclaimer
Event takes place rain or shine.
By attending a New York Adventure Club experience, you accept our terms of service.
Categories: In-Person, Neighborhood Tours
About the organizer
NEW YORK ADVENTURE CLUB | Unlock Your City
We give you insider access to the city's best-kept secrets. But we're so much more than a tour company.
WHO WE ARE
We are a community-driven club that curates the most unique experiences in town, with a focus on history and storytelling. We show you a city you never knew existed, and offer a community you can't live without.
You won't find our special-access tours and exclusive events anywhere else. Think after-hours tours of New York City's most celebrated spaces, themed parties in unexpected locations, and weekend excursions to incredible destinations. All of our events end with social hangouts so you can meet people who love exploring as much as you do.
THE 'CLUB' IN NEW YORK ADVENTURE CLUB
Our current community is more than 50,000 members strong and includes everyone from recent NYC transplants to lifelong residents. Whatever borough you're from (or city or country, for that matter), we'll make it easy for you to take full advantage of the unique places and great people this city has to offer.  
Subscribe with our newsletter to get the inside scoop on the city's most interesting events.
 Visit our website to see our full line-up of fun experience.
"Don't be boring, go do something"
New York Adventure Club