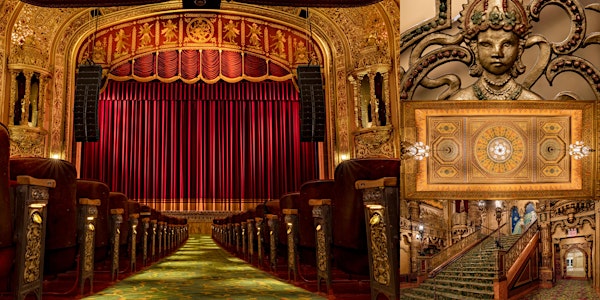 Exploring United Palace: Manhattan's "Wonder Theatre," Largest on Broadway
New York Adventure Club | www.AdventureClub.com
When and where
Location
United Palace (Inside Lobby) 4140 Broadway (Between 175th and 176th Streets) New York, NY 10033
About this event
While it's tough to impress New Yorkers, one theatre on Broadway has been dropping jaws (and now racking up likes on Instagram) for nearly a century. It's time to step inside the largest theatre on Broadway, and fourth largest in Manhattan, to see what all the Byzantine-Romanesque-Indo-Hindu-Sino-Moorish-Persian-Eclectic-Rococo-Deco architecture fuss is about.
Join New York Adventure Club for an exclusive look inside the landmarked United Palace, one of the five Loew's "Wonder Theatre" deluxe movie palaces built in the New York City area between 1929-1930.
Led by a United Palace staff member, our unique experience at one of the most impressive architectural masterpieces in all of New York will include:
A discussion around the history and story of the United Palace, from its days as a vaudeville theatre, to its rescue from potential demolition in 1969, to its revitalized cinema system by Hamilton creator Lin-Manuel Miranda, and beyond
A private walkthrough of the original foyer, parlors, stage, and corridors
A closer look inside the main 3,400-seat auditorium, which is decorated in a mix of ten different architectural styles
An exclusive trip to the theatre's backstage green rooms, which have hosted performers such as Bob Dylan, Mary J. Blige, Neil Young, and Adele, to name a few
Click here to see tantalizing views of the United Palace!
See you there!
Transportation:
By Subway: Take the A train to 175 St — United Palace is one block east.
By Car: A parking lot is located one block north of United Palace
Testimonials
"Gregory was terrific. He told us the history and the present and we went everywhere, from the bathrooms to being on stage the smoking room to the dressing room amazing" -Joan
"Small size, tour leader enjoyed giving tour" -Waynes
"The Palace itself was spectacular. Hearing its history and the history of the neighborhood added so much." -Roxanne
"Neat old history - knowledgeable guide" -Michael
"The Design if the place . And history of the monument" -Loddy
"Guide was very knowledgeable and engaging. Of course, the Center itself is magnificent!" -Paul
"The theatre is definitely worthy of taking a tour of it. It is a spectacular piece of NY architecture. I really enjoyed the event." -Curtis
"The guide was very upbeat and very informative" -Richard
"The tour guide was fun and knowledgeable, and the theatre is spectacular." -Mike
"Ability to access and explore large parts of the theater as well as welcoming of questions throughout the tour" -Matthew
"I loved seeing the beautiful theater and behind the scenes." -Jessica
Disclaimer
By attending a New York Adventure Club experience, you accept our terms of service.
Photo Credit: All - United Palace
Categories: In-Person, Theatre Tours