Exploring the World of Raspberry Pi
Description
If you have some project you'd like to build but just can't afford the tech, then the raspberry pi might just be your answer.
The Raspberry Pi is the $35 computer that is revolutionizing the way we create, teach, and innovate. Due to its low-cost, ease of use, and strong community, the Pi democratizes access to technology, opening new pathways for education, entrepreneurship and social impact where previously costs would have been prohibitive.
In this two-hour session, led by educator and tinkerer Ron Henderson, we'll look at a wide range of uses for the Raspberry Pi, with a focus on uses of relevance to the Georgetown Community.
We'll get hands-on with several introductory projects that illustrate the basic principles of raspberry pi, making music, controlling physical devices, even live-coding in Minecraft!
We'll then brainstorm ways that you could apply the technology to your own courses, programs, initiatives, and general fun-having.
Participants can expect to walk away with an understanding of the Raspberry Pi ecosystem and community resources; exposure to a variety of programming interfaces for graphics, sound, physical computing, and gaming; and a bunch of new ideas for how the Pi can enhance their work and leisure.
There will be sufficient Raspberry Pi workstations set up for pair-programming, but if you want to walk away with your work, you can buy your own Raspberry Pi in advance and bring it to work on.
You'll need to purchase:
- Raspberry Pi 3 Start Kit, here: https://www.amazon.com/Raspberry-Pi-Official-Desktop-Starter/dp/B0757ZYW4T/ref=sr_1_11?ie=UTF8&qid=1507659881&sr=8-11&keywords=raspberry+pi+3+kit+sd+card
- Optionally you may want to purchase for later use (if you don't already have them)
-- HDMI Cable
-- HDMI Screen
-- Keyboard
-- Mouse
-- If you have an old VGA computer screen, you can also get a HDMI-VGA adapter, like this one: https://www.adafruit.com/product/1151 and a VGA cable.
About the Educator: Ron Henderson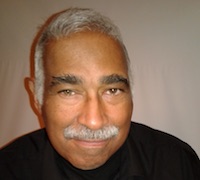 Ron Hendersn is a native Washingtonian and former Big Iron IBMer, servicing the metropoliton area as a customer service technician. Ever the tinkerer, he learned of the Raspberry Pi several years ago while talking with a customer. He soon bought one.
Hours of playing with the Pi was fun, but shortly afterwards, he felt the need to share this unique and affordable computer with students and teachers. He has participated STEM events with Patriots Technology and supports a local middle school , providing Pi's (and sometimes pizzas :) ) to the STEM kids.
He is currently a TSRep for CES, Customer Engineering Services