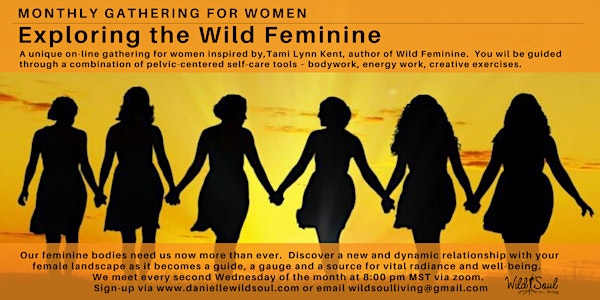 Exploring the Wild Feminine: A Monthly Gathering
A monthly gathering for women to journey deep into the heart of your female body, to the root place, and the center of life itself.
Refund Policy
Contact the organizer to request a refund.
Eventbrite's fee is nonrefundable.
About this event
Exploration of Wild Feminine Landscape:
Our feminine bodies need us now more than ever.
A monthly gathering for women to journey deep into the heart of your female body, to the root place, and the center of life itself.
Danielle Petersen, Wild Soul Living wishes to provide a unique gathering for women inspired by one of her teachers,Tami Lynn Kent, author of Wild Feminine.
'Wild Feminine' will be the backbone of the course. Each workshop will start with a discussion of a 'theme', exercise, creative reflection, journal work and meditation.
____________
The exploration of the Wild Feminine is life-changing!
In this circle we will learn from and inspire one another as we evolve and meet the wild feminine together.
Through stories, visualizations, and creative exercises, the wisdom arising from the female body you will be guided and given tools to nurture, heal, and explore the feminine nature and landscape.
During this massive global shift, we are seeing a return to the feminine.
"You are invited to journey deep into the heart of your female body, to your root place, and to the root of all womanhood. Discover the landscape of the wild feminine. Find the connection between creative energy flow and the core of your body to reclaim the radiance that is rightfully yours".- Tami Lynn Kent
We meet 1 x per month to explore the female landscape and every month has a new 'theme' or focus. Why landscape? The word landscape is rich in meaning and gives the impression of getting to know the distinctive features and qualities of the terrain called feminine.
The intention is to take charge of your physical, spiritual, and creative health by renewing your bodily relationship to the sacred Feminine—this essential connection for building an inspired and joy-filled life.
____________
What you will get?
You will discover a new and dynamic relationship with your female landscape as it becomes guide, gauge and source for vital radiance and well-being.
Danielle will guide you through a combination of pelvic-centered self-care tools – bodywork, energy work, visualizations, and other creative exercises.
It will help you:
Connect to your true power
Deepen your self-care and self-love and self-acceptance
Help you find more balance in your life
Strengthen your self-care practices
Understand how to do your own self-massage
____________
How:
We will meet on Wednesday evenings at 8:00 - 9:00 pm. This is a donation based class. (suggested donation is $10-$30 )
The classes will build upon each other but you don't need to sign-up for the entire series but you will get more out of the experience if you do.
Each week we will have a review, discussion, and activity to welcome in different aspects of the feminine.
Here is the 'basic' structure or 'themes' per month:
May Beginning Your Journey. Understand what feminine really means to you.
June: Learn how to read the physical patterns in your own pelvic bowl, how to do vaginal massage (at home), and how your body patterns influence your creative flow.
July: Explore the landscape of the female pelvis physically, energetically and spiritually.
August: Reveal your radiance and cultivate the fire in your belly.
September: Lighten the load of grief. Hone the power in your womb.
October: Learn how our inheritance and experiences of our ancestors can affect the health of our own pelvic bowls. Discover your vaginal energy.
November Celebrate the joy of the feminine!
December: Practice moving the emotions to activate your awareness.
January: Exploring Your Feminine Ground
March: Explore how to establish new body patterns by working with the body over time to create the life that you want and open a path to healing.
April: Embodying Your Womanhood