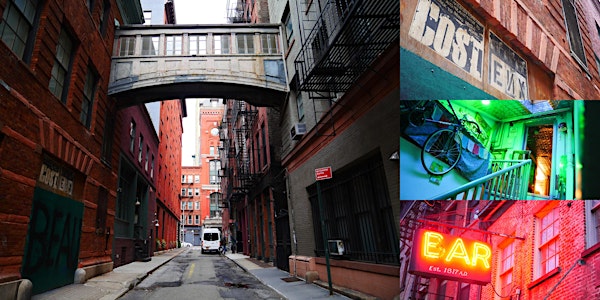 Exploring the Secrets of TriBeCa: Lofts, Artists, & Alleyways
New York Adventure Club | www.AdventureClub.com
When and where
Location
Stuyvesant High School (West Side Highway & Chambers St by Citi Bike Station) 345 Chambers Street New York, NY 10282
About this event
While the Manhattan neighborhood of TriBeCa is known today for its namesake film festival, celebrity sightings, and high-end private homes, it was anything but for nearly 400 years. This is the real story of the sailors, merchants, and artists that once called this neighborhood home, and the historical remnants of its artistic and industrial past — with an exclusive peek inside one of its most historic spaces.
Join New York Adventure Club as we explore the rich history and story of TriBeCa ("Triangle Below Canal Street"), a New York City neighborhood that can trace its roots back to the old Dutch days when the land was known as New Amsterdam.
Led by NYC tour guide and TriBeCa native Gardiner Comfort, our neighborhood journey around this fascinating and eclectic small corner of Manhattan's "Lower West Side" will include:
How New York tamed the TriBeCa landscape and its original wetlands to suit its expansion
A discussion around the neighborhood's rise with the creation of Washington Market in 1812, once the city's main retail and wholesale food distribution point filled with seed, spice, and cheese importers
The importance of Tribeca as a center of import, with a focus on the maritime industry, the piers, and longshoremen
TriBeCa's unique architecture, from its patchwork of landmark designation to the fragility of beautiful buildings in a business-minded city
The celebration of artists who settled in unused industrial spaces, established their community, and influenced the city for years to come
An exclusive visit to the historic and eccentric loft space of the Ear Inn, one of New York's oldest bars, for a look at rare artifacts from the 1812 house on Spring Street
Our experience will conclude back on the ground floor of Ear Inn, which has food and drinks available for purchase!
See you there!
*Please bring a water bottle and comfortable pair of shoes as we'll be doing a lot of walking!
**Optional access into the Ear Inn loft is only accessible by a steep set of stairs
Testimonials
"Very personable and knowledgable guide, really made the tour special with photos, personal antidotes, even in the cold!" -Evan
"Our guide was extremely knowledgable and I loved how he shared personal experiences from living in the area. His stories about Tribeca history made the experience memorable." -Elizabeth
"Good basic information about the area. Guide was well prepared and informative. Didn't overwhelm you with too much detail." -Peter
"Gardner is a very good guide." -Guillermo
"Enjoyed walking around with a local who grew up in Tribeca and really new a lot." -Laura
"The small alleys you normally don't discover. The end at the Ear Inn." -Jan
"Since the tour guide was a neighborhood local, we received great insight!" -Scott
"Seeing things in person. The museum created from an old elevator shaft awesome! and going upstairs into the old apartment was stunning! drinks at the end great way to top off the trip." -Melissa
"Tour Guide, Gardiner, was terrific! Very knowledgeable and personable. An excellent tour!" -Tara
"I appreciated the guide's personal history and knowledge of the neighborhood. Also, loved the final stop at a historic tavern I never would have known existed! Very glad I took the tour - excellent!" -Michelle
"Finding out cool facts and history I never knew before even though I've lived in NYC for decades. Really fun, a great intro to secret nooks & crannies of Tribeca and its creative engine." -Colleen
"Excellent guide. Personable & knowledgeable. End at the Ear Inn was a good finale." -Ann
"Gardner was a great guide, and as someone born and raised in Tribeca he really brought a personal history in which was great on top of the historical content." -Carolyn
Disclaimer
Event takes place rain or shine.
By attending a New York Adventure Club experience, you accept our terms of service.
Categories: In-Person, Neighborhood Tours