Exploring the Nexus of Climate Change, Human Health, and Healthcare System
Sales Have Ended
Registrations are closed
Thank you for your interest in the NHMRC Partnership Centre for Health System Sustainability's (PCHSS's) webinar, Exploring the Nexus of Climate Change, Human Health, and Healthcare System Sustainability. The webinar will be posted on the PCHSS's YouTube channel after the event. https://www.youtube.com/channel/UCCWEtUWtn75soswnXHaonVQ. A summary of the event will also be published on our website: https://healthsystemsustainability.com.au/
Sales Have Ended
Registrations are closed
Thank you for your interest in the NHMRC Partnership Centre for Health System Sustainability's (PCHSS's) webinar, Exploring the Nexus of Climate Change, Human Health, and Healthcare System Sustainability. The webinar will be posted on the PCHSS's YouTube channel after the event. https://www.youtube.com/channel/UCCWEtUWtn75soswnXHaonVQ. A summary of the event will also be published on our website: https://healthsystemsustainability.com.au/
Join our panel of experts as we explore the intersection of climate change, human health, and healthcare system sustainability.
About this event
The evidence that human activities are driving change in our environment is becoming undeniable. As the earth's climate changes, we can expect more heat waves, fires, floods, droughts, and other extreme weather events. These events will have immediate and longer-term negative impacts on people's physical and mental health, which will increase the demand for healthcare services. How can healthcare systems cope with this rising demand?
The healthcare system also negatively impacts our environment. In Australia, the healthcare systems account for ~7% of the country's total carbon footprint with hospitals and pharmaceuticals being major contributors. In addition, up to 40% of the care given is unnecessary, providing little- to no- benefit or even harming the patient. This wasteful care uses energy and releases greenhouse gases further increasing the systems' environmental impact. What can we do to rein in the healthcare systems' carbon footprint?
In this webinar, our panel of experts will discuss the challenges presented by climate change and explore solutions to improve human health and create more resilient healthcare systems. The panel discussions will be moderated by ABC reporter Sophie Scott.
Agenda
Introduction to the day (1 PM)
Uncle Chris Tobin (Darug community) – Acknowledgement of Country
Professor Jeffrey Braithwaite (PCHSS) – Creating more sustainable healthcare systems.
The effect of climate change on human health and healthcare system sustainability (1:15 – 3:15 PM)
This session unpacks how climate change is affecting human health and in turn driving up demand for healthcare services. Speakers will also discuss ways in which our healthcare systems can and should adapt to the challenges presented by a changing climate.
Confirmed speakers: (10 minutes each speaker)
Professor Lesley Hughes (Macquarie University) – Climate change: how worried should we be?
Hisham El-Ansary (Bupa) – One Health: perspectives on the interconnectedness of human and environmental health.
Laureate Professor Peter Doherty (Doherty Institute) – Infectious disease, human health, and climate change.
Claire Sparke (Australian Institute of Health and Welfare) – Climate change, bush fires, and healthcare services use.
Professor Ngiare Brown (Ngaoara) – Social equity and climate change.
Professor Lucie Rychetnik (University of Sydney and The Australian Prevention Centre Partnership) – The co-benefits of chronic disease prevention in the time of climate change.
Professor Tony Capon (Monash Sustainable Development Institute) – Preparing healthcare services for climate change in Australia.
Panel discussion moderated by Sophie Scott (50 minutes)
Intermission
The impact of healthcare delivery on environmental sustainability (3:30 -5:30 PM)
This session focuses on the impact of healthcare services on environmental sustainability, including the problem of low-value care. The speakers will discuss how the healthcare system can reduce its carbon footprint and improve sustainability.
Confirmed speakers: (10 minutes each speaker)
Dr Nick Watts (Institute for Global Health, University College London) – Understanding the environmental impact of healthcare.
Professor Rachelle Buchbinder (Monash University and Cabrini Health) – What is overtreatment and why is it a problem?
Professor Alexandra Barratt (University of Sydney) – Reducing healthcare's carbon footprint by tackling overoverdiagnosis.
Professor Martin Hensher (Deakin University) – Human health and ecological economics.
Dr Forbes McGain (Western Health: Melbourne, Victoria) – Improving hospitals' environmental sustainability.
Associate Professor Yvonne Zurynski and Dr K-lynn Smith (PCHSS, Macquarie University) – Improving the sustainability of healthcare through integrated care models.
Associate Professor Stefi Barna (Centre for Sustainable Healthcare, UK) – Practical solutions to improving patient care at a lower environmental and social cost.
Panel discussion moderated by Sophie Scott (40 minutes)
Closing remarks
[Note: Agenda subject to change.]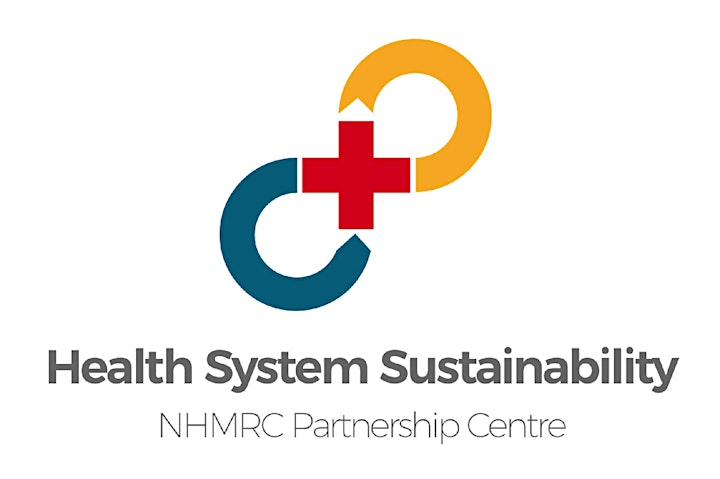 Organiser of Exploring the Nexus of Climate Change, Human Health, and Healthcare System