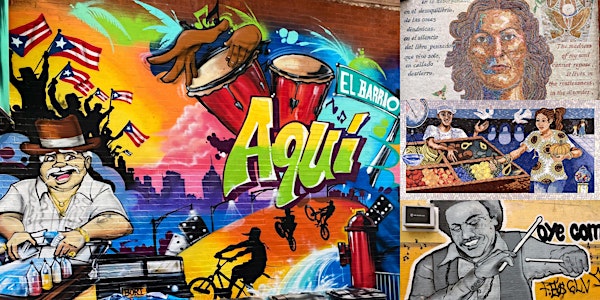 Exploring the Murals and Mosaics of Spanish Harlem
New York Adventure Club | www.AdventureClub.com
When and where
Location
First Spanish United Methodist Church (Outside) 163 East 111th Street New York, NY 10029
About this event
From honoring citizens of the neighborhood to showcasing the gorgeous scenery from the tropical islands that so many members of the community left behind, the colorful murals and mosaics of Spanish Harlem reveal so much about the history, culture, and politics of this neighborhood and its residents. But what's the story behind these incredible works of art and subjects they're portraying? It's time to explore the street art of Spanish Harlem and the strong political and social messages of these talented artists.
Join New York Adventure Club as we explore the murals and mosaics of Spanish Harlem, a group of independent artworks that together tell the collective story of a truly interesting, but often underappreciated, neighborhood of New York City.
Led by licensed New York City tour guide Leigh Hallingby, our on-the-ground tour of this incredible collection of artworks will include:
A brief history of Spanish Harlem and its people in the past and present
A walk past dozens of murals and mosaics, along with commentary about the art and the artists
An examination of how the murals link the struggles of different Latinx people such as Puerto Ricans, Cubans, and Mexicans
The story behind the gifted artists who received commissions from the City of New York as part of initiatives to add more public art to neighborhoods with large Latinx communities
Exploration of additional themes of cultural celebration, immigration, and physical fitness
See you there!
*Please bring a water bottle and comfortable pair of shoes as we'll be doing a lot of walking!
**Our experience will conclude at East 100th St. and Lexington Ave.
About Leigh
Leigh is a licensed NYC tour guide who specializes in Harlem, Morningside Heights, and the Upper West Side. She is passionate about exploring all five boroughs and beyond on foot, mostly through organized walking tours. Leigh is retired from a 36-year career as a non-profit librarian in New York City. She loves doing research about the neighborhoods in which she gives tours and sharing the information about them with attendees. Leigh is a feminist, collector, genealogist, and lover of arts, culture, and travel. She lives on the Upper West Side of Manhattan.
Testimonials
"It was a perfect tour! Leigh is a wonderful guide and I had the special treat of exploring Spanish Harlem one-on-one. She is incredibly knowledgeable, and allowed me to capture the feel of this unique neighborhood. I'm so glad that Leigh gave the tour...it was a true adventure!" -Marcie
"Guide was great, the topic was great. Excellent event." -Ronald
Disclaimer
Event takes place rain or shine.
By attending a New York Adventure Club experience, you accept our terms of service.
Categories: In-Person, Neighborhood Tours