Exploring the Grey Area of Disparity
Description
On behalf of the Partnership for Diabetes Health Equity (PDHE) at Morehouse School of Medicine's (MSM) National Center for Primary Care (NCPC), we are pleased to invite you to participate in a one-day meeting to assess and address key areas of work to be done on the path to health equity. The meeting will be held at NCPC on October 16th, 2017 with registration starting at 8:00am and closing remarks concluding at 3:30pm. PDHE hopes its work over the past four years and interactions during this event will activate the community to continue the work through the partnerships that will be developed.
Through keynote, given by University of Southern California's Professor in the College of Social Work Dr. Tyan Parker Dominguez, and a host of other FREE CE credited activities and sessions, we hope to:
Analyze how to support policy influencers and the chronic illness community's partners through holding meetings with state and local representatives to share stories, solicit support for priority issues, and build capacity for new advocates.

Discuss how practitioners, health care professionals and stakeholders can actively engage with disparate communities to deepen our understanding of the pervasive and complex ways that structural racism affects individual and community-level health.

Recognize the need for integration of race-conscious practices in healthcare settings and programs based on the social justice principles and history of public health. These practices can include models, theories, and methodologies that explicitly recognize discrimination and racial injustice as a threat to health.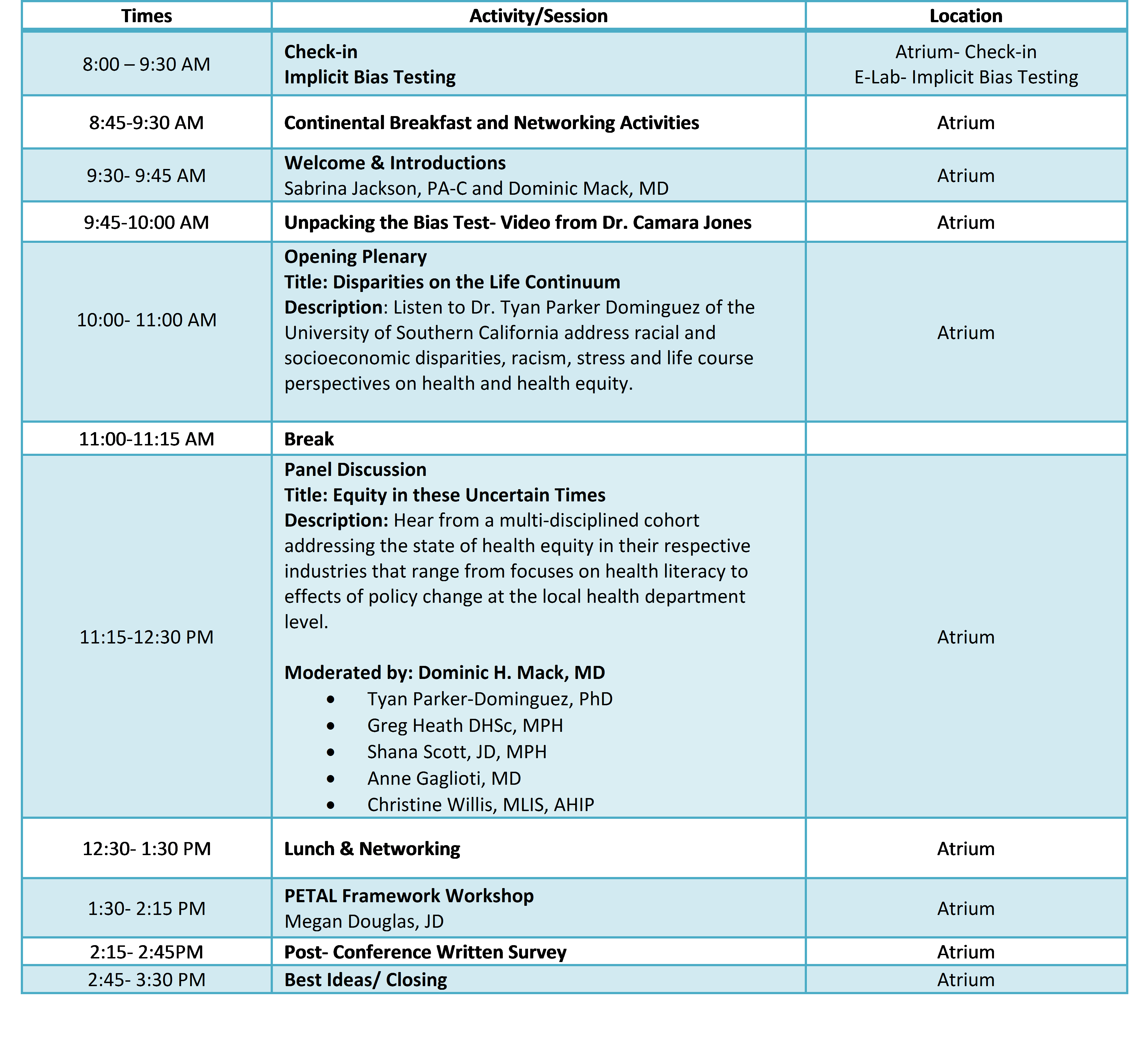 Please register soon for this FREE event; seats are limited to 50 persons. Invitations are by invite only, however, if you cannot attend, a representative from your office/organization are welcome in your stead. Breakfast and lunch will be served and parking is complimentary.
By attending 'Exploring the Grey Area of Disparity', you acknowledge that photographs and/or videos of you may be taken by our conference staff and/or photographers at any time. Furthermore, you grant the conference permission to use photographs and/or video of your likeness in any type of media, including websites and print publications, without compensation or reward.
Christine Willis, MLIS, AHIP

Secretary for Georgia Alliance for Health Literacy

Director of Knowledge Management & Learning Resources at Shepherd Center

Megan Douglas, JD

National Center for Primary Care at Morehouse School of Medicine-

Director of the Health Policy Leadership Fellowship Program and Transdisciplinary Collaborative Center for Health Disparities Research

Anne Gaglioti, MD

National Center for Primary Care at Morehouse School of Medicine-

Assistant Professor and Director of Health Services, Translational and Primary Care Practice Based Research

Greg Heath, DHSc, MPH

The University of Tennessee Chattanooga

Guerry Professor, Exercise Science Health and Human Performance

Shana Scott, JD, MPH

Georgia Department of Public Health

Health Systems Project Manager- Chronic Disease Prevention Section

Tyan Parker Dominguez, PhD, MPH, MSW

University of Southern California

Clinical Professor