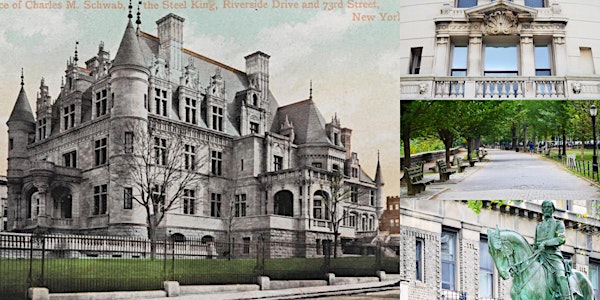 Exploring the Gilded Age Mansions and Memorials of Riverside Drive
New York Adventure Club | www.AdventureClub.com
When and where
Location
Riverside Drive and West 83rd Street (Meet by the Park Benches) Riverside Drive and West 83rd Street New York, NY 10024
About this event
During New York's Gilded Age of opulence at the turn of the 20th century, Riverside Drive was supposed to overtake Fifth Avenue as New York City's "millionaire colony." And by the early 1900s, that transformation was well under way as the once sleepy carriage drive became lined with dozens of free-standing mansions boasting spectacular park and riverfront views. But what led its affluent residents to vacate their palatial homes and abandoned this center of luxury for good by the 1930s? It's time to explore the rise, fall, and repurposing of Riverside Drive over the past century, with a special look at the few homes of this era that still remain.
Join New York Adventure Club as we uncover the opulent history and architecture of Riverside Drive — located on the banks of Manhattan's Upper West Side, this beautiful stretch of land was once home to some of the world's most notable business leaders and creatives before transforming into one of New York's most spectacular parks.
Led by Esther Crain — historian, founder of Ephemeral New York, and author of The Gilded Age in New York — this unique experience down one of New York's most storied streets will include:
The origins of Riverside Drive, from the reasons it attracted some of the wealthiest residents of the day to why it doesn't follow the rest of the Manhattan street grid
A visit to the 1903 Rice Mansion with stories surrounding the owner's beloved wife, who was so annoyed by Hudson River tugboat traffic beyond her landscaped grounds that she founded the Society for the Suppression of Unnecessary Noise
A stop at the 35-room marble palace Schinasi Mansion — built in 1907 by a tobacco baron, this house has a Prohibition-era tunnel that led to the Hudson River
Stories of the builders and barons, as well as artists and eccentrics, who made their fortunes and homes here
A discussion of Edgar Allan Poe's ties to the area, where he would sit and think while residing in a nearby farmhouse
A look at the Schwab Mansion, an 86-room French chateau built in 1906 that was offered to New York City as an official mayor's mansion in the 1930s (but turned down)
The Gilded era memorials lining Riverside Drive, including the Sailors and Soldiers Monument, statue of Joan of Arc, and Fireman's Memorial
See you there!
*Please bring a water bottle and comfortable pair of shoes as we'll be doing a lot of walking!
**This tour will conclude at Riverside Drive and West 107th Street
**This tour does not go inside any of the mansions
Testimonials
"Esther Crain is a treasure. Her blog is fabulous, her book is fabulous and I was hanging on to every word throughout the tour. Well paced, long enough, and packed w fun info." -Judith
"I loved seeing the mansions that still exist." -Michele
"The tour guide was very knowledgeable about the subject and had a delightful, easy-going manner that spoke to her deep interest in the subject." -Ricky
"I love the walk from w 83 to W 107, the pace and the details shared with us." -Katy
"Informative details about the neighborhood." -Bethann
"Excellent guide, well-paced tour, fascinating topics!" -Ronald
"Guide was informative." -Shondell
"Esther, our guide was extremely knowledgable and well organized. We learned a great deal about Riverside Drive and NYC." -William
"It covered a lot of ground, literally and figuratively! It was informative, well-researched, and had lots of illustrations to show the mansions that no longer exist. Esther presented the material in a very thorough and enjoyable way. She welcomed questions." -Barbara
"Esther was great! So friendly, approachable and informative and fun!" -Karen
"How the presenter was knowledgeable and professional but relaxed,approachable and happy to interact" -Marilyn
"The guide deployed great skill to help us use our imaginations to "see" long gone people -- like where Edgar Allen Poe sat to view the Hudson River -- or the helping us to "see" long gone Riverside Drive mansions." -Nancy
"I love that it was a small conversational group." -Dennis
"Esther! And the other tourists were very friendly as well." -Anne
"Esther Crain is knowledgeable and engaging. A superior tour guide." -Shari
"Esther really knows her stuff!" -Francesca
"Great content, wonderful presentation" -Sue Ann
"Our guide has deep knowledge about her subject." -Steve
"Esther was so approachable, very informative, very attentive to participants" -Sarah
"The guide was well informed and passionate about the subject. I was learning something new." -Elizabeth
"Easy walk, great info." -Nancy
"The guide was very knowledgeable and moved at a very good pace" -Al
Disclaimer
Event takes place rain or shine.
By attending a New York Adventure Club experience, you accept our terms of service.
Categories: In-Person, Neighborhood Tours