Exploring the Emptiness of the Mind - an Online Meditation Retreat
Learn how to dispel mental clutter and overcome life's difficulties by meditating on the emptiness of the mind.
About this Event
We can often become stuck in painful habits of thought, believing our mind to be fixed in its negative patterns. During this rare and experiential retreat, learn how to reduce and finally abandon negative habits of mind by meditating its true nature, emptiness.
Delusions within the mind are the source of all physical and mental pain, and these delusions stem from self-grasping ignorance. By realizing emptiness - the true nature of all phenomena, including the mind - we can finally become free from the prison of suffering ignorance and experience only peace and joy.
Join this five-day live-streamed retreat and experience the bliss of ultimate truth, the real nature of phenomena. Sessions will be live at the scheduled times below and available on-demand afterward through Monday, January 18th. Each session includes teaching, recitation of Heart Jewel prayers, and ample time for meditation on the true nature of the mind.
About the Teacher
Gen Kelsang Rinzin was ordained as a Buddhist monk in 2004 and taught at Heruka Buddhist Center in Fort Collins for 15 years. He was appointed to the Resident Teacher position at Kadampa Meditation Center Washington in October 2020. Gen Rinzin communicates his love of Dharma with a down to earth approach and humor that helps others to appreciate and understand the teachings and put them into practice. His teachings are clear and practical so that the listener can readily integrate the methods for developing a peaceful mind into their busy, modern life.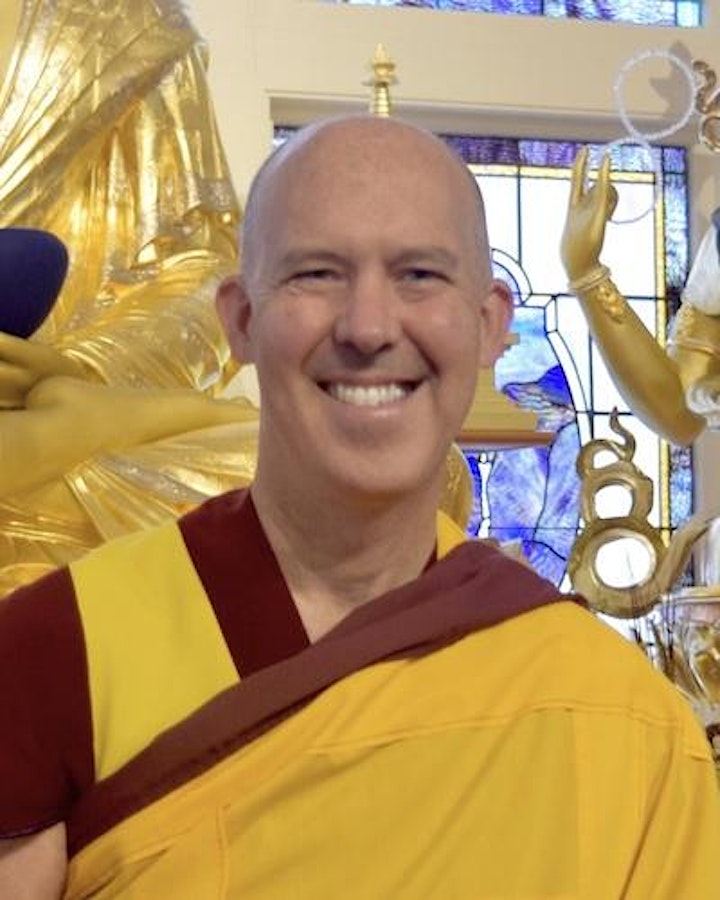 Session Schedule
Tuesday, January 12 through Saturday, January 16
7:30-8:45am
10:00-11:15am
3:00-4:15pm
Also available on-demand through Monday, January 18th. On-demand recordings will be posted within two hours of the end of each live session.
Registration
This event is being offered by live-stream for those in the Pacific Northwest region of the US (including WA, ID, MT & AK; outside this area? Find a Kadampa Center near you). Registrants will receive a link enabling them to watch and listen by phone, tablet or computer.
Cost: $50 ($25 for seniors, students & supporters of Kadampa Meditation Center WA)