Event Information
Location
CEOSUITE Lujiazui Finance Plaza, 18th Floor, 826 Century Avenue, ( Subway: Dong Chang, Exit 3)
CEOSUITE Lujiazui Finance Plaza, 18th Floor, 826 Century Avenue, ( Subway: Dong Chang, Exit 3)
Shanghai, Pudong 200000
China
About this Event
Event Description
It's now being implemented over industries and business creating surprising efficiencies in daily life productivity. AI and Big Data are powerful tools for making intelligent decisions based on past knowledge. If used properly, they can reveal valuable insights. Up to now, they have enabled businesses to streamline processes, eliminate duplicate systems, revolutionize products, and better understand customers.
To succeed and be a frontrunner, companies should embrace AI and Big Data. Along with predictive analytics (statistical techniques that analyze data to make predictions) and machine learning (the idea that machines can learn with access to data), both will uncover new ideas and opportunities. Thus, it is important to understand the value of both.
As a result, how to make the most of technological developments and remain competitive is top of mind for most business leaders. This evening we are bringing together experts for an evening of learning, connection and discussion. We will emphasize on the current and future impacts of AI application across our daily life such as online and offline shopping experience, customer communication, NLP driven chatbots and mini-games.
Ticket fee includes event entrance and 2 glass of wine & some canapés. It's a rare opportunity to bypass the hype and discover how emerging developments can be applied into practical and profitable AI you can implement in your business today.
Don't miss it. Register today!
Thing you will learn:
- How has Iot & big data technology deployment disrupted businesses and entire sectors?
- What's required to understand and prepare how to use my data for my business to stay competitive?
- How to leverage IoT in your business effectively?
- What big data and IoT solutions are available to enterprises? Which challenges remain to be solved?
- How far have we come since the early days of big data & IoT and when will businesses begin to see an impact from IoT & big data?
EVENT DETAILS
Address: CEO SUITE, 18th Floor, T3 of Shanghai Lujiazui Finance Plaza, 826 Century Avenue, Pudong, Shanghai, China (Subway Line 2: Dong Chang Road Station, Exit 3)
地址:CEO SUITE 事易好商务中心
上海市浦东新区世纪大道826号陆家嘴金融广场T3,18楼,事易好商务中心
(地铁2号线:东昌路站,3号出口右手边的大楼即是)
Date: Thursday, 23rd May 2019,19:00 - 21:00
日期:2019年5月23日,星期四19:00-21:00
SPEAKERS
1. Ricky Ng-Adam - Coderbunker , Founder
Ricky is a French-Canadian from Montreal who came to Shanghai in 2010. Since arriving in Shanghai, he has worked as a tech consultant for many different startup companies, including Lophilo, Letsface, Tradesparq, The Carevoice, EIC, Agora Space and Cloverise.
2. Jesse Zhang - Dircetor of Software Engineering, Black Lake Technology
I am an entrepreneur started my journey from early 2015, have co-funded 2 tech-ups focusing on mobile payment, Point of Sales, Retail ERP system, machine learning, new retail area. My mission is to create innovative solutions that solve meaningful problems and make the world the better and fun place. I enjoy reading science fiction and cooking healthy meal to relax myself!
3. Adam Liu - Director of Alibaba Cloud IoT BU
Adam is responsible for Alibaba Cloud IOT oversea expansion and ecosystem building. Adam has spent his career between Canada and china with various roles in marketing,sales as well as ecosystem building in iot industry, prior to alibaba cloud , Adam was in Thingworx as well as Blackberry.
Transportation Directory
Parking Guide:
1. The vehicle enters from No. 899, Pudong South Road, and informs the security guard to go to the 18th floor of the T3 office building to participate in the event.
2. Enter the P1 floor of the T3 office building along the driveway and park the vehicle in the designated area.
3. Take the passenger elevator to the lobby on the 1st floor and transfer to the elevator to the 18th floor.
By taxi:
1. The vehicle enters from No. 899, Pudong South Road, and informs the security guard to go to the 18th floor of the T3 office building to participate in the event.
2. Go to Century Avenue along the driveway and stop at the T3 office building.
By subway:
1. Exit 2 of Dongchang Road Station, Metro Line 2, the building on the right hand side of the station is the T3 office building of Lujiazui Financial Plaza.
2. Exit No. 1 of the Metro Line 9 Mall Road Station, turn east to Nanquan North Road, turn left, and then turn left to Century Avenue.
By car:
Set location to be Subway Line 2 Dongchang Road Subway Station Exit 3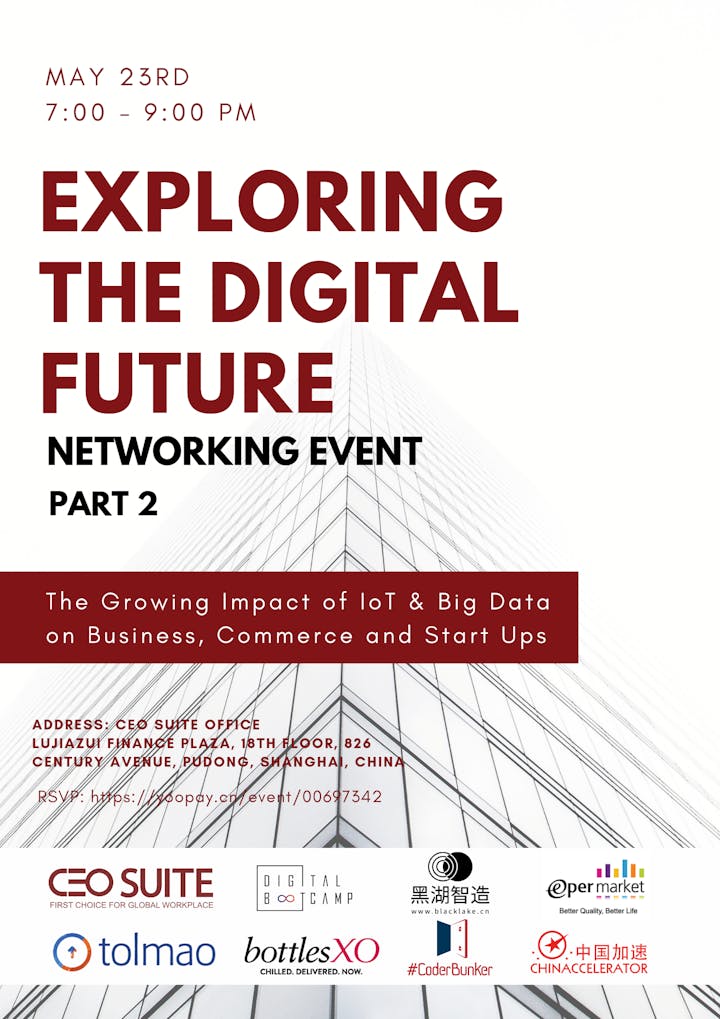 Date and Time
Location
CEOSUITE Lujiazui Finance Plaza, 18th Floor, 826 Century Avenue, ( Subway: Dong Chang, Exit 3)
CEOSUITE Lujiazui Finance Plaza, 18th Floor, 826 Century Avenue, ( Subway: Dong Chang, Exit 3)
Shanghai, Pudong 200000
China