Exploring Surety Bonding Coast-to-Coast
Find out how the SBA can help you win and secure your next contract!
About this event
CLICK HERE to join event in Microsoft Teams
Join on your computer or mobile app. If you do not have the app downloaded, please choose "join by web" or just call in. (Download MS Teams app)
Or call in (audio only): +1 202-765-1264
Phone Conference ID: 635 976 350#
-----------------------------------------------
Find out how the SBA can help you win and secure your next contract!
Hear from a panel of successful small businesses, resource providers and experts that will provide insights on how to master the government contracting process.


SMALL BUSINESS PANEL:
Peter Kontakos, DDD - Small Business Panel (Moderator)
Dwight Belyue, DCR Services and Construction Inc.
Lilian Radke, Unic Pro, Inc
Abraham Gonzalez, One Way Development, Inc.
SURETY PARTNERS PANEL:
Tamara E. Murray, SBA Underwriting Marketing Specialist (Moderator)
Devin Moore, President, Moore Surety Bonds Agency
Ed Mulcahy, Surety Bond Professional, Tonry Insurance Group, Inc.
PROCUREMENT TECHNICAL ASSISTANCE PANEL:
Nadine Boone, LBOS, Moderator
Beth A. Cryderman Moss, CFCM, GWCCM, PTACs of Michigan
Stanley T. Grip Jr., MSBDC Procurement Specialist
-----------------------------------------------
The SBA guarantees surety bonds

Surety bonds help small businesses win contracts by providing the customer with a guarantee that the work will be completed. Many public and private contracts require surety bonds, which are offered by surety companies. The SBA guarantees surety bonds for certain surety companies, which allows the companies to offer surety bonds to small businesses that might not meet the criteria for other sureties.
How the SBA Surety Bond Program works

Contract or commercial bonds
Depending on the the type of work, a business may be required to obtain a contract bond or a commercial bond.
The SBA guarantees contract bonds, but doesn't guarantee commercial bonds. Contract bonds ensure the terms of a specific contract are fulfilled. Commercial bonds ensure all applicable laws and regulations are followed. Government agencies require certain companies or individuals to obtain commercial bonds, which protect the general public against things like fraud.
The right surety bond for the project
Some contracts require surety bonds that cover specific situations. The SBA guarantees surety bonds that cover several major categories of work.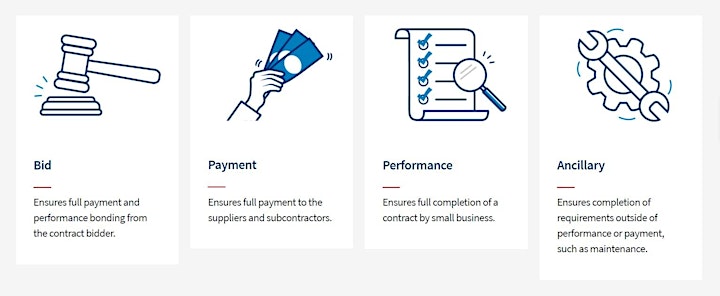 Organizer of Exploring Surety Bonding Coast-to-Coast