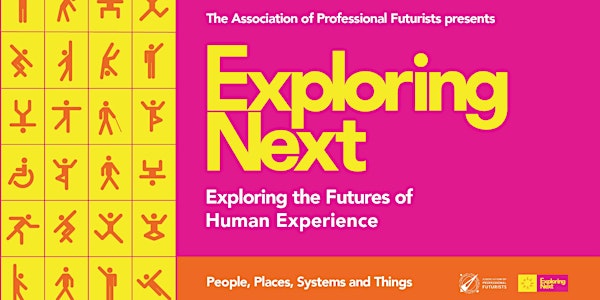 EXPLORING NEXT: Association of Professional Futurists' Global Conference
Refund policy
Contact the organizer to request a refund.
Eventbrite's fee is nonrefundable.
About this event
𝐸𝑥𝑝𝑙𝑜𝑟𝑒 𝑁𝑒𝑥𝑡. . . 𝑇ℎ𝑒 𝐹𝑢𝑡𝑢𝑟𝑒𝑠 𝑜𝑓 𝐻𝑢𝑚𝑎𝑛 𝐸𝑥𝑝𝑒𝑟𝑖𝑒𝑛𝑐𝑒: 𝑃𝑒𝑜𝑝𝑙𝑒, 𝑃𝑙𝑎𝑐𝑒𝑠, 𝑆𝑦𝑠𝑡𝑒𝑚𝑠, 𝑎𝑛𝑑 𝑇ℎ𝑖𝑛𝑔𝑠
From how and where people are living to the systems and things that are shaping our modern world, Explore Next brings together top world-class futurists and industry leaders to explore experiences that you may expect in the near-term, mid-term, and long-term futures. With topics ranging from next-generation cities and the future of food to cyber security and transhumanism, this conference will feature keynotes, workshops, panel discussions, field trips, and networking events.
𝙎𝙤𝙢𝙚𝙩𝙝𝙞𝙣𝙜 𝙛𝙤𝙧 𝙀𝙫𝙚𝙧𝙮 𝙏𝙞𝙢𝙚 𝙕𝙤𝙣𝙚
With speakers on 6 continents, this conference offers presentations for 3 regions over 8 non-consecutive days. Explore Next is one conference you will definitely not want to miss!
Session Recordings - REWATCH!
All sessions are recorded and can be re-watched at any-time until the 30th of June 2022, so sign up and watch your favorite speakers whenever you want
Parallel Streams
Select your favourits sessions out of three different streams, running in parallel:
SAGE = Keynotes, Presentations,
EXPLORER = Workshops, Interactive,
REBEL = Get Suprised, Broaden your Mindset
LINEUP
View Full Schedule (changes may apply)
DAY 1 (13/14th June): PEOPLE
Keynote: Peter Schwartz | TraceSuzaan
Ivonne Lonna | Gen Alpha's Digital Culture
Clarice Carvalho Garcia | The power of imagery for co-creating future scenarios
Deepshikha Yadav | Designer Babies: How might Experience Change with Widespread Gene Editing
Fabian Buder | Human-Machine-Collaboration in Strategic Business Decisions
Tracey Follows | The Future of You
Alethia Montero Baena | Personal Futures
Amy Fletcher | The Future of Death
Jason Baerg | Creating a platform for collaboration between Natural Elements and A.I.
Lonny Avi Brooks & Tobias Van Veen | Afrofuturism 2.0 & Foresight (provisional)
Timothy E. Dolan | Optogenetics and the Manipulation of Memory
DAY 2 (15/16th June): PLACES
Luke Tay | Spectacular Speculations
Nihal Ahmed & Tamarah Usher | Experiential futures & games to build a better world
Anna Peplova | The City in 2050
Dr. Annah Kyoya | The future of the Informal Sector in Africa
Valentina Boschetto | The Impact of Hyperglobalization on Travel & Tourism
Stephanie Itimi | Security and Domestic Workers in Lagos, Nigeria
Carly Benson | Rethinking disasters: A systems analysis of disaster recovery in Canada
Denis Maksimov & Tanya Accone | Historical Futures and the Future of History
Alexis Tennent | Why is it so hard to think about the future?
Frank Spencer | Holoptic Foresight Dynamics
DAY 3 (20/21st June): SYSTEMS
Keynote: Dr. Rhodora V. Azanza
Kristine H. Harper | Anti-Trend
Riley McCullough | Creating A Humanitarian Nation
Luke Tay | The Futures of Food Geopolitics
Shermon Cruz + Nicole Kahn Parreno | Dreams and Disruptions: A Foresight Game
Alex Battison | The Future of Education
Wendy Schultz | Embracing the Systemic Futures
Raphaele Bidault-Waddington | The Future of Cities
Tanja Hichert and Andrew Curry | The Good Anthropocene
Joyce Gioia | How Experiences will Transform Organizations
Marcello Caldas Bressan | Metaverse and International Diplomacy
Zabrina Epps & M. Jayne Fleener | The Future of Education
Jordi Serra del Pino | The Three Tomorrows as an Analysis Approach
Sergio De Lara | Autonomous Vehicles and the City
Stephanie Kwan | Feminist Visions of the Future of Women's Work
DAY 4 (22/23rd June): THINGS
Sylvia Gallusser | Preparing for the Metaverse
University of Huston Foresight Students
Jean-Pierre Lacroix | The Future of Experiences: Measuring ROX (Return On Experience)
David Kalisz | Vectors of Imagination: Objects that become services?
Ross Dawson | Thriving on Overload for Futurists
Hannah Chafetz | Open Government Data
Patricia Lustig and Gill Ringland | Engaging others in Foresight
Arthur Shostak & Matt Carmichael | Memorialization and Identity
Suzanne Stein | The Future of Music