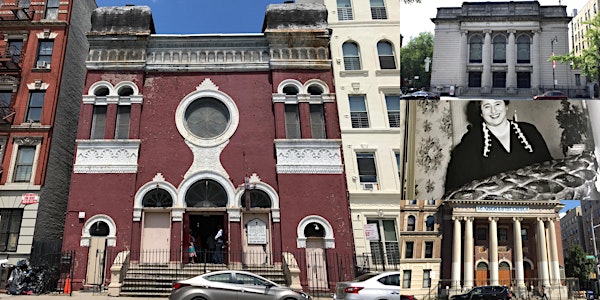 Exploring Jewish Harlem, From Historic Synagogues to NYC's Best Rugelach
New York Adventure Club | www.AdventureClub.com
When and where
Location
Apollo Theater (Outside) 253 West 125th Street New York, NY 10027
About this event
Any visit to Harlem is a journey through Black America's urban capital — replete with the culturally rich history of creative arts, jazz and gospel music, religious faith, special cuisine and stunning architecture, this storied New York City neighborhood has so much to offer. But did you know that it was once home to a thriving Jewish community that ranked as one of the world's largest? It's time to hit the streets of Harlem and explore the remnants and stories of the forgotten Jewish settlement of Upper Manhattan.
Join New York Adventure Club as we uncover the New York neighborhood of Harlem, with a focus on the stories and landmarks belonging to the historic Jewish community that once ranked as the third largest Jewish community in the world after NYC's Lower East Side and Warsaw, Poland.
Led by Jewish urban historian Barry Judelman, our visit to some of Harlem's former legendary Jewish landmarks — along with a glimpse at the reemerging Jewish presence in Harlem — will include:
A brief overview of the Jewish diaspora in Harlem, which peaked between 1870 to 1928 and numbered around175,000 people
A discussion of historic synagogues and congregations in Harlem, from The first Synagogue — which was established in Harlem by wealthy German Jews in 1870 migrating uptown from the Lower East Side — to The Ethiopian Hebrew Congregation, one of the first and oldest communities of Black Hebrews in the U.S.
A visit to homes of just a few of Harlem's celebrated Jewish personalities including Richard Rodgers, Gertrude Berg (created the role of Molly Goldberg on Radio/TV), Lena Himmelstein (founder of Lane Bryant clothing stores) and Erik Weisz (aka Harry Houdini)
The story of why Congregations Ohab Zedek, Ansche Chesed, Shaare Zedek and the Institutional Synagogue all relocated to the Upper West Side from Harlem around the same time in the early 20th century
A trip to new Jewish sites throughout Harlem that cater to a growing Jewish population in the neighborhood
At the end of our walk, you'll be treated to a taste of New York's best rugelach at Lee Lee's Baked Goods!
See you there!
*Please bring a water bottle and comfortable pair of shoes as we'll be doing a lot of walking!
**Our experience will conclude at Lee Lee's Baked Goods (283 West 118th Street, Between St. Nicholas Ave and Frederick Douglass Blvd.)
***Your ticket includes a taste of rugelach at Lee Lee's Baked Goods
About Barry
Since creating NYJewishTours in the 1990's, I have been leading walking tours of Jewish neighborhoods from the Lower East Side to Harlem, the Upper West to the Upper East Sides, and from Brooklyn to the Bronx. My approach is simple: to facilitate a personal and authentic connection between you and the residents of the local community and to share interesting stories of the history and culture of the people and places we experience. As someone who is dedicated to the preservation of the unique character and soul of each of these neighborhoods, I worry about the impact that rapid gentrification is having on the future of our wondrous city. I hope to see you on the trail!
Testimonials
"The content was excellent: comprehensive, well researched and presented well. The tour guide was very knowledgeable and I appreciated that." -Jacklyn
"The number of synagogues covered by the tour guide. He was also welcoming and inclusive in his tour content. It was an honest approach to history." -K. Kennedy
"Barry was very informative, the guy really knows his stuff." -Anina
Disclaimer
Event takes place rain or shine.
By attending a New York Adventure Club experience, you accept our terms of service.
Categories: In-Person, Neighborhood Tours