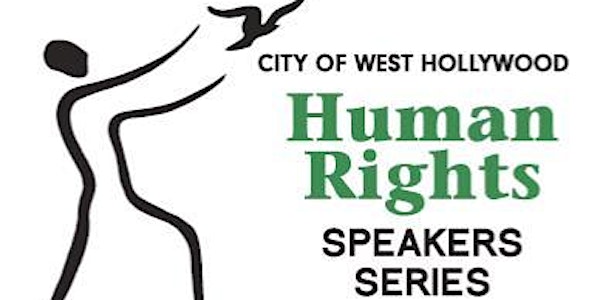 Exploring International LGBT Rights in China & Abroad
When and where
Location
West Hollywood City Council Chambers 625 North San Vicente Boulevard West Hollywood, CA 90069
Description
Join the City of West Hollywood's Human Rights Speakers Series for "Exploring International LGBT Rights in China and Abroad." The discussion will examine LGBT rights in China as well as other countries and the growing difficulties activists, non-profits, and others face when trying to provide aid to LGBT individuals in countries with homophobic policies and restrictive anti-LGBT rights.
Panelists include:

Ziyan (Joe) Guo, Gay Activist
Ziyang began working as a gay activist at the age of 16, and has served in many capacities, including the Executive Director of Beijing Zuo You Information and Consulting Center, and the Beijing LGBT Center, Project Director of the Chiheng Foundation MSM Projects. He has been active in many areas of rights and service to the sexual minority communities. He is also a board member of the China Sex Worker Forum. During the past year, he leads a group of volunteers to collect and categorize data of LGBT related cases in the Chinese court system. This valuable information will be used to create a clearinghouse of China LGBT related legal information, and as reference for lawyers who're handling LGBT related cases in the future. He is also the LA LGBT Center's Legal Project Coordinator based in Beijing, China.
Damien Lu, Ph.D., Gay Activist

Damien Lu received his Ph.D. from UCLA and currently works at Los Angeles County Department of Mental Health. Damien started to work with Asian LGBT people in the 1980's and hosted one of the first Internet-based forum for gay Asian people from around the world. In 1998, he joined the newly founded Aibai website which provides vital information in Chinese speaking LGBT people worldwide.
Ashton Giese, Major Gifts Officer, OutRight Action International
Previously serving in foreign affairs, politics, and the private sector, Ashton Giese now serves to ensure OutRight maintains relationships with critical individuals and organizations to support our mission. In prior roles, he advocated for LGBTIQ rights at the US State Department, helped elect the second openly gay Congressperson from Madison, WI (US Representative Mark Pocan) and curated global tours for LGBTIQ travelers. Ashton dates his efforts to support human rights to forming the first Amnesty International chapter in high school where he grew up outside of Minneapolis, MN. He continued this advocacy through college at George Washington University, government work in Washington, DC, and travels to over 50 countries around the world. Alongside his work at OutRight, he continues to publish GAYography, a weekly news brief and blog, to provide travelers with timely travel insights, connect them to news about LGBTIQ communities in different parts of the world, and provide opportunities to attend events to support LGBTIQ global equality.
Ian Lekus, LGBT Thematic Specialist, Amnesty International USA; Host/Producer, Radio Free QTopia
A long-time researcher and activist working in LGBT politics, human rights, and other social justice issues, Ian Lekus is an LGBT Thematic Specialist for Amnesty International USA. Dr. Lekus is also the founding host and producer of Radio Free Qtopia, a podcast (launching June 2017) dedicated to sharing the stories of the many creative and resilient changemakers working to make the world more LGBT-inclusive and affirming. Having received his BA from Cornell and his PhD from Duke, Dr. Lekus has taught US & world history, queer studies, HIV/AIDS, social movements & community organizing at Harvard, Tufts, and the Universities of Georgia and Maryland. He is currently completing his first book, Queer and Present Dangers: Sexuality, Masculinity, and the Sixties, on the emergence of the gay liberation and lesbian feminist movements from other U.S. protest movements. He also serves on the Advisory Board of the Sexuality, Gender, and Human Rights Program at the Harvard Kennedy School's Carr Center for Human Rights. He is based in the Washington, D.C. area.
A "Call to Action" reception will take place prior to the panel discussion.
These events are FREE but RSVP is required. For more information, please email wehohrspeakerseries@gmail.com or call (323) 848-6823.
---
This event is sponsored by the City of West Hollywood. To learn more about the City of West Hollywood, please visit www.weho.org.