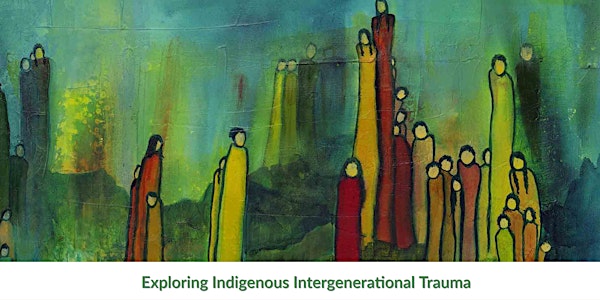 Exploring Indigenous Intergenerational Trauma
Exploring the Healing of Indigenous Intergenerational Trauma and Residential School Trauma
Refund Policy
Refunds up to 7 days before event
Eventbrite's fee is nonrefundable.
About this event
Image above: "Emerging Innocents". Artist: Karen Goodfellow. Recopied with artist permission
WORKSHOP DETAILS:
Advanced T.I.P. Training: Exploring the Healing of Indigenous Intergenerational Trauma and Residential School Trauma
This advanced workshop deepens understanding of indigenous intergenerational trauma from a theoretical, systemic, arts-based, experiential framework. Through a respectful lens this training will cover the foundations of healing emotional, physiological and spiritual aspects of trauma, and the legacy of trauma from Canada's residential school system, including the resurfacing of grief and complex trauma from the uncovering of unmarked, undocumented gravesites.
This is an advanced workshop and as such a foundational base of trauma informed practice is encouraged. While this training is customized for those in the medical and healing professions, it is open to any one with a basic knowledge of trauma informed practice.
DATE: Sunday February 13, 2022
TIME: 10:00AM am to 2:30PM PST (Vancouver BC time).
ONLINE ( Using Zoom. Participants sent link to room 48 hours prior to the workshop start time)
Certificate of Completion will be provided.
*Please note - if you would like to attend this workshop but are unable to due to experiencing financial hardship, please contact us.
Topics Covered:
• Review: what is trauma, and the neurobiology of trauma
• Defining decolonization
• Understanding a decolonized approach to healing trauma when working with indigenous clients
• "Trauma Enduring": how to navigate trauma resurfacing from the uncovering of unmarked and undocumented gravesites.
• Understanding indigenous intergenerational trauma
• Indigenous Emotional Labour and the Conundrum of Visibility (potential for reinforcing traditional colonial-settler dynamics)
• What is meant by "vertical lineage pass-down" vs "horizontal survival"
• Transference and counter-transference. Getting curious how this may be showing up and a potential barrier to healing
• Self regulation and co-regulation practices for healing
• Self care practices and resourcing tools
• Indigenous cultural practices for healing trauma
• Healing trauma through ancestral teachings and traditional practices
• Using indigenous arts as a valuable too in trauma healing
FACILITATORS:
Karen Goodfellow MTC, RCST, CFA
Karen Goodfellow is a Professional Facilitator, Master Therapeutic Counsellor/Supervisor and artist. Karen has decades of diverse experience in the area of trauma resolution , corporate and personal development, professional facilitation, and various therapies (registered craniosacral therapist, Somatic Experiencing Release™ for Trauma); along with a Certificate in Fine Arts from Emily Carr Institute. Karen is also a Counselling Supervisor to St'át'imc Nation's mental health team. In these capacities she has facilitated over 30,0000 clients to date. As an indigenous person (Squamish First Nation, Katzie First Nation and Sto: Lo) with a familial history of residential schools, she uses her own process of reclaiming her cultural identity to educate, inspire, and support workshop participants with tremendous skill and heart. Recently Karen has been providing multi-day "Trauma-Informed Coaching" programs to organizations and training to hospice volunteers in "Advanced Grief Support". Her focus has shifted from Fortune 500 type of companies to Downtown Eastside organizations. Karen thrives on tapping into the inherent health that resides within individuals, couples, groups and teams. Her facilitator style is learner-centered, fun and safe and her sessions cover all learning styles: experiential training, theory, self-reflection, creative process learning, workshop, and group discussions.
Trish Walsh BA, MTC
Trish is a Master Therapeutic Counsellor, Instructor, and Trauma-informed Training workshop facilitator, located in Vancouver, British Columbia. From 2008 - 2016 Trish was the Executive Director of the InnerChange Foundation, a Canadian foundation for addiction and mental health where she worked with the Provincial and Federal Government, researchers, clinicians and international experts to increase research, awareness, and education in the area of addiction and concurrent disorders. Over the last decade Trish has been providing trauma-informed trainings to university students, mental health professionals and the general public. Her work has focused on knowledge translation: specifically, providing research findings in medicine and mental health care to decision makers within Canada's Federal and Provincial Governments; and to physicians, mental health professionals, allied health care providers, along with corporations, community groups and the general public. Trish has consulted for several organizations to bring health information to their staff, stakeholders, and the general public. She has a particular passion for conveying research information in an engaging and easy to understand way, aiding decision makers in their funding and public policy decisions, and helping individuals to learn practical strategies for better health, happiness, and personal success. For more info: www.trishwalsh.ca