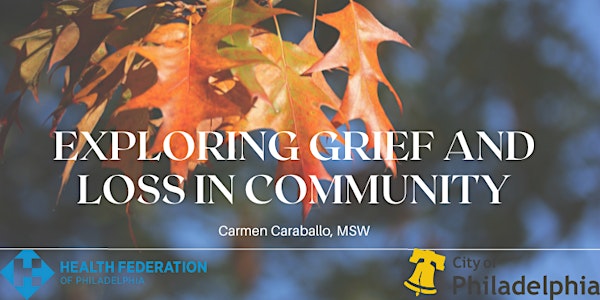 Exploring Grief and Loss in Community
We're offering another opportunity to explore grief and loss and how it impacts us together in community. We welcome all voices.
About this event
Following the conclusion of the recent Grief and Loss Series, we recognized that we need more time together as a community to process all of our experiences and to provide opportunities for connection. During this session we will share our experiences in smaller groups to offer supportive strategies and to engage in experiential activities to help us lean toward hope and healing. We hope to see you in this supportive session.
Guest Faculty:
Carmen Caraballo, MSW, is a seasoned bilingual Master's Level Social Worker with over 27 years of experience working with children, youth, adults, families, communities, and organizations throughout the Philadelphia area. She possesses a strong clinical background working with various populations, such as pregnant and parenting women, pre-term prevention, home visitation services, early childhood education, child welfare, at-risk youth and violence prevention, reunification, homelessness and housing, smoking cessation, addiction and substance abuse, HIV/AIDS, domestic violence, trauma work and critical incidence, hospice, and end of life care. She has provided services along the continuum of direct service practice, case management, clinical counseling and therapy, supervisory and management functions, director of programs and executive leadership, and executive coaching. She has a passion for coaching and partnering with individuals to unlock their fullest potential in order to attain their most desired personal, professional and creative goals. In her personal time, she enjoys reading, writing, appreciating the wide range of creative arts, listening to jazz really loud, tending to her many plants, and spending quality time with her three amazing adult children, her nine beautiful grandchildren, and her beloved circle of female friends.
Supported in part by the Philadelphia Department of Public Health
This Resiliency Series is specially offered for community members and organizations who through their work are First Responders or are involved with those affected by the Substance Use Crisis in Philadelphia. The stress of caring for others can affect our bodies and minds. This free virtual series is here to support our workplaces and community and is open to anyone.
For information on Secondary Traumatic Stress (STS), visit #TakeCarePHL at https://www.philadelphiaaces.org/sts. Visit the Events page to sign up for notifications of future events.