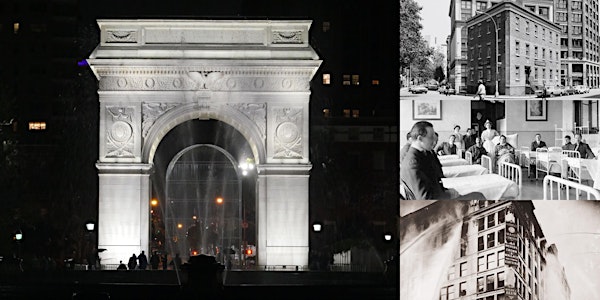 Exploring Greenwich Village: 200 Years of Neighborhood Death & Hauntings
New York Adventure Club | www.AdventureClub.com
By New York Adventure Club
Date and time
Sunday, June 4 · 7 - 8:30pm EDT
Location
Rectory, Church of the Ascension (Outside) 7 West 10th Street New York, NY 10011
About this event
1 hour 30 minutes

Mobile eTicket
A hospital that treated Titanic survivors; a sweatshop fire that shocked the nation; the house of an American Vice President indicted for murder in two states. While the small Manhattan neighborhood of Greenwich Village is today best known for being one of NYC's liveliest, it's also filled with reminders of its darker history and prominent deaths that rocked the nation, if you know where to look.
Join New York Adventure Club as we explore Greenwich Village by foot through the lens of death — from hidden cemeteries and memorials to former dueling grounds, learn how tragic events throughout the neighborhood's past have impacted the life, politics, and even folklore of New York City and beyond throughout the past 200 years.
Led by neighborhood expert and licensed NYC tour guide Kyle Sallee, our unique experience will include:
A look at Washington Square Park's darker history, from a site of public executions to a neighborhood dueling ground
A visit to the former residence-turned-apartment building of Mark Twain, and how it earned the nickname "House of Death" after a highly-publicized murder trial in 1987
A walk past the former Triangle Shirtwaist Company, the site of one of NYC's deadliest fires, and discussion around how it marked a turning point in labor union and worker rights throughout America
Stops at abandoned buildings, touching memorials, and forgotten cemeteries
Our experience will conclude at White Oak Tavern, which will have food and drinks available for purchase!
Click here to see pictures from one of our last trips!
See you there!
*Please bring a comfortable pair of shoes as we'll be on our feet for the entire experience
Testimonials
"In depth information that was provided on the themes addressed." -Ann
"Leaders were very friendly. I liked walking through Greenwich." -Karen
"Friendliness and professionalism of presenters." -Sara
"I thought I knew the Village...guess I really didn't! Kyle and Marci were a great team!" -Stacy
"The quality of the presentations by our guides." -Lisa
"Saw some sites that were new (Whitman memorial)." -Gabriella
"It was great to have guides who were not only knowledgeable but spoke at a fairly sophisticated level." -Vera
"Excerpts from the real criminal proceedings, read as a first person narrative, added warmth and personable touch to the macabre stories. Thank you." -Mila
"The historical aspect." -Sandra
"I thought we covered a good amount of distance and places to see. Kyle was a great tour guide and presented the historical information in an engaging manner." -Andrea
"The guides presented interesting facts and stories about the places we visited." -Diane
"The presenters were very well prepared." -Edward
"I know the Village very well and the tour offered new facts and showed new spots that I didn't know about. Post-tour drinks!" -Chris
"The obvious amount of research the guides put into the tour." -Todd
"Informative and entertaining. The hosts were so knowledgeable." -Brigitte
"Very impressed with pace, poise and knowledge of the guides." -Emily
"Friendly Informative Fun." -Martin
"Guides had really expansive and in-depth knowledge of the subject." -Sarah
"Guides very engaging and set the tone well based on our group." -Daniel
"Great knowledge of history and made it relevant to today." -Arlene
"The guide was very knowledgeable, detailed and spoke clearly and loudly enough to hear." -Kevin
"Kyle was engaging and knowledgeable. The area was fascinating and linking various historical events to the physical locations gave a memorable presentation." -Shelagh
"Our guide was Kyle and was friendly and well prepared." -Tim
"Interesting way to tie different Greenwich Village locations together." -Steven
"The guide was fabulous." -Marisa
"Great variety in sites. Easy to walk. Tour guide knowledgeable and spoke clearly and with good volume. Very interesting sites and history. I learned lots of new things" -Nancy
"I liked that it was focused on history rather than more childish ghost stories. I learned things about the village I did not know previously." -Judi
"I love the expertise, content, presentation." -Yevgeniya
"I love the way the presenter gave the historical context for the topic." -Anna
"Kyle was knowledgeable and you could tell how well the tour route and stories were planned out." -Casey
Disclaimer
By attending a New York Adventure Club experience, you accept our terms of service.
Categories: In-Person, Neighborhood Tours
About the organizer
NEW YORK ADVENTURE CLUB | Unlock Your City
We give you insider access to the city's best-kept secrets. But we're so much more than a tour company.
WHO WE ARE
We are a community-driven club that curates the most unique experiences in town, with a focus on history and storytelling. We show you a city you never knew existed, and offer a community you can't live without.
You won't find our special-access tours and exclusive events anywhere else. Think after-hours tours of New York City's most celebrated spaces, themed parties in unexpected locations, and weekend excursions to incredible destinations. All of our events end with social hangouts so you can meet people who love exploring as much as you do.
THE 'CLUB' IN NEW YORK ADVENTURE CLUB
Our current community is more than 50,000 members strong and includes everyone from recent NYC transplants to lifelong residents. Whatever borough you're from (or city or country, for that matter), we'll make it easy for you to take full advantage of the unique places and great people this city has to offer.  
Subscribe with our newsletter to get the inside scoop on the city's most interesting events.
 Visit our website to see our full line-up of fun experience.
"Don't be boring, go do something"
New York Adventure Club