New York Adventure Club | www.AdventureClub.com
About this event
For over 150 years, Brooklyn's Gowanus Canal played a key role in the borough's rapid urbanization — but at a steep cost. With over 18,000 vessels annually shipping goods to waterfront industrial sites, ranging from gas works to cement factories, the neighborhood's key waterway had become a dumping ground for industrial and human waste. While a half-billion dollar cleanup is currently underway, real estate developers are taking advantage of rezoning regulations to build luxury towers where historic industrial buildings once stood. How will the showdown between local residents and the City end? It's time to hit the streets to uncover the past, present, and future of Gowanus and its infamous canal.
Join New York Adventure Club as we explore the rich history of Gowanus, a former industrial neighborhood surrounding Brooklyn's Gowanus Canal that has become an all-out battleground between its local vibrant arts community of 25 years, real estate moguls, activist environmentalists, and local politicians.
Led by local resident and licensed NYC tour guide Eliot Niles, our on-the-ground exploration of this small, yet influential waterfront neighborhood will include:
A brief history of Gowanus, from why the area became quickly polluted as New York's populated grew in the 19th century, to why the neighborhood is currently at a tipping point in history
A stop at notable infrastructure throughout the neighborhood, including the Coignet Stone building (the city's oldest poured concrete building), Carroll Street Bridge (the oldest functioning retractile bridge in America), and Gowanus Canal Pumping Station (which pumps fresh water into the canal)
A walk past landmarked industrial buildings that have been repurposed and rehabilitated for commercial and creative uses, such as the American Can Factory and Brooklyn Rapid Transit Powerhouse (future art center)
A close-up view and discussion of the Federal Government's "Superfund" clean up of the Gowanus Canal, which involves dredging up toxic muck from the canal bed
See you there!
*Please bring a water bottle and comfortable pair of shoes as we'll be doing a lot of walking!
**This tour does not go inside any of the buildings on the route
***This tour will conclude at Ample Hills Creamery Gowanus located on the corner of Nevins and Union Streets
Disclaimer
Event takes place rain or shine.
By attending a New York Adventure Club experience, you accept our terms of service.
Categories: In-Person, Neighborhood Tours
Organizer of Exploring Gowanus: Notorious Canal of Industry to Artist Haven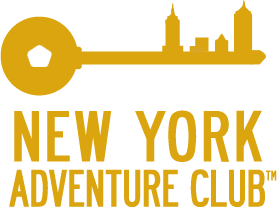 NEW YORK ADVENTURE CLUB
Unlock Your City
We give you insider access to the city's best-kept secrets. But we're so much more than a tour company.
WHO WE ARE

We are a community-driven club that curates the most unique experiences in town, with a focus on history and storytelling. We show you a city you never knew existed, and offer a community you can't live without.
You won't find our special-access tours and exclusive events anywhere else. Think after-hours tours of New York City's most celebrated spaces, themed parties in unexpected locations, and weekend excursions to incredible destinations. All of our events end with social hangouts so you can meet people who love exploring as much as you do.
THE 'CLUB' IN NEW YORK ADVENTURE CLUB

Our current community is more than 23,000 members strong and includes everyone from recent NYC transplants to lifelong residents. Whatever borough you're from (or city or country, for that matter), we'll make it easy for you to take full advantage of the unique places and great people this city has to offer.  
WHERE WE GO
To ensure a one-of-a-kind experience each and every time, we handpick events and outings specifically for the New York Adventure Club community. Recent events include:
* An after-hours tour of New York City Hall
* Special access into some of New York's most coveted private social clubs, including the Explorers Club and National Arts Club
* Petting baby kangaroos, holding sloths, and feeding leopards at Staten Island Zoo

* An NYPD Precinct tour, including a meet-and-greet with detectives and Emergency Service Unit crew members
* A tour of the Polish Consulate led by the Consul General and Vice Consul General of Poland

* A special-access tour of Brookhaven National Laboratory and its Relativistic Heavy Ion Collider (RHIC)
* A Halloween party in a historic gothic crypt, complete with a five-piece brass band
Subscribe with our newsletter to get the inside scoop on the city's most interesting events: http://eepurl.com/1cnVH
Unlock Your City with New York Adventure Club