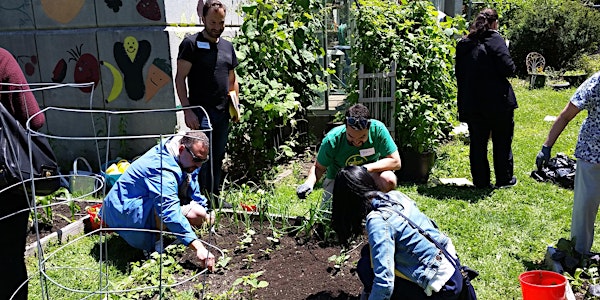 Exploring Foods Around Us: Chancellor's Day 2022 at Queens Botanical Garden
Event Information
Location
Queens Botanical Garden
43-50 Main St
Flushing, NY 11355
CTLE credit available for a Teacher Professional Learning opportunity on Chancellor's Day at Queens Botanical Garden
About this event
For teachers of students in grades K-8.
Thinking about food? Where does it come from and what do you eat?
Think about your cultural capital around plants and food sources as we explore QBG and its environs. Utilize various foods to learn science concepts, build community, and more.
All participants will be given time to reflect upon pedagogy and make plans for their classrooms.
This event is limited to 20 teachers and will take place rain or shine.
Participants will receive 6 hours of CTLE credit for this PL.
We ask that participants bring their own lunch.
Wheelchair Accessibility
Most garden grounds are wheelchair accessible. The education building is wheelchair accessible via a side entry. Participants will visit local grocery stores approximately one mile away during this session. The sidewalk to the grocery store is congested but wheelchair accessible.
Please contact the course organizers at Teachereducation@queensbotanical.org for additional accessibility information or with questions.
CANCELLATIONS
In the case that an event is cancelled, you will be notified via email.
REFUNDS
You must cancel before June 7 or you will forfeit all fees. If you test positive for Covid or have had exposure to a Covid-positive individual, please contact us at teachereducation@queensbotanical.org to get refunded.
COMMUNICATIONS
By purchasing tickets and attending QBG events, you hereby opt in to receiving communications from the Garden. You may receive updates about future QBG events and news through the addresses you provide. If you do not wish to receive future communication, simply click the "unsubscribe" button at the bottom of an email or write to info@queensbotanical.org.
HEALTH & SAFETY
If you test positive for Covid or have had exposure to a Covid-positive individual, please contact us at teachereducation@queensbotanical.org to get refunded.
To prevent the spread of COVID-19 and for the health and safety of all visitors, you MUST WEAR A MASK in all indoor spaces at QBG. This is a combined indoor and outdoor event. For more information visit https://queensbotanical.org/know-before-you-go
PHOTOGRAPHY & VIDEOGRAPHY
Queens Botanical Garden (QBG) occasionally photographs or films visitors and activities both on and offsite (including virtually) to support our mission in promotional media and materials, including print, online, broadcast, and social media. You will be informed of any pictures being taken and given the option of leaving the picture. By attending this event, you grant permission to QBG use your likeness in perpetuity, in all forms of print and digital media used to promote, publicize, or advertise the Garden, its activities, and programs. If you do not give QBG permission to take and use your image, you must notify an event organizer or staff. QBG cannot be held responsible for third-party outlets. QBG is a 501(c)(3) non-profit organization.
ABOUT QBG
QBG is an urban oasis where people, plants, and cultures are celebrated through inspiring gardens, innovative educational programs and real-world applications of environmental stewardship. QBG is located on property owned by the City of New York, and its operation is made possible in part by public funds provided through the New York City Department of Cultural Affairs, Queens Borough President, the New York City Council, State elected officials, the New York State Department of Parks, Recreation and Historic Preservation, along with corporate, foundation, and individual supporters. For more information, visit www.queensbotanical.org or call (718) 886-3800.
Date and time
Location
Queens Botanical Garden
43-50 Main St
Flushing, NY 11355