EXPLORING FILMMAKING WITH BRUCE LOGAN, ASC & ZEISS WITH DP BETH NAPOLI

Wednesday, October 10, 2018 from 7:00 PM to 10:00 PM (PDT)
Event Details
Join the Los Angeles Post Production Group for our October 10, 2018 meeting featuring these two valuable presentations:  

 FILMMAKING LEGEND BRUCE LOGAN, ASC DISCUSSES "LOST FARE"
We are excited to welcome LAPPG member Bruce Logan, ASC to present on his new film, "Lost Fare." He will detail his experience using Blackmagic Design's DaVinci Resolve to edit and color the film. He will also speak about his experience shooting this film in only 11 days as well as his distribution experience. Come get firsthand insight into how to get an independent film made and distributed. 
Director Bruce Logan, a highly acclaimed and talented film artist with over 30 years of experience in Directing, Producing, Special Visual Effects, and Photography within the filmmaking business. Bruce has worked on numerous films including - 2001: Space Odyssey, Tron, Star Wars, and Fear & Loathing in Las Vegas. Bruce is a winner of multiple Emmy's and is also a member of The American Society of Cinematographers, The Academy of Motion Picture Arts and Science, and, The International Photographers Guild.
+
LATEST FROM ZEISS + DISCUSSION WITH DP BETH NAPOLI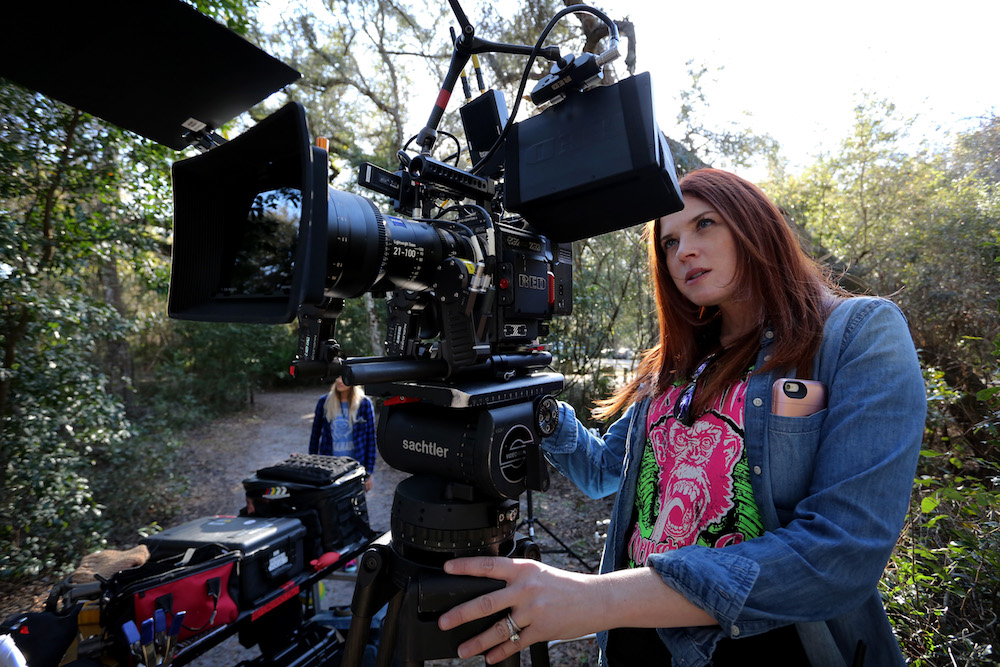 We are thrilled to welcome back Snehal Patel, sales manager for ZEISS with an update on some of the exciting things happening at ZEISS. He will be bringing Director of Photography Beth Napoli to discuss her involvement in the post production process for achieving the exact "look" she desires. Beth has recently used ZEISS Cinema lenses for a number of film and commercial projects.
Beth is a cinematographer based in Los Angeles. Coming from a family of artists, her passion for creating moving imagery stemmed from an early age. A love of photography and cinema coalesced into a career in filmmaking. Her work has screened at festivals domestically and internationally, including Poland's Camerimage and the American Pavilion's Emerging Filmmakers Showcase at Cannes. Some of her commercial clients include Vizio, Sharp, Nestlé and RED Digital Cinema. She lensed the commercial short film, Carrion, which unveiled the first footage from RED's 4.5K Raven camera. Her recent projects include the upcoming feature Death Cast, directed by Bobby Marinelli and the short film, Échappé, directed by Allison Mattox. 
***As always there will be plenty of time to network, enjoy some coffee and participate in our great giveaway which includes thousands of dollars of amazing prizes from our generous partners!

$5.00 cash kindly requested at the door will include 1 giveaway ticket.
Location:

Roth Hall
1714 21st Street

Santa Monica, CA 90404
Click for a map here. 
***Street parking is available as well as a Crossroads parking lot on 22nd Street. Please click here for a parking map. 

---
SEPTEMBER MEETING RECAP - IN CASE YOU MISSED IT 
September 2018's meeting was held at Roth Hall and was filled with members reconnecting with those who had been away all summer. It was also great to see many new members in attendance.  Jason Brubaker, founder of Filmmaking Stuff and VP of Global Sales at Distribber took us through the new rules of film distribution. True to his word, as always, Jason left our members with solid action plans and a shift in the way we look at modern filmmakers. He proposed that we see ourselves as entrepreneurial filmmakers.  
After the networking break we had LAPPG's own Woody Woodhall, CAS share his expertise and knowledge of the incredibly powerful and essential program,  iZotope's RX. Woody took us through a tour of 4 of the key plugins he employs on a daily basis including Declick, Ambience Match, Spectral Repair, Insight metering using his latest project, feature film, Lost Fare, directed by LAPPG member Bruce Logan, ASC. After this thorough and entertaining presentation we had an exciting giveaway with lots of happy winners.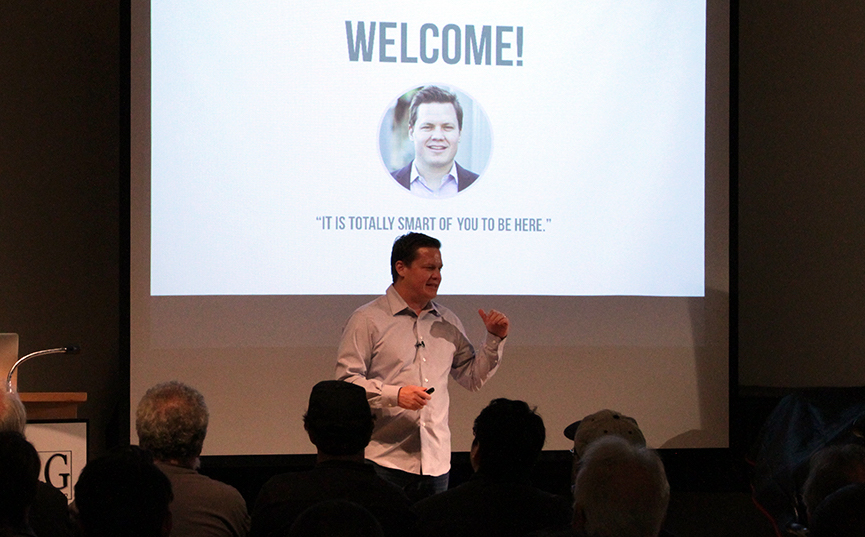 Jason Brubaker sharing valuable insights into the new rules of film distribution.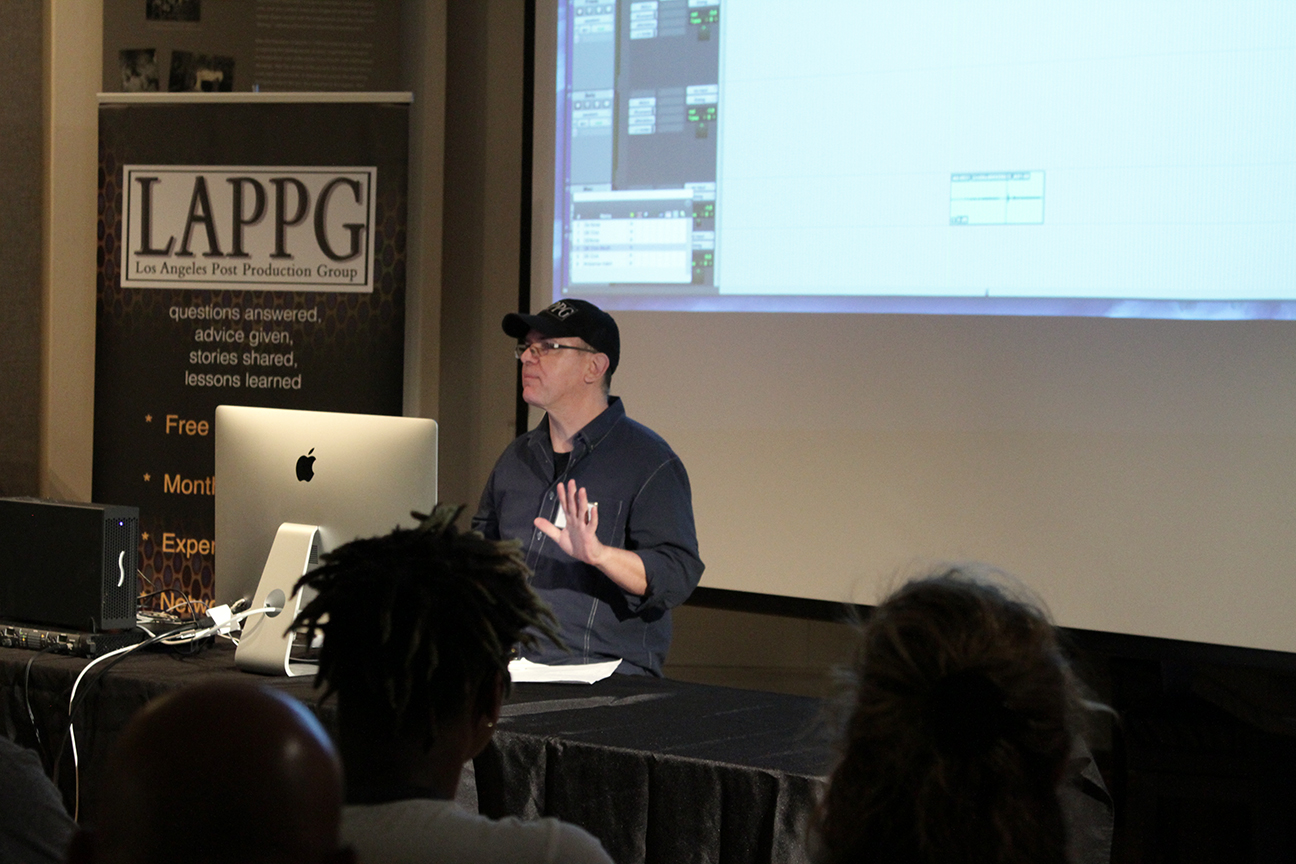 Woody Woodhall, CAS sharing some of the key plugins he uses in RX to deliver steller audio.
---
PREMIUMBEAT HORROR SOUND DESIGN PLAYLIST
Horror film soundtracks have always been experimental and non-traditional. The classic example is Bernard Herrmann's score for the film Psycho - the famous shower scene is intense on its own, but the music takes it to another level of scary. The violin 'stingers' in the shower scene are meant to convey slashing - they stab through viewers' nerves to elicit a primal, physical reaction. It almost feels like the high-pitched violin stingers are stabbing us, the viewer.



Modern horror soundtracks, like the tracks PremiumBeat has hand-picked for this collection, are better described as sound design than music. Horror composers are always looking for new ways to trigger a fear response in viewers - strategically using silence, introducing punchy sounds that make you leap from your seat, and using sounds that mimic heartbeats or breathing. These scores are meant to take the audience to the edge of terror without physically hurting them.

PremiumBeat's curated collection of horror sound design tracks will bring your audience to the edge of fear. These are the perfect soundtrack to your horror film, Halloween-themed videos, and projects that hint at a deep, dark underworld. 
Playlist: https://www.premiumbeat.com/playlists/20ml8hjlz8733j
---
IZOTOPE ANNOUNCES RX POST PRODUCTION SUITE 3 INCLUDING THE NEW RX 7 ADVANCED AND INSIGHT 2

This refreshed collection provides solutions across the full spectrum of audio post production, from dialogue editing to mixing to delivery for film, TV, and other new media.  The updates include new dialogue capabilities, comprehensive metering, multichannel support, and workflow enhancements. 
RX 7 Advanced Key Features: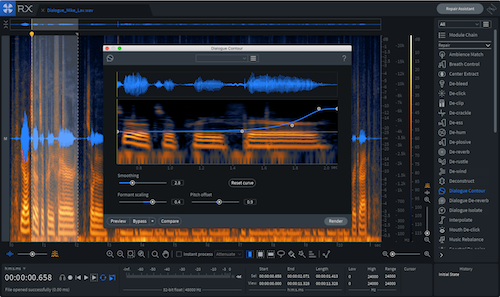 The seventh generation of RX Advanced, iZotope's industry standard audio repair and editing suite, builds on years of extensive research in digital signal processing and machine learning. This update supplies the audio post community with deeper control over dialogue and speedy workflow enhancements. Highlights include:
Dialogue Contour -reshape the intonation of dialogue to rescue or improve a performance, powered by pitch correction that is tailored to speech and designed to adjust the inflection of words within a phrase.
Dialogue De-reverb -reduce or remove unwanted reverb from dialogue clips using an algorithm trained with machine learning and optimized to separate spoken dialogue from reverberant signal content.
Pro Tools AudioSuite plug-ins -save time when fixing production audio by staying within Pro Tools and using new AudioSuite plug-ins to access features like De-Rustle and Dialogue Isolate.
Multi-channel support -tackle audio issues that appear in any or every surround channel effortlessly up to Dolby Atmos 7.1.2.

For more information visit: www.izotope.com.
---
ADOBE CREATIVE CLOUD ACCELERATES CREATIVITY & SMARTENS PRODUCTIVITY AT IBC 2018
From our friends at PRODUCTIONHUB:

At IBC 2018 Adobe unveiled new video features coming to Adobe Creative Cloud that will speed up production timelines, enable more seamless workflows and deliver powerful capabilities to bring filmmakers' and video professionals' creative visions to life. The updates include Adobe Sensei-powered animation, intelligent audio cleanup tools, selective color grading, advanced data-driven motion graphics templates and end-to-end VR 180° support. 
What's New in Adobe Premiere Pro :
Motion Graphics Workflows -
Motion Graphics templates provide a comprehensive toolset for creating and managing imagery and brand identity in video content, combining polished graphics with efficient customization in editorial. New authoring tools in After Effects streamline production in Premiere Pro with parameter grouping to organize the template and order the workflow for editors. Data-driven infographics turn numbers into stories in Premiere Pro. Drag and drop spreadsheet files onto Motion Graphics templates to generate visual representations of your information. Even better: updates to the spreadsheet are reflected automatically in the graphic.
For more details on new features and a video fom IBC click here.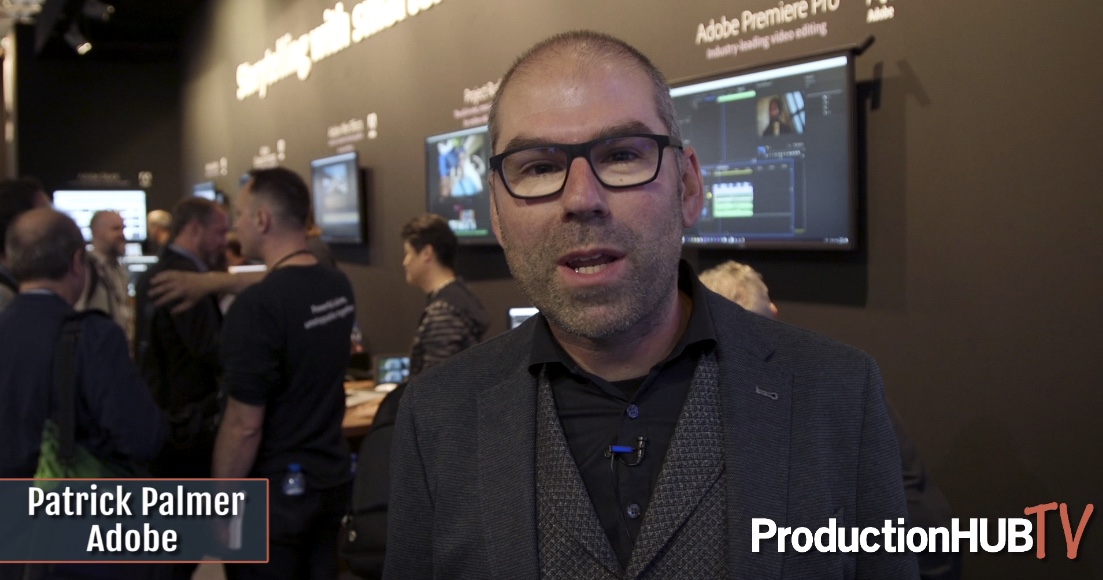 ---
DCS POST PRODUCTION EXPO 2018
The Digital Cinema Society will hold their annual Post Production Expo this year at Canon Burbank on Saturday, October 20th from 12:30 pm to 4:30 pm.
They'll cover a wide variety of Post Production topics including: RAW Workflows – Taking Advantage of Lens Metadata for VFX – Cloud for Post Collaboration and Distribution. They'll also learn about the latest updates to popular Editing and VFX platforms.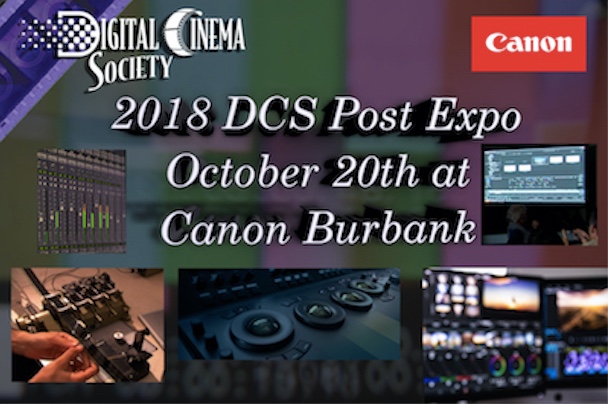 Companies invited to participate include, (in alphabetical order):
ACES/AMPAS – Adobe – Advantage Video Systems – AJA – Avid – Blackmagic Design – Canon – Cinnafilm – DigitalFilm Tree – Intelligent Assistance – OWC
Besides these educational presentations from Post hardware and software vendors, we will also once again invite prominent filmmakers and experts in the field. Past guests have included renowned ACE Editors such as Dan Lebantal, who cut such major features as Iron Man (One and Two), Spider-Man Homecoming, and Ant-Man, and Oscar winner Richard Halsey, (Rocky), and his partner Colleen Halsey, as well as Peter Mavromates, Post Supervisor on all David Fincher's movies from The Curious Case of Benjamin Button to Gone Girl.
Light refreshments will be served. The event is free and open to all, but confirmed RSVPs are mandatory. To register, send an email with your contact details and "Post Expo" in the subject line to:
RSVPtoDCS @digitalcinemasociety.org
Note: If you want to bring a guest, they'll need their name and email address in order to confirm the RSVP.
---
SUBSCRIBE TO LAPPG'S YOUTUBE CHANNEL TO CATCH UP ON MISSED MEETINGS
Blackmagic Design's Mary Plummer discusses some of the features of the Fairlight Audio digital audio workstation (DAW) that is built into DaVinci Resolve. Mary highlights the audio file database tools for sound and music libraries, the powerful audition mode for placing audio on the timeline, the built-in EQ & dynamics modules, as well as the object-based panning capabilities. All available in the DaVinci Resolve free version!
Watch here:
Click the button below to SUBSCRIBE and be notfied as new videos hit our YouTube Channel!


---
MARK YOUR CALENDAR FOR THESE UPCOMING MEETINGS
October 10, 2018 – LAPPG Meeting (Roth Hall)
November 15, 2018 – LAPPG Meeting (Roth Hall)
December 12, 2018 – LAPPG Meeting (Roth Hall)
---
THE 10TH ANNUAL REEL RECOVERY FILM FESTIVAL RETURNS OCTOBER 24-30
The Film and Recovery Community's Dedicated Annual Event Announces 2018 Schedule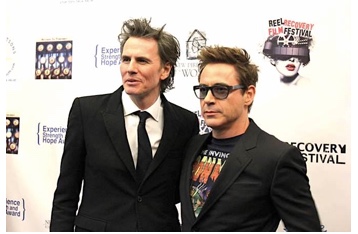 The 10th Annual REEL Recovery Film Festival & Symposium unveils this year's program and events taking place October 24th-30th at the Laemmle's Royal Theater in West L.A. Opening Night will showcase an eye-opening documentary about surfing legend, Andy Irons, entitled ANDY IRONS: KISSED BY GOD, directed by Steve Jones and Todd Jones. Anticipated award-winning documentary, UP TO SNUFF, starring W.G. 'Snuffy' Walden, directed by Mark Maxey, featuring actor Martin Sheen ("The West Wing", APOCALYPSE NOW), the legendary Eric Burdon (lead singer, The Animals), and writer/producer Marshall Herskovitz (TRAFFIC, THE LAST SAMURAI, BLOOD DIAMOND; "Thirtysomething") will screen as well. Shorts and feature-length narrative films include "Cleaner Daze" by Tess Sweet, "Holly's Girl", by Paulina Lagudi, a thriller about bulimia and "Baby Steps", from local filmmaker Eric Dyson, that deals with suicide and depression.
The REEL Recovery Film Festival & Symposium was created in 2008 by Leonard Buschel to shine a light on the ongoing epidemic of substance abuse and mental disorders and to raise awareness and reduce the stigma around these important issues.
For more information visit: www.reelrecoveryfilmfestival.org 
---
CONNECT WITH US!
Adobe, Advantage Video Systems, Blackmagic Design, BorisFX, Creative Handbook, Digital Rebellion, Glyph Production Technologies, Indie Shooter, Intelligent Assistance, iZotope, LaCie, Mercury Production Report, Other World Computing, Pro Sound Effects, Pro Video Coalition, ProductionHUB, Shutterstock, Sound & Picture, Vimeo, Zeiss
We look forward to seeing you on Wednesday, October 10th!
Sincerely,
Los Angeles Post Production Group
Please visit www.lappg.com for discounts, job listings, industry news and more.
When & Where

Crossroads School's Roth Hall
1714 21st Street
Santa Monica, CA 90404


Wednesday, October 10, 2018 from 7:00 PM to 10:00 PM (PDT)
Add to my calendar
Organizer
The Los Angeles Post Production Group is a professional organization for people with a passion for film, video and the digital media finishing process.

The LAPPG discusses all aspects of post production, from picture and sound editing to color correction, visual effects, codecs, storage and post workflows.

Expert presenters and leading companies come to our monthly meetings and share new technologies, techniques, tools, products and best practices to aid us in telling great stories.
We also provide our members with great offers and discounts as well as opportunities to network and make industry connections.
Membership is free and you need not live in Los Angeles to take advantage of this great resource.
To become a member please email your name and information about yourself to membership@lappg.com.