Exploring EVs, Electrification & Policy Priorities in Transportation
Endgame: Decarbonization—How do We Get There?: Exploring EVs, Electrification and Policy Priorities in the Transportation Sector
About this event
The Block Center for Technology and Society and the Wilton E. Scott Institute for Energy Innovation are partnering to host an important conversation on national decarbonization strategies.
Endgame: Decarbonization—How do We Get There?: Exploring EVs, Electrification and Policy Priorities in the Transportation Sector
While nations make underwhelming progress on global climate commitments and the Biden Administration plans implementation of its newly-passed infrastructure package, a U.S. strategy to transition to clean energy hangs in the balance. Any approach must involve electrification of the transportation sector – no small lift. How can we ensure that the future of vehicle electrification and charging is contributing to critical decarbonization goals? Join us on Zoom for a discussion of how we get there.
Dr. Javad Mohammadi—University of Texas at Austin
Assistant Professor of Civil, Architectural, and Environmental Engineering
Affiliated Faculty, Block Center for Technology and Society
Dr. Jeremy Michalek—Carnegie Mellon University
Professor of Engineering and Public Policy
Professor of Mechanical Engineering
Director, Vehicle Electrification Group
Scott Institute Faculty Affiliate
Dr. Paulina Jaramillo—Carnegie Mellon University
Professor, Engineering and Public Policy
Co-Director, Green Design Institute
Scott Institute Energy Fellow and Faculty Affiliate
Acting Director, Global eMobility
World Resources Institute
Camila Domonoske, Moderator
Cars, Energy, and the Future of Mobility Reporter
NPR
_______
Please register in Eventbrite to receive the Zoom link.
Any questions or accommodation requests can be sent to katieciez@cmu.edu.
*This event will be recorded.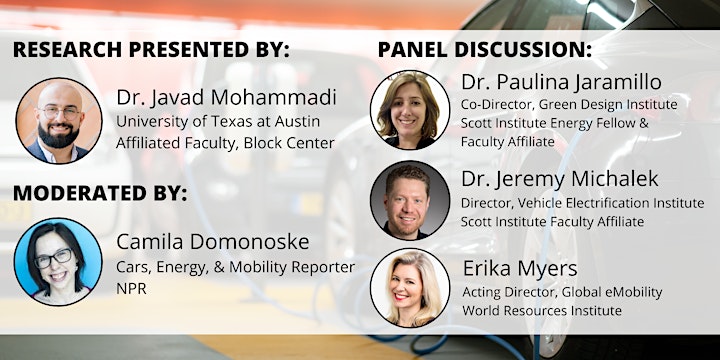 Organizer of Exploring EVs, Electrification & Policy Priorities in Transportation
Established at Carnegie Mellon University in 2018, The Block Center focuses on how emerging technologies will alter the future of work, how AI and analytics can be harnessed for social good, and how innovation in these spaces can be more inclusive and generate targeted, relevant solutions that reduce inequality and improve quality of life.